Morris Minor Fire Engine
This is one of many illustrated classic car guides I've created for the community. I hope you enjoy it. If you wish to find out more about the classic Morris Minor car art featured in this guide please click here.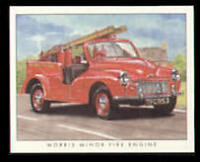 This unique non-production Morris Minor Fire Engine was built by the Body Development Department at Cowley for used as the first-response vehicle with Morris Motors. Small and low, it could move quickly through a congested factory and arrive at a source of fire well before a full-size appliance. The vehicle is based on an early prototype. Traveller chassis and entered service at the Morris Motors factory in 1952. Modifications were made to the vehicle in 1963, when it received a 1,098cc engine and gearbox in place of the original side-valve unit. TFC 953 remained in service until 1974, after which time it was disposed of by British Leyland. Later restored by the Historica Morris Fire Engine Club, this special Morris Minor now resides at the Heritage Motor Centre in Gaydon, Warwickshire.
If you would like to see more guides on classic Morris Minor cars please click!
Thank you for reading my guide and I hope you found it interesting!