Morris Minor Series 2
This is one of many illustrated classic car guides I've created for the community. I hope you enjoy it. If you wish to find out more about the classic Morris Minor car art featured in this guide please click here.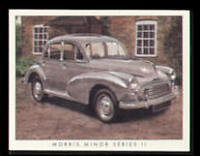 An important range of improvements to the Morris Minor came in October 1954. Aside of tackling the question of more power, the 1954 face-lift introduced a much more modern looking and better-equipped vehicle. Gone was the old and slightly fussy radiator grille, replaced by an up-to-date horizontally slatted type, painted in off-white or body colour. The sidelights previously mounted in the front panel, were now carried in the wings themselves, beneath the headlamps. On the inside of the Morris Minor Series 2, the dashboard was revised with the speedometer centrally mounted, while changes to the seats and trim had the desired effect of modernising the interior considerably. Few mechanical changes came with the new look.
If you would like to see more guides on classic Morris Minor cars please click!
Thank you for reading my guide and I hope you found it interesting!