Nobel 200
This is one of many illustrated classic car guides I've created for the community. I hope you enjoy it. If you wish to find out more about the classic bubble and micro car art featured in this guide please click here.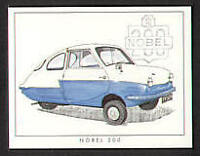 Starting with limited success in 1957 as Fuldamobil's King, this attractive glass-fibre bodied vehicle was then produced by York Noble industries. The Fichtel and Sachs 191cc engine provided some 90mpg at 45-plus mph. Cable brakes to the front wheels only were insufficient for the potential all-up weight, which could provide seats for two adults, a cramped rear bench for kiddies or storage, and a large front foot-well for extra luggage.
If you would like to see more guides on bubble and micro cars please click!
Thank you for reading my guide and I hope you found it interesting!