Peel Trident
This is one of many illustrated classic car guides I've created for the community. I hope you enjoy it. If you wish to find out more about the classic bubble and micro car art featured in this guide please click here.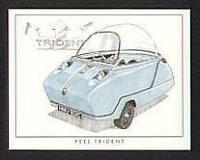 The Trident was a two-seat version of the earlier P50 and used the same 49cc DKW two-stroke. A front-hinged plexi-glass dome provided access to the twin-seat cabin. At just under 6ft long, and with the 5in wheels giving an 8ft turning circle, there was no need for a reverse gear, being light enough to lift the back end for parking. De-misting was a constant problem as there was no airflow inside the cabin.
If you would like to see more guides on bubble and micro cars please click!
Thank you for reading my guide and I hope you found it interesting!