Porsche 911
This is one of many illustrated classic car guides I've created for the community. I hope you enjoy it. If you wish to find out more about the classic Porsche sports car art featured in this guide please click here.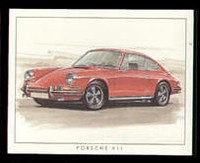 As a replacement for the aging 356 models, the 911 went into production in late 1964. It followed Porsche's traditions, being as fast as ever yet was quieter, smoother and more comfortable. The engine was an air-cooled, flat-six of 1991cc having a single, chain-driven overhead camshaft for each cylinder bank. Independent suspension and disc brakes were features. During 1965 the 911 was joined by the 912, a lower priced alternative fitted with a 1582cc flat-four pushrod engine and simpler interior trim.
If you would like to see more guides on classic Porsche cars please click!
Thank you for reading my guide and I hope you found it interesting!