911S (1966-1973)
This is one of many illustrated classic car guides I've created for the community. I hope you enjoy it. If you wish to find out more about the classic Porsche 911 car art featured in this guide please click here.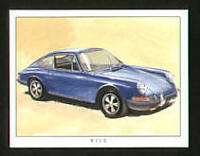 By 1967 Porsche offered three versions of the road-going 911, and badged them as the 911T, 911L and 911S. Outwardly the cars were the same, but the 2-litre engine common to each model was available in different stages of tune, the S version being equivalent of the hot Carrera models of the 356 era. The 911S featured larger diameter valves, a compression ratio of 9:8:1 and developed a healthy 160bhp @ 6,600rpm. Top speed was close to 140mph (225kmh). Anti roll bars and Koni shock absorbers were fitted as standard to the S and these made a significant difference to the handling. A 2.2-litre version of the engine arrived for the S model in 1969, increasing again in 1971 to 2.4-litres.
If you would like to see more guides on Porsche 911 cars please click!
Thank you for reading my guide and I hope you found it interesting!