Sunbeam Alpine S2 (1960-1963)
This is one of many illustrated classic car guides I've created for the community. I hope you enjoy it. If you wish to find out more about the classic Rootes car art featured in this guide please click here.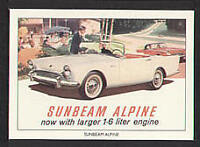 The new-generation Alpine appeared during the summer of 1959, this new sportscar being a subtle amalgam of available Minx / Rapier / Husky hardware, all clothed in a smart, befinned, two-seater sports style with wind-up door windows. As with all Rootes medium-sized cars of this period, the platform was based on that of the Hillman Minx. Though there were extra cruciform members under the floor, and stiffening tubes in the engine bay. Series II models from 1960 used the bigger 1,592cc engine.
If you would like to see more guides on classic Rootes cars please click!
Thank you for reading my guide and I hope you found it interesting!