Triumph Herald
This is one of many illustrated classic car guides I've created for the community. I hope you enjoy it and if you would like to find out more about the classic Triumph car art featured in this guide please click here.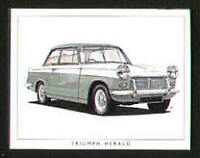 The Herald was conceived at Standard-Triumph in 1956 and launched three years later with a design from Giovanni Michelotti. Facing tough competition from other small cars like the Mini and Ford Anglia, it achieved considerable success with over half-a-million cars being built in just over a decade. Built in various guises: saloon, coupe, convertible, estate and van (very rare), the Herald saloon was the best seller from all other Herald / Vitesse / Spitfire / GT6 models drew many components.
If you would like to see more guides on Triumph cars please click!
Thank you for reading my guide and I hope you found it interesting!