Triumph TR2
This is one of many illustrated classic car guides I've created for the community. I hope you enjoy it. If you wish to find out more about the classic Triumph TR car art featured in this guide please click here.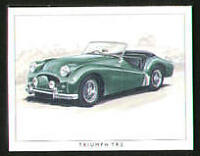 Designed as a moderately priced basic sports car, the Triumph TR2 in production form, was unveiled to the public at the London Motor Show of 1953. The TR2 was built mainly from Standard and Triumph components already available and sold for a very competitive £555. Fitted with a two-litre (121cu.in) overhead valve engine developing 90bhp at 4,800rpm, the top speed for the overdrive model was 107mph (172km/h). 0-60mph (0-96km/h) took around 12 seconds. Other noteworthy features of the Triumph TR2 were the exceptional fuel economy (an average of 34mpg), and the car's first-rate weather equipment, with neat hood and close fitting side-screens. For a while the Triumph TR 2 was the world's lowest priced 100mph (161km/h) sports car.
If you would like to see more guides on Triumph TR cars please click!
Thank you for reading my guide and I hope you found it interesting!