Triumph TR3A, TR3
This is one of many illustrated classic car guides I've created for the community. I hope you enjoy it. If you wish to find out more about the classic Triumph TR car art featured in this guide please click here.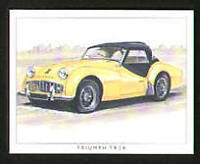 The first TR3 came off the Canley line in October 1955 and in reality was little different from the TR2 it replaced. It used the famous Triumph "wet liner" engine of 1,991cc (121cu.in.) capacity, which fitted with twin SU carburettors produced 95bhp at 4,800rpm. For the hard-driving sporting motorist on a limited budget, the car was unbeatable. It gave snappy acceleration and a genuine 100mph (161km/h) plus capability, which coupled with safe and predictable handling made it an ideal vehicle for private competitors, both in racing and rallying. August 1956 saw several changes, including the fitting of: front disc brakes, a more modified engine (100bhp), a stronger rear axle and a full width front grille. Although popularly referred to as the TR3A, the car was never known as such by the factory.
If you would like to see more guides on Triumph TR cars please click!
Thank you for reading my guide and I hope you found it interesting!