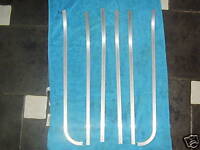 I purchased these Vespa Ally Runners from a seller by the name of Stuart
This is the link to his Ebay shop http://stores.ebay.co.uk/stuart8255
Not much to look at admittedly, my final winning bid was £8, and i contacted Stuart by mail, for the supply of the rubbers that went with the metal strips, at an extra cost of £5. I then patiently waited for my mail to arrive...
Next day, UNBELIEVABLE!!!!! These had exceeded all expectations, perfect in every way and at a vast fraction of the cost i had seen these advertised, both here on Ebay and other online and high street stores.
Truely wonderful, only hitch was that the rubber strip has to thread through the slotted edge each side. This proved a little tricky, So Easy Solution... Literally washing up liquid, they glided in neatly.
What can i say, if you want to save yourself over £25... you know where to come
Top seller
Thanks Anthony