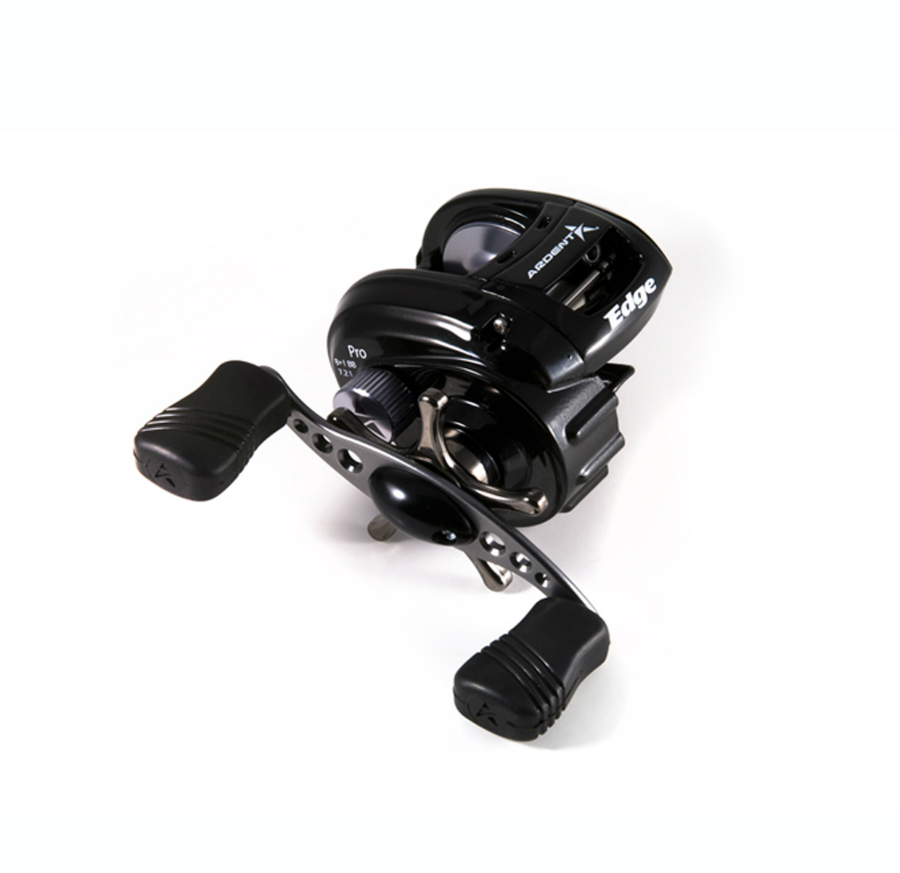 Fishing is an all-weather sport that requires a fair amount of equipment. This equipment should be changed according to the circumstances under which the angler is casting off. There is a basic amount of fishing gear that the person will need to bring with them, alongside camping gear, appropriate food supplies, and a first aid kit. The equipment must include a rod, a fishing reel, a bite alarm, bank sticks, at least two fishing lines, leads, rigs, landing nets, unhooking pads, and bait. Ideally, the angler will have at least one spare version of each piece of fishing equipment that they bring with them, in case something breaks.
Fishing Reels Introduction
Fishing reels are available in lots of different shapes and sizes. Their primary function is to allow the angler to monitor the amount of line that they cast out and pull in by hand. The reels are placed on the rod and come in either a right hand or left hand form. Before buying a reel the person should check that it is the correct size for the rod, as if it is not it can disrupt its centre of gravity. Most people will use a 12ft rod for fishing, which is the standard size, but manufacturers will size their reels using their own numbering systems, so it is worth checking with the seller if you are not sure.
The most prominent style of fishing reel in current use is the free spool reel. This allows the angler to leave their rod unattended by providing them with a mechanism to dictate the tenseness of the line when you get a catch. This means that the spool, which is the cylinder that holds the line, can run freely until the person stops it from doing so. This leaves the angler free to eat, sleep, or drink until they get a catch. Strictly speaking, reels do not have this function as standard, but it is commonplace and used in closed face reels. Once they have a catch they can turn off this function at the flick of a switch and bring the fish in to your net.
Types of Fishing Reels
The key fishing reels are free spools and big pits, while more advanced anglers may want to consider centrepins and multipliers. The angler can use these types of reels to their advantage at different fishing venues according to catch size, casting distance, gears, and water flow. Free spools are the most popular, as they are more adaptable and easy to use. But for longer distances big pits are more appropriate, and centrepins are best for flowing rivers. Most open faced reels are suitable for a range of expertise, but centrepins and multipliers require a lot of practice and experience.
A closed faced reel is thought to be a simpler alternative to a centrepin for river and canal fishing, and is better suited for lighter catches. These reels are low weight, easy to use, and easy to cast from. They are also difficult to tangle if used correctly. So, they are a very good choice for beginners and children. However, they are considered to be a bit of a stylistic choice and are not everyone's first choice. This is because of their design, which means that they are not well suited to heavier lines and therefore should not be used to catch heavy fish.
Closed Face Reels Design
Closed face fishing reels were introduced in the 1970s. They are also known as spin cast reels because of their mechanism of pins and a cylinder to wind the line from the spool, rather than operating the traditional way. This and its encased design is engineered to prevent the line from tangling, although to be most effective this type of reel must hold less line than a standard spool would. Since their invention in stainless steel form, these reels have progressed a lot. Good models now mostly use a lighter graphite casing, plus a hardwearing brass centre pin, and have more reliable pick-up pins in their rotary designs.
Rather than having to use both hands, an anti-reverse pin is installed onto these reels so that the user can operate it at the click of a button. This allows the person to fish with and without the anti-backwind, or to reel freely. Alternatively, the user should also be able to adjust the drag levels so that they can determine how tense their line is. Some will also come with spare spools and a carry kit to protect them from unnecessary damage. The angler can also engage their thumb and finger with this reel when they are retrieving their bait, which gives the experience a unique feeling. To get the most out of this item, when float fishing they will need to use a shallow 18mm line.
Closed Face Reel or Open Face Reel?
There are a number of key benefits that a closed face reel offers over normal open face models that are worth taking into consideration.
| Closed Face Reel | Open Face Reel |
| --- | --- |
| Ideal for fishing on moving water | Centrepin reels offer a similar effect but are harder to operate |
| Push button release for one handed use - good for multiple catches | Normally operated with both hands so harder to operate for multiple catches |
| Reduces wind tangles with encased spool, internal pins, and spool holes to prevent suction when reeling | The user can prevent wind tangles by using appropriate lengths of line and putting a splash of water on it |
| Lighter - made of graphite and plastic with a metal core | Normally heavier due to larger size and almost entirely metal body |
| Need some practice to get used to but are relatively simple once understood | Most are seen to be easier to operate as they are more widely used |
| Suitable for very light bait, due to the way that the line comes away from the spool | Varies according to the type and size of reel that you purchase |
| Suitable for small and medium sized fish, but not to be used for large fish | Suitable for all sizes, depending on the type and size of reel |
Avoiding Tangling the Closed Face Reel
Closed face fishing reels are easy to use and ideal for fishing in flowing water, thanks to their straightforward design and suitability for very light bait. However, there are more components involved in this reel, so they do take some getting used to and care when installing. Although they are designed to resist tangling under proper use, if not used correctly they do have a tendency to tangle more often. Not over-filling the line into the spool and using a line that is appropriate for this type of reel can avoid this. These reels do not take as much line as an open face version because they tend to be smaller, but if used correctly this should help you to avoid tangled lines caused by high winds.
eBay Buying Guide
When you are going to buy a closed face fishing reel from eBay, your first stop should be the search facility. Here you can conduct a search for fishing gear that is for sale by its name, or by drilling down into certain categories. The two main keywords for this type of reel are 'closed face reel' and 'spin cast reel'. However, you can also simply search for 'fishing reels', as this will broaden your search and you will be able to determine whether it is open or closed face by looking at the photo provided by the seller. Its hidden spool is a unique character of closed face reels.
If you prefer, you can visit the sports section of the eBay website and then select the fishing category. The 'Reels' section of the fly fishing category is dedicated exclusively to different fishing reels, but 'Other Fishing' subcategory should contain some reels as well. Some sellers will specialise in fishing gear, while others will be selling their equipment on second hand. Either way, don't hesitate to relay your questions to them regarding this purchase. Most people will only bring one or two reels fishing with them, so when you make this purchase you will want to get it right.
Conclusion
A closed face reel has many unpredictable benefits to it. These are often unexplored by everyday anglers, as they are a very different type of reel to what most people will use. Closed face reels have a free spool function as standard and are simple to operate with some practice. Once the angler is confident with this item, they should find themselves landing large quantities of smaller and medium sized fish with ease. Although these items are not designed for use with heavier fish, they are a good alternative to centrepins for light to medium weight river fishing.
The operating systems for these types of reels are very different to open face reels, as they serve their own purposes. Open face centrepins are best for advanced users who have a lot of experience behind them. For the more casual user a closed face reel is a good choice, as when used correctly it is good at avoiding tangling. These reels will not tangle if used correctly, which also makes them very suitable for use in high winds. Just remember to avoid overloading the spool, regularly inspect it for damage, and try not to over load it with weight. If the angler follows these simple instructions, then using a closed face reel will make fishing all the more easy.