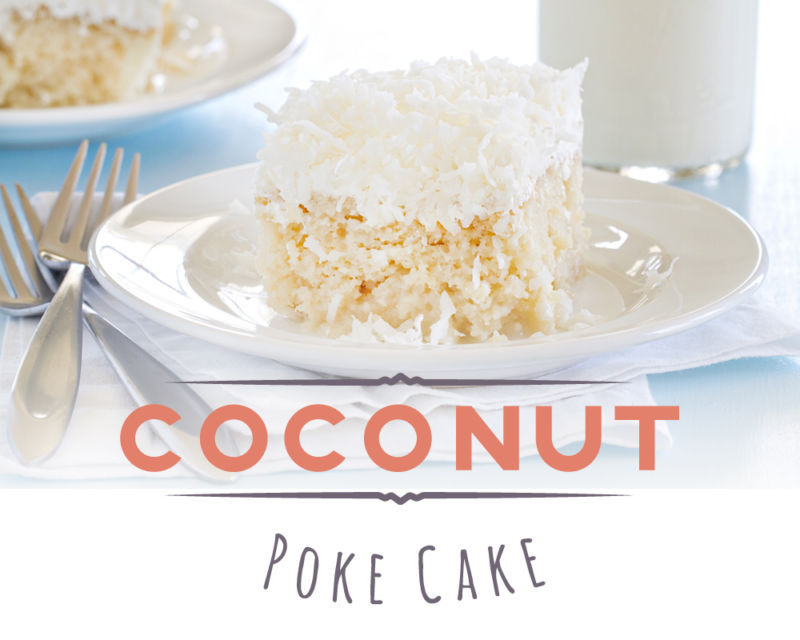 Do you love coconut as much as I do? I really can't get enough of the stuff. Sometimes I even like to put coconut milk in my coffee if I'm feeling extra tropical.

I decided to make a cake the other day, and I've been seeing poke cakes everywhere. It's been a while since I made one, and now I'm wondering what took me so long! If you're into moist cake? Poke cakes are for you.

This Coconut Poke Cake combines white cake, cream of coconut, whipped topping, sweetened condensed milk, and flaked coconut for the most decadent dessert I've had in a while. We couldn't keep our little one's hands out of the frosting, and you really can't blame her.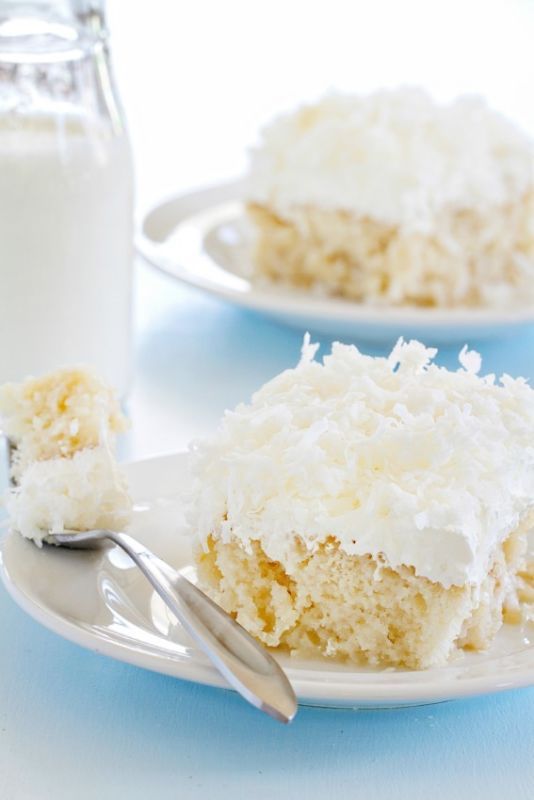 The key to this, and most poke cakes, is making sure to cover them in your sweetened sauce while they're still warm. It really allows the cake to soak up all that sweetness, and it becomes one crazy decadent cake, bite after bite. Plus, this is the kind of cake that gets better if it's left in the refrigerator overnight. Gotta love that!

If you've got a coconut lover in your family (in mine it's my dad!), you've just got to make them this Coconut Poke Cake. They'll love you forever!
COCONUT POKE CAKE
INGREDIENTS
1 package white cake mix, plus ingredients listed on box to prepare cake
1 (14 ounce) can cream of coconut
1 (14 ounce) can sweetened condensed milk
1 (8 ounce) container frozen whipped topping, thawed
1 cup shredded coconut
DIRECTIONS
1. Prepare and bake white cake mix according to package directions for a 9x13 inch cake.
2. In a
medium bowl
, whisk together the cream of coconut and sweetened condensed milk.
3. Remove cake from oven and place on a
cooling rack
. While still hot, use a
skewer
to poke holes all over the top of the cake.
3. Spoon the cream of coconut and sweetened condensed milk mixture over the cake while the cake is still hot.
4. Let cake cool completely. Top with whipped topping and shredded coconut.
5. Cover and refrigerate overnight before serving.
NOTE
Cream of Coconut is typically found near cocktail mixers as it is often used to make Pina Coladas. Look for the brand Coco Lopez.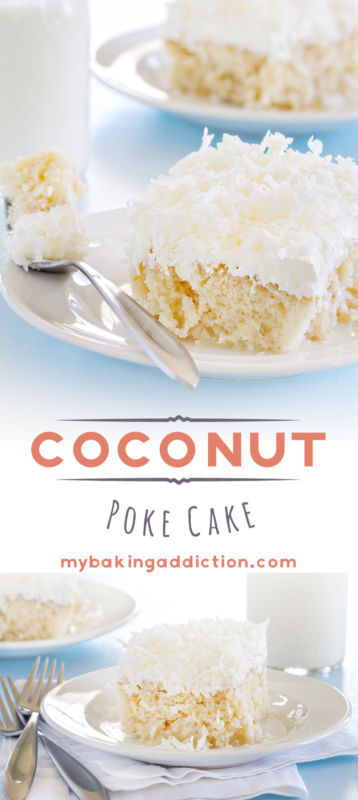 CRAVING MORE?
Click the images below to check out more recipes, guides and collections from My Baking Addiction!