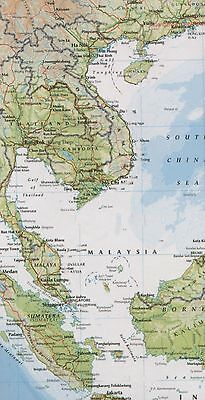 Short History.
A number of shipwrecks have been discovered that were carrying cargo of porcelains from China to the west. Some have come to international notice, some have been almost secretly recovered and sold on the open market. Of course discovering 17th to 19th C wrecks containing such valuable cargo is an industry of diminishing return. Some have been accidentally found by fishermen, others by expensive research and long periods of scanning huge areas of seabed before the even more expensive work of archaeology and salvage can begin.
Several of the most important wrecks have been discovered along the trade routes ships habitually took from China to other Far East trading partners and the west. Down the coast of Vietnam, Malaysia, through the Sunda Straits and out into the Indian Ocean.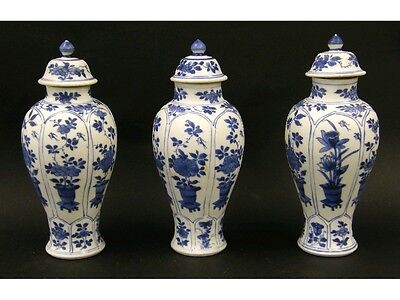 Add a caption
Three 20 cm Baluster Vases from the Vung Tau Wreck circa1690.
The Romance of Shipwreck Porcelain.
Perhaps the attraction of collecting these antique Chinese porcelains is two fold. Firstly they have a romance in having been shipwrecked and lay on the sea bed for centuries unseen, untouched and unused.

Secondly some are from the golden ages of Chinese porcelain exports. They simply arrived in the west maybe 200 years late. Some have beauty as objects of art, finely potted and carefully painted by skilled artists. Others were made and decorated as nothing more than utility kitchen wares that would have long been used and lost, had they not been on the seabed.

Some, as time capsules, have added greatly to knowledge of the international trade, development of export porcelains and evolution of design and decoration down several Centuries. Others have an important role in defining the social and commercial history of this earliest of international trade from the Far East.

Some of the important wrecks discovered and recovered during the 1980's and 1990's
are.
1. The Hatcher Cargo. A late Ming transitional Junk, circa 1645, from the Admiral Stellingwerf Reef 1983-4. Sold at Christies, Amsterdam and others, much to this day carries the labels of the auction.
2. The Nanking Cargo. Probably the most famous of wreck recoveries, as pure commercial undertaking. The Dutch East Indiaman "Geldermalsen" wrecked 3rd January 1752 on the Admiral Stellingwerf Reef. Auction sale at Christies, Amsterdam over 5 days in May 1986. Much still carries the auction lot labels.
3. The Vung Tau wreck. Dated to not before 1690, probably sometime in the decade after. First discovered by fishermen in 1989. A Lorca (a hybrid ship with features of both a Junk and a European boat) Burnt to the waterline before sinking. It was recovered by a European salvage Company, Halstrom, in partnership with the Vietnamese Government. The ship was mostly carrying some superb Kangxi cabinet display porcelains, made popular in Europe by Queen Mary. The salvers share was sold at Christies, Amsterdam 7 & 8 April 1992. Much still today carries the Christies Auction lot label.
4. The Ca Mau Wreck. This wreck was recovered wholly by the Vietnamese Government after discovery by fishermen in 1997/8. It was the wreck of a Junk burnt to the waterline carrying Yongzheng period porcelains dating to sometime after 1723. Much of the cargo was tea wares. It is likely a lot of recovered pieces, as well as those donated to museums, were sold in the Far East long before those sold at the official auction by Sothebys, Amsterdam in 2007, almost a decade after recovery. Those sold at Sothebys frequently carry the official auction labels.
5. The Tek Sing (True Star) was a later wreck, discovered by Michael Hatcher after having floundered on the Belvidere Shoals on 6 February 1822. The auction sale was held in 2000 at Nagels, Germany.

These are but a small number of very many shipwrecks containing porcelains that have been recovered and sold. Most have been extensively documented and those interested in the subject can read up in much greater detail the exploits surrounding discovery, recovery and sale of cargos.

Provenances & Collecting Shipwreck Porcelains.
As previously mentioned there are many pieces for the collector to consider, from very many wrecks, with a wide range of values, spanning some 400 years of Far East ceramics exports.

The more famous wreck cargos sold at dedicated auction, most frequently, still carry their auction label, that can often be cross referenced with the sale catalogue to offer the buyer excellent provenance. Those with original auction labels often will make better prices than those without. A good number of those from the Vung Tau and Ca Mau also carry an excavation serial number on the base or under the cover somewhere. Those of the Ca Mau marked CM 1, 2, 3 or 4 indicate during which phase of the salvage they were discovered. CM1 are those that the Authorities retrieved from fishermen after having been illegally obtained, believed some 50,000 pieces. CM2 from the first year of official recovery, CM3 the second year and CM4 those fewer pieces found in the following year(s) during detailed clearing up searches.

Many smaller legitimate wreck recovered items do not have the luxury of labels. They are just as collectable if carefully considered. It takes a while to determine what appears most likely authentic and what is not. We have all been caught out and it's something of a learning curve. It doesn't mean that those without labels should be overlooked. Generally monochrome under glaze blue shipwreck pieces offer more from an aesthetic point of view. This simply because on glaze colour and gold gilding are frequently destroyed by centuries in seawater leaving only any under glaze colour.

Sooner or later you will encounter the full range of genuine, half genuine and copied shipwreck porcelains. Pieces that have been luted together from a number of broken pieces of the same shape and design. They can offer a good starting point and cheaper entry into collecting shipwreck porcelains. Its annoying to pay top prices to eventually find you have an amalgam. They are at least "of the period". Some have been well put together, others not so. There are a lot of genuine pieces with some degree of damage occasioned by being shipwrecked.

Sadly there are a number of copies coming onto the market, predominantly designs from the Ca Mau and perhaps less so the Vung Tau wreck. Frequently teapots, and not all the same, apparently then from different sources. The Ca Mau bird on prunus branches design seem to regularly appear. Some copies may have genuine covers (lids) recovered from the wreck. These teapots are a small illustration of pieces that need careful consideration. Such can also be found in many flat ware, tea ware and vase designs.

Generally those with masses of barnacles should be regarded with suspicion. Marine growth is no indication of provenance. They are left in shallow water to grow such. Some copies, as that illustrated, are poor quality. Other examples take a little more looking at. Some copies are well painted but ring warning bells all the same. Occasionally the glazes of copies has been sand blasted to give the effect of under sea eroded glaze many shipwreck recovered pieces have. This, however, gives a copy the distinctive "orange peel" effect rather than a soft degrading of the original glaze. It is not possible to reproduce the real patina of many years, howsoever it was engrained into an item.

There are no hard and fast rules. Some talk of the harsh, too bright appearance of modern synthetic cobalt that produces the fired blue colour. I would regard it a consideration not an absolute. It is not possible within the framework of the written word to convey what is probably right, what is not and why. It takes experience careful looking and probably most of all the handling of a lot of pieces. I would say the real antique shipwreck porcelains have karma but that's perhaps going too far.

It is for each interested in collecting to determine where their interest lies. Many pieces of all sorts from many wrecks pop up on eBay for sale. It is a good place to find some pieces you would hardly ever find in shops. I guess its a good idea to form relationships with sellers you find trustworthy and helpful. I have bought, over many years, a share of the good, the bad & the ugly. In the round, all very worthwhile. I have exchanged conversation, literally around the world, with many experts. Its been a great pleasure. I thank them for their patience. I am not a trader, just a mad keen hobbyist.
Enjoy !