Your first essential item of equipment should be a pair of stamp tweezers - these are made of light plated metal with slender, flattened tips or 'spade' ends enabling stamps to be picked up and sorted quickly and surely.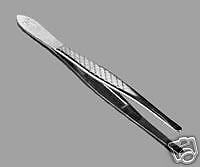 The magnifying glass is the one tool which everyone associates with stamp collecting. Through the magnifying glass, stamp designs appear in detailed close-up and are seen to be miniature works of art. You can see the lines or cuts which make up a portrait or scene on an engraved stamp, or study the quality and peculiarities of the other printing processes - the graduated 'dots' of photogravure or the smooth honeycomb background of lithographed stamps. You will also enjoy looking for errors and varieties, many of which are visible only through a glass.
Perforations and watermarks will eventually concern you - differences to the normal perforation or watermark of a stamp can enhance its value, and it is necessary to be able to measure the perforation or identify the watermark if only to establish that you have the normal stamp. The perforation gauge measures the number of perforations within the measure of 2 centimetres. Perforations are a stamp's 'teeth' and their measurements vary according to the type of perforating machine used.
A
watermark detector
can be used to identify a stamp's watermark. The watermark is simply a thinning of the paper in the form of letters or an emblem such as a crown, and it can usually be seen when the stamp is held with the light shining through it or if the stamp is placed face down on a dark - preferably black – surface, remembering that the watermark is 'right way round' when viewed through the front, and in reverse when viewed through the back. If colours or colour-names are a problem, then the novel Stanley Gibbons
Colour Key
will assist you. It contains 200 colour tabs, including many of the shades most likely to be encountered.