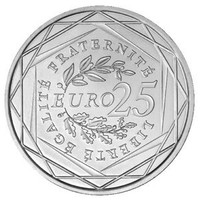 Collector coin 25 Euros Silver France 2009
From 2 June 2009, two new pieces of 10 Euros and 25 Euros Silver will be available in selected post offices in France and the DOM. These cuts will be offered in Silver made money for clients who made one or several purchases at the counter. Customers of La Banque Postale wishing to withdraw cash may also find these parts.
From September 7, 2009 the new coin 250 Euros Gold is available.
The editions are limited and the Post run only 10 pieces of 1,755,000 euros, 250,000 pieces of 25 euros and 25,000 pieces of 250 Euros, a currency made up to three cuts of 10 dollars and a cut of 25 Euros will be authorized by client, within the limits of available rooms.
Artist Atelier de Gravure

Weight 18 grams = 0.63 oz

Diameter 33 mm = 1.30 inch

Circulation 250 000

Metal Silver 900/1000

Value 25 Euros

Description This bold currency design incorporates the traditional money theme of the sower, which recalls the French, but it is a Semeuse on the twenty-first century. The range of "Gold and Silver Euros combines the scarcity of precious metals, kinetic design, contemporary and genuine value for the exchange or hoarding!
We will be happy to answer your questions:)