Collimating your Newtonian Reflector.
OK - So you've bought yourself a nice reflector of the Newtonian variety and you suspect that it may be out of alignment. (Stars look like comets with spikes off to one side!) Most telescopes will be pretty well collimated even straight out of the box - If you start messing around you could spoil your viewing for weeks before you can get someone who knows what they're doing to set you right! Only attempt collimation if you can see that the image is horrible! If the image looks OK - Leave it alone is my advice!
If you're concerned try to get someone from a local astronomical society to have a look at it for you. Failing that, as a last resort, and if you're sure you understand these instructions, you could try it yourself - Though I wouldn't recommend it unless it's a spare telescope that you plan to experiment on!
DO NOT ENTER INTO ADJUSTING YOUR TELESCOPE UNLESS YOU ARE SURE YOU UNDERSTAND THE PRINCIPAL AND CAN FOLLOW THESE INSTRUCTIONS!
If not - Ask at your local astronomical society for help!
Please read through all of this guide before attempting any adjustments.
Below are a couple of pictures showing star images in a properly aligned telescope and one that is out of collimation.
If the star images are reasonably nice pin-points then no collimation is necessary.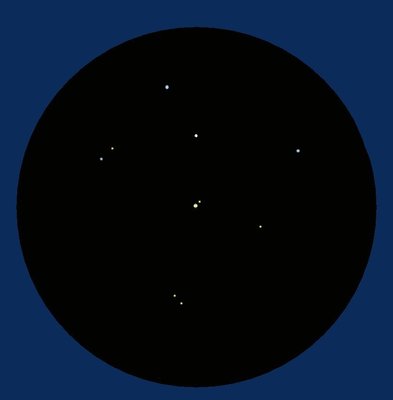 Above:
Telescope nicely collimated - Stars points.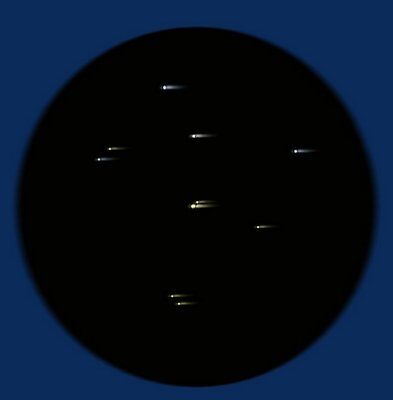 Above:
Out of collimation - stars show tails on one side.
Below is a short video showing how to assess the out of focus high magnification image of a star to check the quality of your telescope's optical alignment. What you do is slowly defocus the image of a star and observe the symmetry of the resulting disc of light. The first part of the video shows how it should look. The second how it is distorted in an optical system that has some misalignment.
Above:
Click the video to see a demonstration of the image of a star in a couple of different telescopes.
---
Assessing the telescope's collimation:
Obviously then, the first thing to do is have a careful look at a 'high magnification' star image at night to see if there are any tails. If there are, then you do need to think about collimating your optics.
If you choose to have a go yourself (having read this guide and the warnings above), the first thing you need to do is check to see if everything is nice and concentric when you look into the draw-tube (Where you put the eyepiece) when you don't have an eyepiece in. This is done by removing the eyepiece and looking into the draw-tube as if you were using the telescope in daylight with the telescope pointing toward something reasonably bland a light coloured (White wall / Blue sky / Grey Building etc).
ALWAYS DO YOUR COLLIMATION ADJUSTMENTS WITH THE TELESCOPE HORIZONTAL SO THAT NOTHING CAN FALL ONTO THE TELESCOPE MIRROR!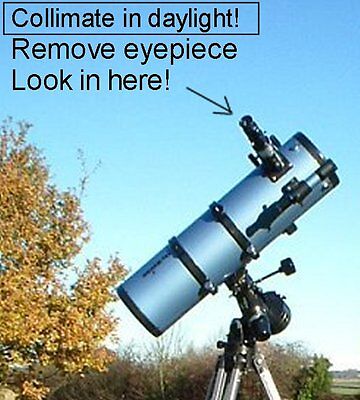 What you should see is shown below.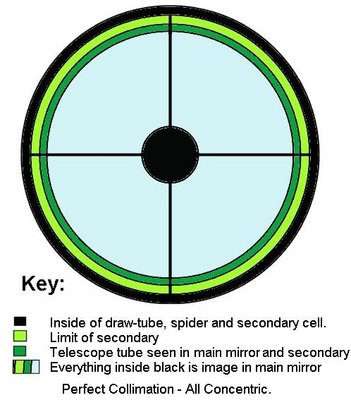 If everything is nicely symmetrical and concentric, as above, then all should be well for viewing.
If anything is not concentric please read on.
If the view resembles either of the pictures below we have some work to do!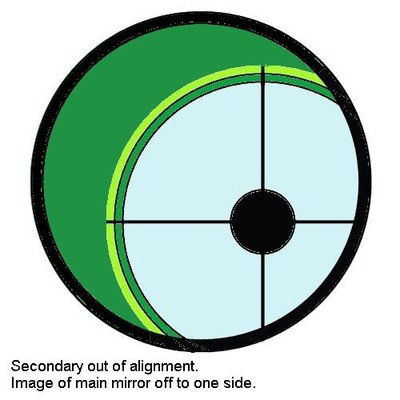 Always start by looking at the image of the spider in the main mirror, (as seen in the secondary mirror).
If the spider is central in the main mirror then it's a matter of adjusting the secondary to make everything concentric.
If the main mirror is not central in the secondary either, start by adjusting the secondary until the main mirror is concentric with the draw-tube and the telescope tube. Then move on to adjust the main mirror so that the spider appears in the center of the secondary and the main mirror.
If the spider is not central in the main mirror then we move on to adjusting the main mirror.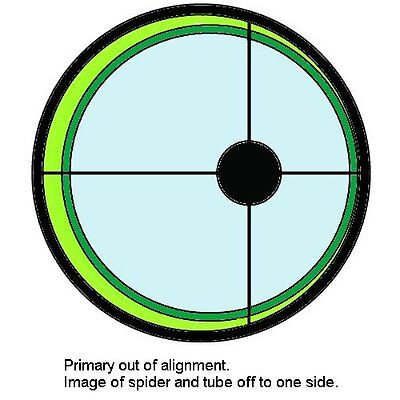 It is very important that your eye is in the center of the draw-tube when you observe the concentricity of the various mirrors. I use my draw-tube dust cap which I have drilled a 4mm hole exactly in the center of. This pushes into the draw-tube and only allows me to see into it in the center. If you have a dust cover you could do the same. (Tape it over when being used as a dust cover!)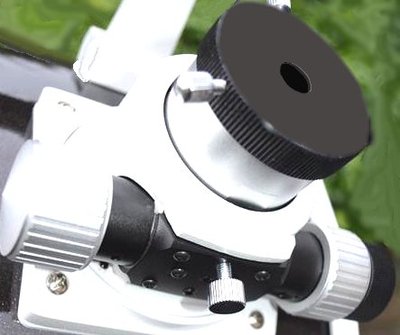 Above:
Dust cover for draw-tube drilled and used as collimation 'eyepiece'.
---
Adjustments:
Each mirror, Primary/Main and Secondary have three screws for adjustment. (Usually with lock-nuts).
These are spread at 120 degree intervals round the mirror at about 1/3 of the way in from the outer edge.
Always make very small adjustments and look to see what effect the adjustment is having.
It can be advantageous to have a helper to do the adjustments while you observe the movement of the mirrors.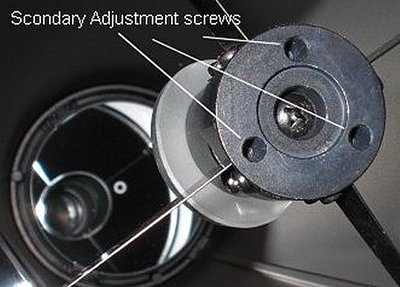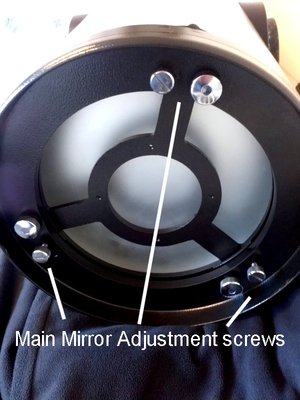 Don't forget
to lightly tighten the lock-nuts once finished while checking to make sure nothing goes back out of adjustment!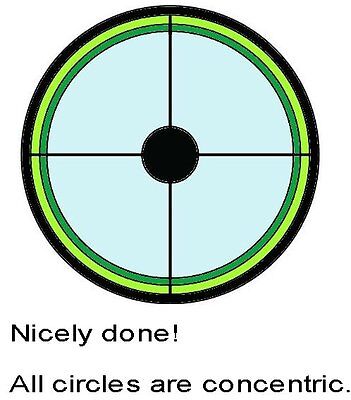 Above:
Your telescope is collimated when all the required and visible parts of the optical system are concentric.


---


IF I CAN BE OF ANY HELP, I AM MOST WILLING TO ANSWER QUESTIONS ON THIS GUIDE BY E-BAY MESSAGE.


I will answer as soon as I can and it's no bother - Honestly!

If you don't fancy talking to me and you want some face to face help and hands on experience with a telescope google for your local astronomical society, or a star-party, where you'll meet great people who will help you no-end!



---