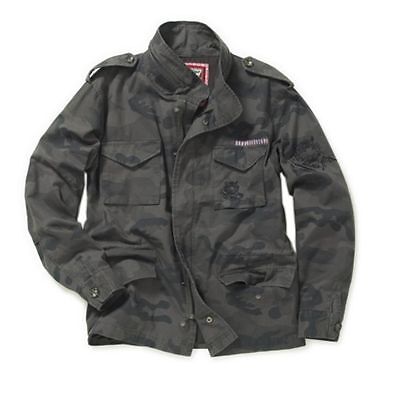 Whether it's fancy dress or completing your latest look, the combat jacket is an item that never seems to go out of fashion. eBay is one of the best places to pick up affordable and authentic jackets that may have once seen action on any number of battlefields.
Buying a jacket means considering a number of different factors with buyers needing to carefully consider everything from size and style to the condition of the item being offered.

The following buying guide will give a detailed description of combat jackets, how to search for them, and guidelines on how to complete a transaction safely and securely.
What is a Combat Jacket?
Combat jackets take their name from the fact that they're a part of the uniform used by soldiers when involved in a conflict somewhere on planet earth.
Jackets vary in a number of different ways depending on the conflict and type of combat, with armies deciding to kit out their troops with a varied selection of combat jackets.
Combat jackets can come with or without a hood, and it is a good idea to check whether the item has one before finalising a purchase.
The following sections of the guide give buyers information on how to distinguish between the thousands of different combat jackets for sale on eBay.
Clothing Size
When it comes to army uniform, sizes can be very confusing for an inexperienced member of the public.
Different countries size up the equipment in distinctive ways and the method has changed over the years even inside those different armies.
Many of the items for sale on eBay are from either the US Army or British Army and the following two sections focus on the sizing systems that each has used over the years.
British Army
Sizing for British Army combat jackets has changed over time, with original patterns sized very differently to the standard NATO system in use today.
The table below explains the system that was in place between 1953 and 1968:
| Size | Height | Chest |
| --- | --- | --- |
| 1 | 5ft 7 | 34 to 36 inches |
| 2 | 5ft 7 | 37 to 39 inches |
| 3 | 5ft 7 | 40 to 43 inches |
| 4 | 5ft 7 to 5ft 10 | 34 to 36 inches |
| 5 | 5ft 7 to 5ft 10 | 37 to 39 inches |
| 6 | 5ft 7 to 5ft 10 | 40 to 43 inches |
| 7 | 5ft 10 to 6ft 2 | 36 to 38 inches |
| 8 | 5ft 10 to 6ft 2 | 39 to 42 inches |
| 9 | 5ft 10 to 6ft 2 | 43 to 46 inches |















NATO Sizing
From 1968 onwards, the British Army adopted the NATO sizing system that uses metric measurement.
Each jacket is sized according to the height and chest size of the person that wears it. The earlier system featured eight numbers for each size. The table below outlines the eight digit sizing system:
| Size | Height | Chest |
| --- | --- | --- |
| 6070-8595 | 160 to 170cm | 85 to 95cm |
| 6070-9505 | 160 to 170cm | 95 to 105cm |
| 6070-0515 | 160 to 170cm | 105 to 115cm |
| 7080-8595 | 170 to 180cm | 85 to 95cm |
| 7080-9505 | 170 to 180cm | 95 to 105cm |
| 7080-0515 | 170 to 180cm | 105 to 115cm |
| 8090-8595 | 180 to 190cm | 85 to 95cm |
| 8090-9505 | 180 to 190cm | 95 to 105cm |
| 8090-1020 | 180 to 190cm | 110 to 120cm |
Modern NATO sizes are expressed in a shortened five to six digit format.
The newer sizes are simply the height and chest sizes. For example 160 95 would be for someone that is 160cm tall and has a chest that measures 96cm.
The next table outlines the most common sizes under the new system and the height and chest sizes they correspond to:
| Size | Height | Chest |
| --- | --- | --- |
| 170-88 | 170cm | 88cm |
| 170-96 | 170cm | 96cm |
| 170-104 | 170cm | 104cm |
| 170-112 | 170cm | 112cm |
| 180-88 | 180cm | 88cm |
| 180-96 | 180cm | 96cm |
| 180-104 | 180cm | 104cm |
| 180-112 | 180cm | 112cm |
| 190-96 | 190cm | 96cm |
| 190-104 | 190cm | 104cm |
| 190-112 | 190cm | 112cm |
| 190-120 | 190cm | 120cm |
Conflict
The colour and pattern of the jacket is categorised on eBay by the conflict in which the individual jacket was worn.
Patterns vary widely depending on the conflict and are expressed by a number that indicates the year in which the camouflage pattern was first thought up.
For example, the patterns of the jackets worn in the Falklands War are usually Pattern 68 or 72.
Combat jackets can be bought on eBay from the following conflicts:
World War II (1939 – 1945)
Korean War (1950 – 1953)
Vietnam War (1961 – 1975)
Falklands War (1982)
Gulf War (1990 – 1991)
Origin of Country
Another way to choose a combat jacket is according to the country that originally issued it.
Countries that have items listed are as follows:
Russia
France
Germany
United States
Great Britain
Organisations are also represented include:
United Nations (UN)
Commonwealth
NATO
Choice of Armed Service
The Army predominantly wears combat jackets, although other services have also kitted out their members in them.
eBay lists combat jackets by service and items can be bought that were worn by the Army, Air Force, Home Front/ Civil Defence, Marines, Navy and Special Forces.
Condition of Combat Jacket
Combat jackets listed on eBay can be categorised by their condition.
The following table outlines the types of condition and what each one means.
Condition

Description

New

Item has never had any usage.

Expect it to be new in packaging.

Be aware that many could be re-creations of authentic items.

Used

Likely to have seen use in the field during a conflict.

Can be worth a lot of money.

May have certain markings to denote authenticity.

Condition will vary a lot from one item to another.

Not

Specified

Seller has chosen not to give specifics on the condition.

Look in the product description for extra details.

Otherwise use the ask the seller feature to find out more.
















Authenticity of Combat Jackets
High street stores and other outlets have been known to make reproductions of combat jackets. It means making sure that what you are buying is the real thing and not just a cheap knock-off.
Checking for authenticity can be done by submitting an 'Ask the Seller' question on eBay, or by doing background research online first.
Another way to spot a combat jacket's authenticity is to check that it's sized according to the conventions named earlier in this guide.
Conclusion
Army surplus products are extremely popular products for all manner of different reasons, and combat jackets are one of the more sought after pieces on the market.
When using eBay to buy combat jackets, from any country that has been involved in a conflict, there are a number of pertinent questions to ask before completing a purchase, including:
Be sure to check the size is correct, as authentic jackets have a complex sizing system.
Check item is authentic and not a reproduction.
If used, ask the seller to check how much usage the item has had.
Once these questions have been answered it'll bring a decision on the item closer, but the final choice is always going to be down to you, the buyer.
When ready to complete the purchase, remember to use PayPal to make sure everything goes through as safely and securely as possible.