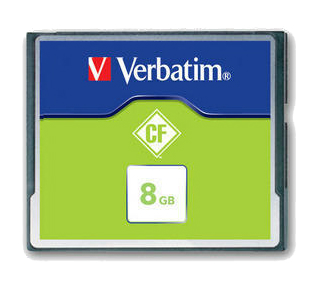 When a photo or video is taken on a digital camera, the image is stored on a memory card. Most cameras are either sold without a card or with a small card, so users generally prefer to upgrade. The CompactFlash format is used in the higher-end DSLR cameras and is the card of choice for professionals and serious amateurs.
DSLR cameras enable high-quality photos to be taken using different formats. The higher the megapixels used, the better the photo quality but the more space it takes up on a memory card. DSLR cameras allow the format to be changed (i.e. RAW or Jpeg). It is also possible to vary the resolution of a Jpeg photo and therefore the amount of memory it takes up.
Compact Flash Cards Explained
CompactFlash cards have several distinctive features.
Types of CF Card
There are two types of CompactFlash card, known as CompactFlash I and CompactFlash II. The only difference is in the card depth, but most cameras support both sizes, and CompactFlash I is by far the most common.
Features
CompactFlash I cards measure 43mm X 36mm, and are 3.3mm deep. They have data pinholes along one edge. They are waterproof, and can operate efficiently in extremes of temperature.
What to Consider When Choosing a CompactFlash I Card
There are two considerations when buying a memory card: storage capacity and speed.
Storage Capacity
The storage capacity of a card is measured in gigabytes (GB); the higher the GB capacity, the more data can be stored on the card. Because photos and video can be shot in different formats and at different resolutions, the actual number of photos or minutes of video that can be stored on a card varies. Higher resolutions and RAW photos have larger files than low or medium resolution Jpegs. HD video takes up a considerable amount of space.
What Can Be Stored in Different Capacity Cards?
Manufacturers have tables on websites saying roughly how many photos can be fitted onto cards of different capacities, but the following tables give a general guide.
High-Resolution Jpegs
| Megapixels | File size | 4GB | 8GB | 16GB | 32GB | 64GB | 128GB |
| --- | --- | --- | --- | --- | --- | --- | --- |
| 5MP | 2MB | 2861 | 5722 | 11444 | 22888 | 45776 | 91552 |
| 10MP | 0MB | 1144 | 2288 | 4577 | 9155 | 18310 | 36620 |
| 22MP | 6MB | 520 | 1040 | 2080 | 4161 | 8322 | 16644 |
RAW Format Photos
| Megapixels | File size | 4GB | 8GB | 16GB | 32GB | 64GB | 128GB |
| --- | --- | --- | --- | --- | --- | --- | --- |
| 5MP | 0MB | 228 | 457 | 915 | 1831 | 3662 | 7324 |
| 10MP | 0MB | 114 | 228 | 457 | 915 | 1830 | 3660 |
| 22MP | 0MB | 52 | 104 | 208 | 416 | 832 | 1664 |
Video
| Format | Media size | 4GB | 8GB | 16GB | 32GB | 64GB | 128GB |
| --- | --- | --- | --- | --- | --- | --- | --- |
| MPEG2-SD | 3Mbps(CPR) | 3 hours | 6 hours | 12 hours | 24 hours | 48 hours | 96 hours |
| MPEG2-SD | 8Mbps(CPR) | 1 hour | 2 hours | 5 hours | 9 hours | 18 hours | 36 hours |
| 264 HD | 30Mbps(CPR) | 20 min | 40 min | 80 min | 5 hours | 5 hours | 11 hours |
What Capacity of Card to Choose
CompactFlash I cards range from 4GB to 128GB. If the camera is not used frequently, then a high-capacity card is not needed. However, if it is used frequently, or images need to be stored for a long time, then a higher-capacity card is better. More low or medium resolution photos can be stored than high resolution or RAW images. A higher-specification card is recommended for video.
Card Speed
The card speed defines how quickly data can be written onto the card ('write speed'), and how quickly the data can be read when downloading ('read speed').
Read Speed and Write Speed
Read speed is important because a faster read speed enables data to be downloaded more quickly e.g. when transferring to a laptop. A fast write speed is essential when shooting photos rapidly in 'burst' mode, such as taking action shots. It is also important for recording video.
CompactFlash Speed Indication
There are two ways to classify card speed; using a multiplication factor, and a class system. CompactFlash speed is based on the former. The multiplication factor us based on the CD-Rom speed of 150KB per second, so using that scale, an 89MB file could be read in one second by a 600X card. Faster cards are more expensive, which explains why cards with similar storage capacities can vary widely in price. However, not all cameras can fully utilise the very fast speeds, so check the manual carefully before opting for one of these cards as the full benefit of the high speed could be wasted.
Ultra Direct Memory Access Grading
CompactFlash cards utilise Ultra Direct Memory Access technology to enable fast sustainable speeds and greater storage capacity. This allows photos to be taken and read very quickly, but also supports shooting HD video which needs a sustained write speed when recording. Cards are graded from 1-7, depending on the speed.
Preventing Problems
Because of their durable nature, problems with CompactFlash cards are uncommon, but a few simple steps will help ensure that the card functions efficiently.
Handle the Card Carefully
CompactFlash cards should always be handled carefully and stored safely in their case when not in use to prevent accidental damage.
Prevent Data Corruption
If the data on the card becomes corrupted, data can be lost. Firstly, always ensure that the indicator light is not flashing before removing the card as the light shows that data is being written to the card. Secondly, deleting photos on a computer leaves trace data on the card, which can build up over time. Always clear the data by formatting the card via the camera, but be aware that this totally clears the card, so ensure that any photos or video have been removed first. Image recovery is available with some cards.
Choose a Reliable Card
The reliability of a card can be judged by its Mean Time Before Failure (MTBF) rate. Using this scale, a card with a MTBF rate of 500,000 will last for 58 years on average before failing.
Buying a CompactFlash memory Card
When considering which the best CompactFlash I card to buy is, buyers should first consider their photography habits. The needs of an occasional photographer shooting Jpegs will be different from those of a professional photographer using mainly RAW format. If video is used, especially HD video, then a higher-capacity card with a good write speed is important.
Consider also how often the data can be downloaded from the card. If lots of images are to be stored, then a higher-capacity card may be needed although several smaller capacity cards may be better in case data on one card is lost or corrupted. Professional photographers are likely to need high-capacity cards with the highest speeds.
Research the options available, and ensure that any equipment used can support the faster speeds before making a decision.
CompactFlash I cards are available from retail shops or online. Shops may be able to offer advice to a buyer as to the best card for their circumstances, but prices may be higher, and the range of cards may be limited. Buying online will offer a wider range of cards, and prices may be cheaper although be sure to buy from a reputable sources – a very cheap price may indicate that the card is not genuine. Photos and video are usually irreplaceable, so don't risk losing them by buying a fake card. Always compare prices before making a purchase.
Compact Flash Card Levels
There are many companies which manufacture CompactFlash I cards, and their products vary, so it is important to research the exact specifications of each card to be sure of buying one that is best for individual circumstances. Most brands have different levels of card.
Level

Memory capacity

Speed range

UDMA

Notes

Everyday

2GB, 4GB, 8GB, 16GB, 32GB

Up to 200X (30MB/s)

UDMA 1-2

Mid-level

4GB, 8GB, 16GB, 32GB, 64GB, 128GB

200 X - 600X (30MB/s - 90MB/s)

UDMA 2-4

Recovery software usually available

Professional

8GB, 16GB, 32GB, 64GB, 128GB

600X - 1000X
(90MB/s - 150MB/s)

UDMA 5-7

Recovery software usually available
Buying a CompactFlash I Card on eBay
To buy a CompactFlash I card on eBay, start at the home page, and then go to All Categories. From the Cameras & Photography menu, select Camera & Photo Accessories, and then select Memory cards from the Categories menu. Select CompactFlash I from the Format menu where the options can be browsed, or refine the search further by brand or storage capacity. A further option is to search by using key words such as a specific speed or UDMA grade.
Conclusion
CompactFlash cards are an essential tool for a photographer, and with care they can last for many years. So it is important to research the options carefully to ensure that the very best card can be purchased for saving those all-important images and video.