The world of digital SLR cameras is as complex as it is vast with each brand and model of camera fitting into a specific niche. The Canon 5D, also known as the Canon EOS 5D, is one such example of a niche camera designed to fulfil the needs of advanced amateurs and professional photographers alike. Understanding the unique place of the 5D within the larger DSLR market as well as reviewing its specifications and features is the best way to prepare to purchase this unique digital camera.
What Makes the Canon 5D Different
When it initially hit the digital camera market in 2005, Canon billed the EOS 5D as the first in a new category of DSLR cameras. Unlike previous DSLR options which clearly fulfilled the needs of professional photographers, or the lighter version DSLRs designed for amateurs and hobbyists, the Canon 5D was the first digital camera to combine the needs of both parties. As a full-frame 35mm camera with a high-resolution sensor, it promised the quality photographic capabilities demanded by professionals. As a compact and lightweight unit, it was easy to transport and store, which was perfect for budding amateurs not yet accustomed to the heavy and often bulky nature of professional photography equipment.
Top Specifications of the Canon 5D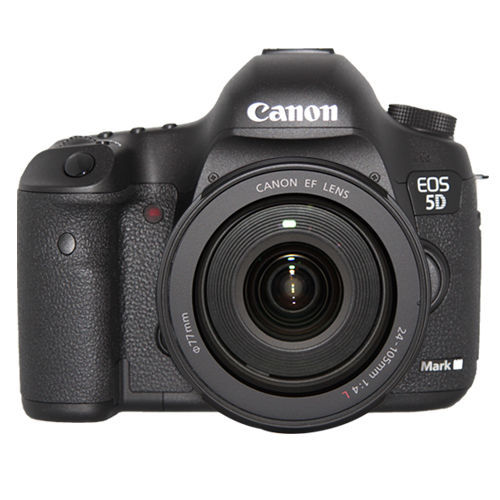 The specifications for the Canon EOS 5D reveal the truth to the company's statement that this camera exists between others in the market. Its compact body and lightweight frame do not prevent it from producing powerful, professional-level photographs. The table below reviews these specifications.
| Specification Category | Canon EOS 5D |
| --- | --- |
| Dimensions | 152mm wide by 113mm high x 75mm deep |
| Weight | 895 grammes |
| Sensor | 12.8 MP CMOS |
| Image processor | DIGIC II |
| Autofocus | 9 zones, TTL phase detection |
| Light sensitivity | ISO 100 to 1600 |
| Shutter speed | 1/8000 to 30 seconds |
| Shooting speed | 3 frames per second |
As the basic specifications of the Canon 5D display, users have a very powerful, yet compact DSLR camera capable of taking quality photos quickly. As such, professionals may prefer the Canon 5D as a lightweight option for shoots which require the discretion of a small camera, such as event photography.
Top Features of the Canon 5D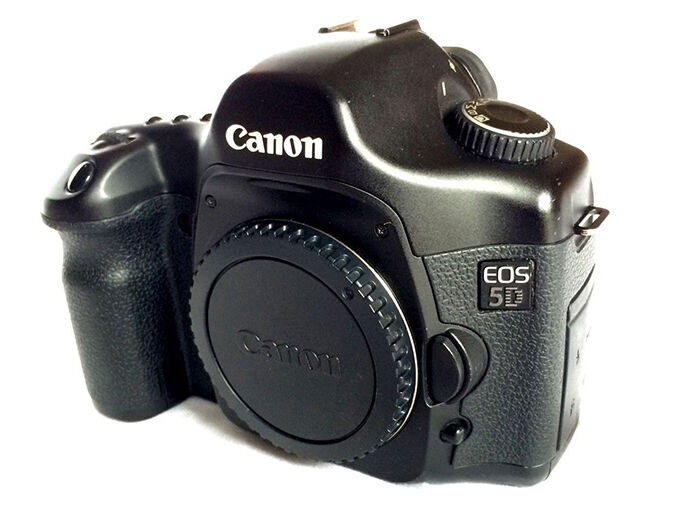 In addition to the subjective specifications of the 5D, there are several additional features of this Canon digital camera worth reviewing. Most notably, the Canon EOS 5D offers full-frame 35mm camera capabilities just like professional level DSLRs. This means that wide-angled shots remain so and the viewfinder stays open to light. The nine levels of autofocus further appeal to budding photographers who need the help of the camera to frame their shots. These levels include One Shot, AI SERVO, and AI Focus modes. Finally, the Canon 5D connects easily to any Canon EF-style lenses which allow users access to over 60 high-quality Canon lens options as well as the EX series of speedlight flash units.