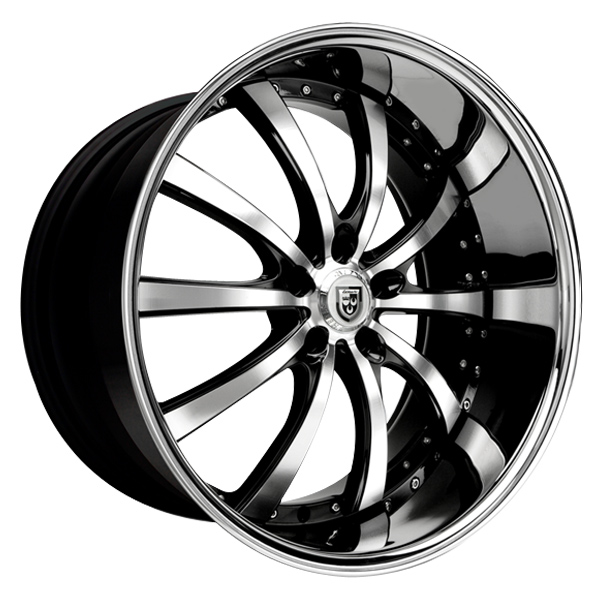 Rims help tyres to stay on cars, and while all cars come with standard sets of rims, some car owners want to upgrade their car's rims. Besides, rims may also need to be replaced in the event that existing rims suffer from any kind of damage, and while buyers have the option to look for stock rims, they also have the option to search through scores of aftermarket alternatives. When it comes to exterior accessories of a car, rims are among those that are searched for most commonly, and not only can they help to improve a car's aesthetic appeal, they can also have a bearing on a car's steering and traction capabilities.
When looking for rims, buyers have the option of approaching local brick-and-mortar shops that house car parts and accessories, and they can also get in touch with local repair shops. Alternatively, they can turn online to platforms like eBay, and in doing so, they can search through multiple options in a single place. Irrespective of where a buyer purchases rims, paying attention to a few aspects before actually buying them is important. These include knowing the role that a rim's size plays, identifying bolt patterns, and choosing between steel and alloy rims.
Size Matters
Matters pertaining to a rim's size should be duly addressed because the size of rims plays an important role in their fitting, as well as performance. People looking for larger rims may do so for purely aesthetic reasons or to improve handling. However, changing the size of a car's existing rims significantly can require the car's suspension to be modified in accordance. Since rims are made available in various sizes, instances of people adding 1 to 3 inches to their stock sizes is not uncommon, although instances of people looking for smaller rims than those which their cars sport are few and far between.
Typically measured in inches, the diameter of rims can vary between 13 and 30 inches, with the smaller rims being used with smaller cars, and the larger rims designed for SUVs and the like. Rims typically come with alphanumeric character sets engraved on them, and these read something like "16-7-J". In the given example, the diameter of the rim is 16 inches, the width from the outside front to the inside back is 7 inches, and "J" denotes the shape of the rim.
Increasing Rim Size
When it comes to increasing a car's rim size, the general consensus is that bigger rims result in thinner tyre profiles and firmer drives, and when opting for a stretched rim, the drive becomes firmer still. Larger rims used with wider tyres increase the contact surface area between the tyre and the road, which helps to improve a vehicle's handling as well as stability. However, handling can be compromised significantly when opting for rims that are more than 3 inches in comparison to a vehicle's stock rims, and in such instances, users can also expect increased fuel consumption, problems with the vehicle's transmission system, as well as malfunctioning computerised braking systems.
Offset and Backspacing
When looking at rim sizes, paying attention to these two aspects is very important, given that they can vary from rim to rim, and opting for rims that do not match up to a vehicle's specifications on these counts can lead to the tyre or rim coming into contact with the vehicle's suspension.
Offset
The length between the rim's centre line, a line that runs through and around the rim's barrel, and the point where it is mounted is referred to as the rim's offset. When the mounting point of a rim is in line with the rim's centre line, the rim is said to come with zero offset. If the mounting point extends outwards of the centre line, the given rim comes with positive offset; and negative offset refers to rims where the mounting point is further inwards, toward the vehicle's suspension. Rims with negative offsets tend to come with deep dishes, sitting further away from the vehicle's suspension; however, rims with positive offsets tend to come with shallow dishes, typically sitting closer to the suspension.
Backspacing
The length between a rim's centre line and the end of the rim's lips is referred to as backspacing, which depends on the rim's overall width as well as its offset. While offset helps establish where the rim sits, backspacing helps establish how much the rim protrudes toward the vehicle's suspension.
Bolt Patterns
Varying numbers of bolts are used to keep rims in place. When buying rims, consumers should pay attention to the bolt pattern because different rims that come with different bolt patterns cannot usually be used interchangeably, although buyers do have the option to look for rims that can work with two different patterns. Bolt patterns are represented numerically like so: 4 x 98, 4 x 100, 5 x 100, and so on. The first value in these sets of numbers indicates the number of bolts that are to be used with a given rim, and the second value denotes the bolt circle's diameter, typically displayed in millimetres. Although measuring the bolt circle diameter may seem pretty straightforward, using a bolt pattern gauge to do the same is recommended because even slight mismeasurements can lead to buying rims that do not fit. The table below shows how different manufacturers use rims with different bolt patterns, with even the same manufacturers resorting to using different bolt patterns with different cars.
Car Maker

Bolt Pattern

5 x 100

5 x 112

BMW

4 x 100

5 x 120

Chevrolet

4 x 100

4 x 114.3

6 x 139.7

4 x 100

4 x 114.3

5 x 114.3

Mercedes

5 x 112

5 x 130

4 x 100

5 x 100

5 x 112

5 x 120

5 x 130

6 x 139.7
Buyers should know that even a seemingly miniscule difference of 0.5 mm in the bolt circle diameter can result in the lugs not being centred within the lug holes, and this absence of centring when the lug nuts are tightened into place can result in vibration of the rim when is use.
Steel Rims or Alloy Rims
When it comes to buying rims for cars, buyers have two basic materials that they can purchase. The two basic materials include steel and aluminium alloys.
Steel Rims
The stock rims that a number of vehicles come with are made of steel, and the use of this material is looked upon as a practical choice by a number of vehicle manufacturers. Steel rims are typically stronger than alloy rims; it takes much more force to bend steel rims, and cracking them is near impossible. Since steel rims are typically heavier than their alloy counterparts, when steel rims are used with vehicles that previously used alloy rims, drivers can experience the vehicle feeling heavier as well as reduced agility and acceleration. While this may not sound like a good thing, it can be particularly useful when dealing with snow covered paths and roads. Steel rims are normally painted black, although they can be painted in different colours, and they are frequently used with hub caps to enhance aesthetics. Steel rims are also typically cheaper than alloy rims, and can be found to fit just about any kind of vehicle.
Alloy Rims
Good alloy rims are stronger than steel rims, providing longer life and having a positive effect on the wear and tear of tyres. Many cars now come with alloy rims as standard fixtures, and unlike steel rims that come with limited designs, alloy rims present buyers with way more design alternatives from which to choose, even giving them the option to customise them. Lighter than steel rims, alloy rims allow for better acceleration and improved agility. However, the downside is that alloy rims tend to bend easily when involved in mishaps, and can crack if bent excessively. How brittle or pliable an alloy rim is depends on the ratio of nickel and aluminium used to make the alloy as well as its construction method.
Buying Rims on eBay
A significant number of sellers use eBay to market and sell car parts and accessories, which includes an assortment of rims, both steel as well as alloy. Buyers can expect to find rims to fit cars made by just about every car manufacturer, be it Audi, BMW, Chevrolet, Daihatsu, Ferrari, Mercedes, Porsche, Renault, Subaru, and others. Some of the brands that buyers get to choose from when shopping for rims on eBay include AEZ, Alutech, Borbet, Dezent, Dotz, OZ Racing, and Team Dynamics.
An advantage to buyers when it comes to shopping on eBay is that they can choose to look for remanufactured and used rims, and when buying these, buyers stand to save some money. Given that rims are made to last, buyers looking for used rims can find some rather good options, although care should be taken to make sure that the rims in question are not bent out of shape or cracked.
Since rims can be quite heavy, some sellers may require buyers to pay fairly high postage and packaging costs, thereby requiring buyers to address this aspect. The good news is that eBay is also home to sellers who give buyers the option to pick up their purchases in person for free, which is ideal when dealing with local sellers.
Conclusion
When looking for new rims, checking specifications of the existing ones is always a good starting point, even if an upgrade is in order, as this helps establish just what the vehicle can accept without requiring any modifications. Browsing through varied choices in terms of materials used as well as design is the next step, and when doing this, personal needs and requirements should be taken into account. For instance, if the vehicle in question is to be used predominantly on rough terrains or for off-road driving, steel rims work as better alternatives. Aspects like bolt patterns, backspacing, offset, and arch clearance also require a buyer's attention, failing which, ending up with a wrong set of rims should not come as a surprise.
Basing the buying decision entirely on money is not suggested when it comes to buying rims, given that they play a crucial role in how a vehicle operates, in addition to having to bear its entire weight. Once the new rims have been fitted, the entire set of rims and tyres should be aligned and balanced to ensure that they do not cause any damage.