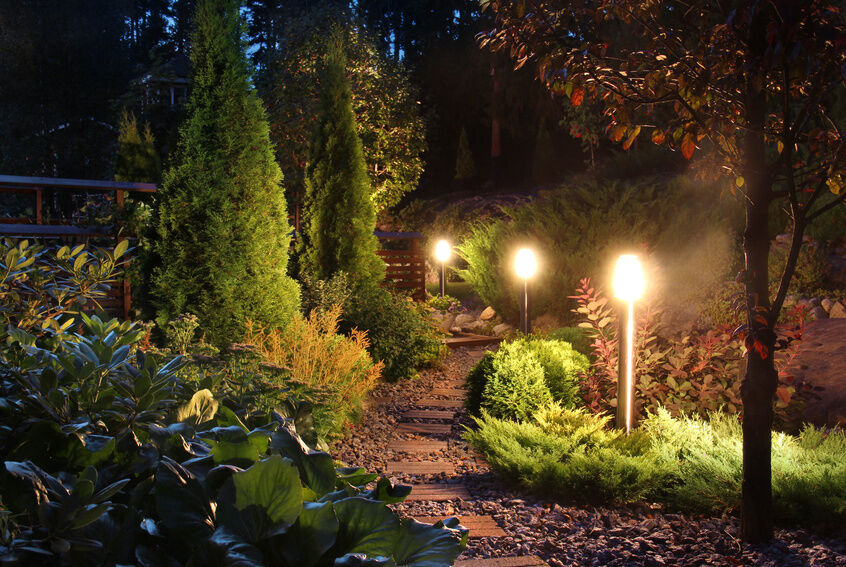 Outdoor lights provide you with so many illuminating choices. However, before deciding on and purchasing your outdoor lighting, consider many details and scenarios. You can brighten and add drama to your landscaping, deter home burglary, and or create a welcoming and easy-to-walk lit path to your front door for guests with exterior lighting. You want to keep outdoor lighting in mind that suits your climate conditions, as well as energy-efficient options that fit your budget.
Lighting to Show Off Your Landscaping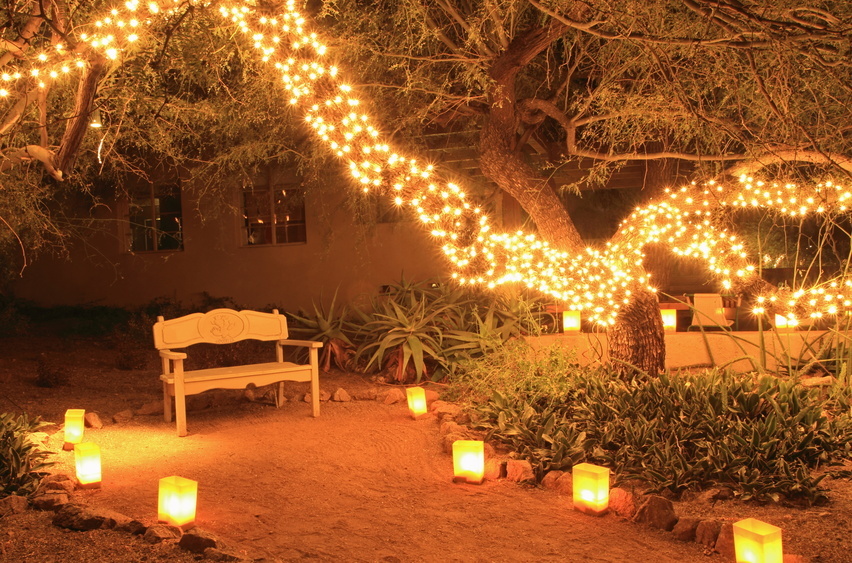 When showcasing your landscaping with outdoor lighting, consider the width and height of a tree, bush, or plant. Then, choose spotlights, well lights, or uplights with the desired intensity, either with a wide or narrow beam of light. Garden lights placed among flowers lining a walkway or a wall is a great way to make bloom colours pop. Alternate the position of pathway lights so it does not look like you have created a mini airport runway. Low-voltage lights can brighten your garden efficiently, since your eyes naturally adjust to the dark.
Lighting Your Home for Security and Safety

Low-voltage and professionally installed 120-volt lighting easily connects to motion sensor security systems. Solar-powered lights are too dim for the security of your home. Install floodlights near doorways, the garage, windows, high railings, and shadowed, low-traffic areas. Make sure to place them at least 9 feet above the ground. Additional path lights along walkways and steps not only keep you and your guests sure-footed, but can also help discourage intruders.
Lighting for Outdoor Decor and Entertaining
Outdoor wall lights and pendant lights in entrances complement and accentuate the architectural trim of your home, as well as make your guests feel welcome. Create a continuous, cohesive look and feel between your interior and exterior lighting by shopping for a collection that offers like styles for various lighting purposes. Lanterns and string lights along patio railings, outdoor tables, or posts placed in the front or back garden add ambiance.
Lighting for Energy and Cost Efficiency
Purchase LED and fluorescent lights for optimal energy saving. Use incandescent lighting if a timer controls it and if you use for a few minutes a day. Apply timers to decorative lighting, too. Consider floodlights with photo or motion sensors instead of other security lights. Use solar-powered garden lights when possible and place them in locations where they get a minimum of six to eight hours of exposure to sunlight. Lastly, take care to use covers, light reflectors, or deflectors on your outdoor lights to decrease light pollution.
Lighting in Any Climate
Make sure your outdoor lights function no matter what the weather may be outside. Look for outdoor-rated bulbs that withstand extreme temperatures. Also, use outdoor-rated extension cords instead of attempting to use ones you have for indoor purposes, as they are not weatherproof.