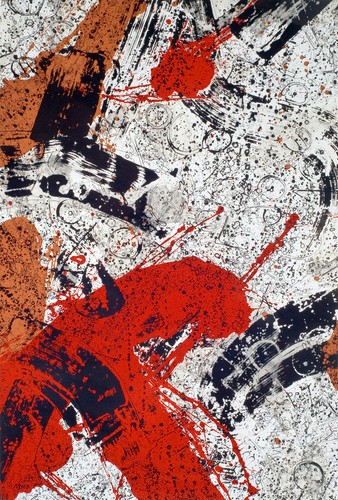 It used to be that owning artworks, including contemporary and modern art, was the domain of a selected few. However due to modern printing techniques as well as distribution via the internet, it is now possible to own high quality, affordable art prints.
Because of its International and widely varied stock, eBay is an excellent place to buy contemporary art posters and prints of an excellent standard at competitive price.
Contemporary Art Posters Explained
What is Contemporary Art?
Contemporary art is defined as art which has been produced in the current era, that is, between the periods of 1980 to present day. Additionally, many scholars define the contemporary art period as longer than that, and hold that all art produced since 1945, or the end of the 2nd World War, is contemporary art. The terms Modern Art and Postmodern Art can both be applied to some contemporary artworks.
What is a Contemporary Art Poster?
A contemporary art poster is a reproduction, or re-print of an original artwork from the modern or contemporary period. Due to the rise and importance of posters as artwork in their own right, the term Contemporary Art Poster can also be used to describe a poster which was produced some time after 1980 which has historical, artistic or nostalgic significance, for example a sport poster, propaganda poster or advertisement poster.
How is Contemporary Art Posters Produced?
It is useful to know when considering a purchase of a Contemporary Art Poster that there are various methods to produce posters which affect its value and rarity as well as the way that it looks.
Contemporary Art Printing
Some of the main methods used in Modern Art reprinting to create posters are included in the following section.
Lithography and Offset Printing:
One of the earliest methods of mass reproduction of images, lithography remains a very popular format for printing Art Posters to this day. Early lithographic prints were produced by using a template image which had been scratched into a wax coated lithographic stone. The stone template was then used in a similar manner to a stamp to reproduce the template image in ink on a blank page.
Modern lithographic prints, of which a wide selection may be purchased on eBay, uses a template or lithograph which is comprised of a flexible aluminium plate with the image applied in polymer coating. T
The lithography process uses water to print an image, on the principle that the greasy coating will repel liquid and remain dry, therefore transferring a perfect copy of the original onto a new surface. If a copy is printed straight from the lithography plate, the image it retains will be reversed, or a mirrored copy. The mirror effect can be reversed through offset printing.
Offset Printing
An offset print is the name for a print which comes from creating a rubber 'blanket' template from the reversed image of a lithographic print, so that the print produced is identical to the original image.

Most Contemporary Art Posters which are reproductions of original artworks, as well as music posters and fly posters etc are printed through the Offset Printing process.

This is because the rubber blanket template obtained from a lithograph which is used in offset printing produces consistently high quality, uniform, crisp and clear printed images.
Chromolithography:
Chromolithography is the term used for lithography prints in full colour.
Digital Printing:
A method of printing straight from a digital image (such as on a computer screen) onto paper, cardboard, canvas, etc. The most popular types of printers used to produce Contemporary Art Posters are inkjet and laser printers. Although digital printing can have a higher cost per print than an offset printing, digital printing is a very popular way to produce posters because it
Simplifies the process of producing a print considerably, as there is no need for a lithograph and an offset plate,
A digital template, such as a graphic computer file, has a virtually infinite life.
Giclée prints:
High quality prints made on inkjet printers are known in the art world as Giclee prints. It is a description which originated in the early 90s for fine art prints produced on inkjet IRIS printers. The name today has evolved to cover any art poster or print made on inkjet printers.
Buyers should bear in mind that this term is not a brand name nor is it a regulated industry standard, so although the term Giclee printed when applied to an art poster would normally indicate a high quality product, this is not necessarily always the case.
Contemporary Art Prints Available on eBay
The next section will look to highlight the main contemporary art prints that are available on the eBay platform, and will offer the benefits to each as well.
Unframed Paper or Cardboard Print:
The common format, in which, most Contemporary Art Prints are sold. Some benefits of purchasing an unframed cardboard or paper print include:
Lower cost postage
lighter weight so that the poster can be easily transported
The buyer can see the print in the setting for which it is intended and then make a decision about framing it.
Canvas Print
Sometimes available as a flat canvas print which emulates a traditional painting on canvas, and sometimes in the format of a stretched canvas over a square or rectangular frame, the canvas art print is popular because:
Flat canvas posters can be framed in a number of styles to achieve different effects
3 dimensional canvas prints can stand up on their own, and can be used for other decorative purposes along with traditional wall mounting.
3 dimensional canvas art posters have a different finish and therefore different effect to a paper print and are easily portable
Framed Art Poster
Pre-framed contemporary art posters suit eBay shoppers who want to buy a piece which is ready to hang or display.
A framed print is a wise purchase for those who want to ensure their art poster is kept in mint condition, and is therefore a popular choice of collectors.
Occasionally a contemporary art poster has been specifically designed to fit in a particular frame, for example if it is an exact copy of an existing framed artwork.
Popular contemporary artists whose work has been reproduced in art posters include:
| Artist | Description |
| --- | --- |
| | Damien Hirst's paintings, sculpture and photography are all popular as Contemporary Art Prints. |
| | It is almost impossible to own a 'real' Banksy because the artist works anonymously through graffiti in public places, therefore posters of his work are well loved. High quality print posters of Banksy works have proved popular as they allow the buyer to see the art from all angles. Contemporary Art Posters of transient works such as graffiti also mean that the art work is preserved for posterity. |
| | Known for pushing the boundaries between Modern Art and Advertising Posters, Andy Warhol's work lends itself perfectly to being reproduced as a Contemporary Art Poster |
| | Known for his DPI (dots per inch) cartoon inspired style, Roy Lichtenstein's work is very popular in art poster form due to the fact that it was originally rendered as print work. |
| | Jean Michel Basquiat began as a graffiti artist in New York before moving onto a painting career. His work is often available as limited edition linocut posters which are highly collectible. |
| | Georgia O'Keefe was an American Postmodernist painter who produced large scale iconic works with items such as flowers and skulls as subjects. Her works are very popular as Art Posters. |
Popular Styles of Contemporary Art Posters
The following section will look to highlight the popular styles of art posters that are available via the eBay platform and have been popular since the 1980 era:
| | |
| --- | --- |
| PRINTS OF MODERN ARTISTS | Including the artists outlined in the table above |
| PROPAGANDA POSTERS | For example, reproductions of wartime posters, revolutionary posters, slogan posters eg 'Keep Calm and Carry On' Posters |
| VINTAGE LONDON UNDERGROUD POSTERS | Ranging in dates from the 1930s to the present day |
| SPORTING POSTERS | Advertising past fixtures of popular sporting teams, and important matches or team photos are all popular styles sold on eBay |
| ART PHOTOS | Including varied photographers such as Mario Testino, Ansel Adams |
| BAND/MUSIC POSTERS | An industry in itself in recent years, eBay has a wide selection of music art posters including advertisement posters and homage posters, a relatively recent genre where well known contemporary artists design posters for bands, often in limited edition runs. |
Tips on Collecting Modern Art Prints
For well-known and popular artists such as the ones outlined above, there are many different variations of art posters of their work available, both new and used, and in various styles, print runs and editions.
As such prices can vary greatly. When considering a purchase of a limited edition, special release, rare or collectible poster of a well-known contemporary artist, it is always a good idea to ask the seller for a certificate of authenticity and/or documents of provenance.
The question may also be asked, 'Are there more than one version of poster the same picture?' If so, it can come down to buyer preference.
Bear in mind that popular contemporary artworks may have been reproduced a number of times at different stages, for example as contemporary art posters by the artist, again by the artists' estate and again by, say, a museum.
These prints may then differ by size, or may include a border or caption, or details of an exhibition. Add to this the wide range of framed and canvas art posters on eBay and there are many choices for buying a Contemporary Art Poster.
Practical Tips on Buying a Contemporary Art Poster
Before purchasing contemporary art posters, it is advisable to determine some practical tips before making the purchase. This can include considering where the artwork will be situated, the price, and who the audience is.
Consider the Space

Where will the Contemporary Art Poster be displayed or hung? Is it for the home, an office, or a public space such as a gallery? What is the lighting like in this space? What colours, textures and patterns already exist in this space? Remember it is possible to search eBay for Art Posters by colour, size and shape to find something which will complement the space it is intended for.
It is also advisable to measure the space an Art Poster is intended to occupy, and search for those dimensions. Adding a frame will mean that a poster takes up more space. A glass fronted frame will also add weight to a poster, so check that a wall or bench can take that weight or be drilled into to hold hooks.

Consider the Audience

Is the Contemporary Art Poster a gift or for personal use? If personal, asking these questions may help ith the decision making process:

Does the Contemporary Art Poster evoke a strong reaction?
Is the poster something I would be happy to look at every day?
Does it suit the décor of the room it will occupy?
If the Art Poster is for a gift:
What is known about the taste of the person this poster is for?
What is their favourite colour?
Do they have an interest in contemporary art or a favourite contemporary artist?

Consider your Budget

Contemporary art posters vary greatly in price. Will this purchase be used to simply brighten a space or is it the beginning of a serious collection?
Versions of Modern Art Posters
When shopping for iconic propaganda posters for instance or for an Art poster of a famous artist, there may be more than one version of the same picture available. If this is the case, the decision of which one to choose can come down to buyer preference: popular artworks may, for example, have been reproduced as contemporary art posters by the artist, the artists' estate and a museum.
The prints may then differ by size, or may include a border or caption, or details of an exhibition. It is up to the vendor to consider the space and purpose of their Contemporary Art Poster to aid in the decision making process.
How to Select and Buy a Contemporary Art Poster on eBay
eBay offers thousands of different styles, sizes and formats of Contemporary Art Posters at competitive prices. Some of the many advantages of buying on eBay include the comparison function so that a buyer can compare posters available to select the perfect piece for their style and budget, as well the flexible payment options available.
To search for contemporary art posters, visit the Art portal. From there, you can choose to search for Canvas/Giclee prints, Posters and even Contemporary Artworks, where original contemporary art posters and prints can be found. Contemporary Art Posters can also be found by searching by Artist, Exhibition, and Time period or by one of the categories outlined above, e.g. Sport Art Posters.
Conclusion
Hopefully this comprehensive guide has provided enough tips, knowledge and information about contemporary art posters to ensure that you make a practical decision on what to purchase.
As mentioned throughout the guide, eBay offers a vast selection of all contemporary poster types on their marketplace. The platform allows for a safe and secure experience, at which you can also look to pick up some great contemporary art posters at affordable prices.