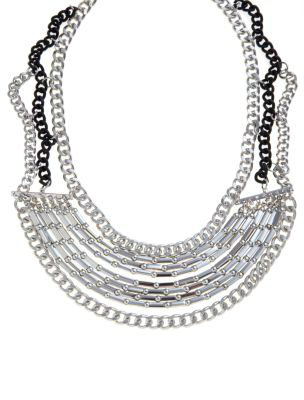 First mined in 4000 BC in what is now Turkey, silver is an enduring precious metal that is ideal for use in jewellery. Less costly than gold or platinum, silver features a beautiful lustre, and can be highly polished to enhance its natural beauty. Silver is malleable, meaning that jewellers are able to shape it into an almost limitless variety of beautiful, stylish creations.
Silver necklaces are especially versatile and are a perfect accessory for sweaters and jeans, business attire, nightclub outfits, and elegant formal wear. While contemporary silver necklaces are available in retail stores and online sources, the online auction site eBay is great resource for thousands of contemporary silver necklaces of every type and style. When considering a silver necklace as a gift or for oneself, the consumer should research the item, such as the type of silver used for the necklace and the security of the clasp. One should also weigh aesthetic considerations, such as the length and width of the necklace, the finish, and elements such as pendants or other materials integrated in its design.
Types of Silver Used for Jewellery
One of the oldest precious metals, the silver used to create jewellery comes in several types. Pure silver is 99.9 per cent unalloyed metal, and it is denoted as "0.999 fine silver". It is too soft for practical use, and it is generally found in investment-grade bullion coins. However, all silver is not alike. When selecting and purchasing a silver necklace, buyers should know what kind of silver it is made with. The quality, rarity, and cost of a necklace vary widely depending on the type of silver used in its creation. The sections below discuss several of the most popular types of silver.
Sterling Silver
Sterling silver is 92.5 percent pure, with the other 7.5 per cent of the metal alloy composed of copper, which is added to harden the metal. While silver itself is nonreactive, wearers of sterling silver jewellery may experience skin irritation if they are sensitive to copper. Because copper reacts with air, its presence causes sterling silver to tarnish. Sterling silver that is handled and worn also tends to acquire a soft luster that is quite beautiful. To determine whether a piece of jewellery is made of sterling silver, one should look for a hallmark on the underside of the piece or on the clasp that reads "9.25", "925", "S/S", or "Sterling 925".
Britannia Silver
First alloyed in 1697, Britannia silver is another alloy often used to create jewellery. It has a slightly higher percentage of silver than does sterling silver. With 95.84 per cent silver and 4.16 per cent copper, it is also slightly softer than sterling. Britannia silver features a "958 silver" or "958" hallmark. Some pieces feature a hallmark of a woman seated on a throne. Necklaces made of Britannia silver are prized by antique and vintage jewellery devotees.
Mexican Silver
Mexican silver is normally made of a combination of 95 per cent silver and 5 per cent copper, although to be considered true Mexican silver, it needs only be at least 90 per cent silver. Necklaces made in Mexico during the 1920s through the 1940s feature hallmarks reading, "Silver Made in Mexico" or "Mexico Silver", and are normally at least 92.5 percent silver. Silver jewellery made after 1950 was marked "Sterling" or "925". A variety of additional marks denote the city where the piece was created, including Mexico City, Guadalajara, and Taxco; handcrafted Taxco silver jewellery is much sought after.
Argentium
Argentium is a sterling silver alloy that utilises germanium instead of copper, and it features purity grades of 935 (93.5 percent) and 960 (96 percent). With a brilliant finish, Argentium is more tarnish-resistant and a bit harder than conventional sterling silver. It is also more malleable than sterling, and it features greater ductility, meaning it can be more readily elongated. Identified with a hallmark of "as", this alloy is produced solely with recycled silver, and is a registered trademark of Argentium International, Ltd.
Silver Plate
Necklaces with silver plating are actually made of a base metal such as brass or nickel. A very thin layer of silver, usually measuring 0.05 mm or less, is then electroplated to the base metal. Silver-plated necklaces containing nickel may cause skin irritations on some wearers. They are considerably less costly than sterling silver or other silver alloys. As sterling silver and other silver alloys do not contain nickel, they are generally a safe choice for those with nickel allergies.
Types of Contemporary Silver Necklaces
The versatility of silver makes it an ideal metal for many kinds of contemporary necklaces, including delicate chains, chokers, collars, and lariats. Below are several of the numerous necklace styles buyers can find.
Fine Jewellery
Fine jewellery traditionally utilises precious metals such as sterling silver and Argentium, and these pieces often feature timeless, classic designs. Fine jewellery made with silver is also available in many original, contemporary designs. These beautiful creations may be designed only with silver, or they may feature precious stones such as diamonds, rubies, emeralds, sapphires, and pearls. These classic creations sometimes also include semi-precious stones, which include opals, amethysts, topaz, and tanzanite.
Costume Jewellery
Less costly than fine jewellery, costume jewellery is designed for current fashions. Silver costume jewellery often features semi-precious stones, crystals, or mixed materials such as copper, art glass, or enamel accents. Other popular pendant designs include crosses and other religious symbols, abstract or geometric designs, lockets, designs from nature, and hammered or open links. There is no limit to the number of imaginative, contemporary designs that can be crafted with silver. When made with sterling silver, the resulting costume jewellery is stylish and often visually striking.
Chains
Contemporary silver necklaces are also available in many kinds of chains; the kind of chain defines the style, level of formality or casualness, length, and weight. Some of the most common chains are described in the following table.
| Type of Chain | Description |
| --- | --- |
| Box | Narrow, squared-off links |
| Curb | Interlocking, lie flat, uniform in size |
| Fancy | Specialised link patterns, including bar, Byzantine, Franco chains |
| Link | Uniformly shaped oval or round links; can be delicate or chunky. Suitable for all size chains |
| Rope | Smaller links are twisted to resemble a rope; delicate ropes suitable for pendants; larger ropes are the design focus |
| Snake | Created with narrow, closely fitted rings that resemble snakeskin |
As with any precious metal, the length of any necklace directly affects its price. Those who seek budget-friendly designs may wish to purchase shorter versions of a high-end design, for the look of luxury at a lower price. Alternatively, these buyers may seek a lighter chain for a stylish statement without paying extra for a heavier chain.
Necklace Lengths
Contemporary silver necklaces are available in every length, and the length should complement the wearer's wardrobe. The shortest necklace style is the collar, which falls to the base of the neck; collar and choker necklaces are often designed with a wide expanse of silver or mesh or a dangling cluster of gems. This length is also often designed with several strands to create visual interest.
Princess- or matinee-length necklaces are a popular option with women, reaching the collarbone below the throat. Chains of these lengths are a good choice for adding pendants or lockets. Sculpted necklaces of this length are comfortable, stylish statements with plenty of room for the wearer to move. Princess necklaces are a good complement to either high necklines or deep necklines. Matinee necklaces are a good match for business attire and casual wear alike, and hang to the mid-chest.
Opera-length necklaces are sophisticated chains or links, and often include dramatic pendants with a lot of visual interest. Opera necklaces can also be converted to a two-strand choker when the wearer doubles it around her neck. Rope or lariat necklaces are very long, and they can be knotted to create a stylish, distinctive look.
| Type of Necklace | Length (in cm.) |
| --- | --- |
| Collar | 36 - 43 |
| Choker | 41 - 46 |
| Princess | 43 - 48 |
| Matinee | 51 - 64 |
| Opera | 66 - 91 |
| Rope/Lariat | 94 + |
It is important to note that the length of the necklace can be affected by several factors that are individual to the wearer or her choice of necklace accessories. For instance, shorter necklaces can feel snug on ladies with larger necks, and petite women find that necklaces tend to hang slightly lower than on average or tall women. Heavy pendants also pull any necklace further down.
Other Design Considerations
In addition to the issues discussed above, there are also further considerations buyers should keep in mind when buying a contemporary silver necklace. Clasp type and finish must be selected, and buyers must also know how to clean and care for their piece, to keep it looking good.
Clasp Type
Several kinds of clasps are found on silver necklaces. One of the most common clasps is the spring ring clasp, which features a round clasp with a small lever that slides back and forth to open and close the ring. Some people with large or stiff fingers have trouble with small spring ring clasps.
The lobster clasp has a more oblong appearance and stays closed until the lever is pressed open. Magnetic clasps are a practical and easy method of securing a silver chain, particularly for those who have difficulty with delicate spring clasps.
Box clasps resemble a tiny airline seatbelt mechanism and are easier to manipulate than spring clasps. Wearers should look for box clasps that include a safety guard to prevent loss of, or damage to, the necklace if the box clasp becomes disengaged.
Toggle clasps feature an open circle element on one end of the necklace, which connects with a T-shaped bar on the other end of the necklace. Toggle clasps are easy to manipulate, but are not as secure as locked clasps; they are often used in opera-length or rope-length necklaces as design elements.
Finish
Silver is frequently highly polished, which sets off the lustre and brilliance of this precious metal. Some jewellery designers give their creations a distinctive look by adding a matte, or brush, finish, which is achieved using an abrasive material. Silver jewellery can also be antiqued, giving it an older appearance by treating it with chemicals that oxidise and blacken the metal.
Care and Cleaning
Polished sterling silver should be cleaned gently with mild soap in warm water, and it should be dried with a soft cloth. The more a piece of silver jewellery is worn, the less tarnish builds up. Wearers should be careful when cleaning antiqued pieces to ensure they do not remove the finish. Owners may also wish to bring their silver necklaces to a jeweller for a gentle, thorough cleaning.
Wearers of silver jewellery should not expose it to hand lotions, detergents, household chemicals, or treated water, such as that found in a swimming pool or hot tub. Sulphur is especially damaging to silver.
Shopping for Contemporary Silver Necklaces on eBay
While you can visit endless department stores in search of just the right silver necklace, there is no guarantee you are able to find it. eBay offers a vast assortment of silver necklaces to enhance your wardrobe. Your search begins on any eBay page. Simply enter "contemporary silver necklace" into the search box to see listings that match that search term. Alternatively, you may type "modern silver necklace" to find similar listings to browse. Below the results, eBay displays additional keyword suggestions that are helpful in narrowing your search, such as listings for vintage or antique necklaces, ethnic and tribal jewellery, and collectible necklaces.
Additionally, you may focus your search on new or used necklaces. Other search options include various stones featured on the necklace, metal or alloy type, and main colour. If you wish to purchase a necklace from a local seller, you may search for sellers located within a certain distance of your postcode. Buying from local sellers allows you to save on shipping costs. In addition, if the seller is willing to arrange an in-person pickup, you may wish to collect your newly acquired silver necklace yourself and save all postage costs.
Conclusion
Contemporary silver necklaces are a versatile, stylish part of any woman's wardrobe. As an affordable alternative to gold and platinum, silver necklaces allow wearers to express their style in many ways and to suit any outfit. To find the right silver necklace for her jewellery collection, the consumer should take into account the quality, purity, and durability of the silver, as well as the ease of care. In addition, the buyer should choose the ideal style and design, the length of the necklace, the type of clasp, and the chain type if applicable.
Finally, wearers who are sensitive to nickel should avoid silver-plated necklaces and should instead select sterling silver or the other non-nickel alloys. eBay offers a wide array of choices to suit any woman's taste, from classic and simple, to abstract and striking. By carefully researching the seller's feedback scores and reading comments from previous buyers, buyers can enhance their jewellery wardrobes with one or more of these fashion must-haves.