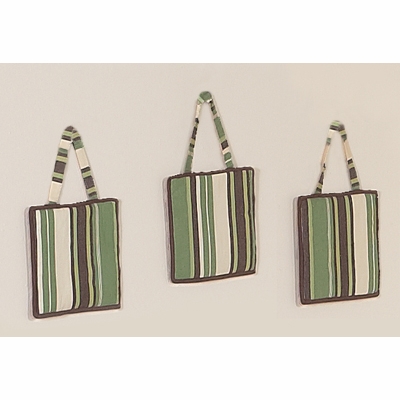 Contemporary wall hangings can make a fresh and modern alternative to paintings and photographs when used as an interior design element. They range from very valuable one-off designer pieces to more budget-friendly options, and with various types of textile art, sculpture and other art currently available, it's possible to find something to suit any room and complement any interior decor or colour scheme. Before buying, research artists, materials, techniques, designs, and prices to make it easier to find the right piece.
Types of Wall Hanging
Contemporary wall hangings may be two- or three-dimensional, may come in standard square or rectangular shapes - particularly in the case of canvas and fabric wall hangings - or may be complex, irregular shapes. Wall art is made in various different ways, using materials such as metal, wood, glass, paper or canvas, as well as fabric and textiles.
| | |
| --- | --- |
| Metal | Metal is a popular choice for contemporary wall hangings, as it is durable, eye-catching, and versatile. This type of wall art can be created in several ways - with thick metal wire bent into a pattern or image, flat sheets of metal stamped or engraved with designs, pieces of metal formed into a sculpture, or a combination of these. Metal wall hangings are generally easy to clean and care for, and can simply be wiped down with a cloth if required. |
| Wooden | Similar to metal wall art in some ways, wood can have a more traditional look, but can also be used in various fresh and contemporary ways, especially when combined with other materials. Wooden wall hangings can be elaborately carved, or may use large, bold shapes for a more dramatic effect. Wood can also be stained or painted to give different finishes. |
| Fabric | Fabric wall hangings can be very versatile and in some cases can even be used as throws or blankets as well as wall art. Contemporary textile art techniques include machine embroidery, silkscreen printing, digital printing, collage, and various weaving and dyeing techniques. Depending on the nature of the fabric used, fabric wall hangings may be machine washable and easy to care for, or may need to be dry-cleaned or hand washed. |
| Canvas | Canvas wall hangings are pictures printed or painted onto canvas and stretched over a frame. These come in various sizes, from just a few inches square to large enough to cover a whole wall. Split canvas wall art, where a single image is split across several canvas panels, can add a fresh and interesting effect. |
| Mixed media | Many wall hangings don't use a single material, but combine substances like metal, glass, ceramics, and mirrors into a mosaic or other design. This allows for a great deal of variety and creativity in terms of design, as the possibilities for combinations are almost endless. |
Wall Sculptures
Three-dimensional wall hangings offer a look which is noticeably different from paintings or murals - the 3D nature of these pieces can make interesting use of space and make them really stand out, serving as a conversation piece and focal point for a room. Wall sculptures come in a number of varieties, styles, and materials.
| | |
| --- | --- |
| Metal sculptures | Metal is a very popular choice, as it is eye-catching, durable, very difficult to break, and easy to clean and dust when necessary. They may be made from twisted and shaped wire of various thicknesses, flat metal pieces bent or hammered into shape, or may have some solid metal elements. The metal may be polished, painted or brushed to give a matte look. Some metal pieces may be quite heavy, though others such as wire sculptures or those made from aluminium are very light. |
| Wooden sculptures | Wooden pieces may be made from a single piece of carved or engraved wood, or from several connected pieces. These sculptures are also generally easy to care for and difficult to break, and often have a more natural, organic feel than metal or glass pieces. Wood can be painted or stained to fit with a variety of colour schemes, in order to blend in with a room's decor or stand out and provide contrast. |
| Resin and plastic | Resin, plastic, and other man-made materials make an interesting choice for wall art as they can be moulded and shaped into smooth, flowing designs or sharp, dramatic angles. They can be made in a huge range of colours and colour combinations, and are generally very easy to clean and care for as well as very durable. |
Textile Wall Art
Modern and contemporary textile-based wall hangings use a range of different techniques for sewing, embroidering and decorating fabric in fresh and innovative ways. Patterns and images may be printed, woven, or sewn into the fabric, or dyeing techniques used to create colourful abstract designs. Textile artists also use a range of materials from luxury fabrics like silk and velvet to plainer ones like cotton and wool, as well as a range of modern acrylic fabrics - even, in some cases, incorporating materials like tinsel and plastic to give the resulting work a quirky, modern look.
| | |
| --- | --- |
| Digital textile printing | Modern technology means that designs such as paintings, photographs, and digital art can be printed directly onto fabric using dye or inkjet printers. This can be an innovative way to display photography or artwork in the home or office. Some of these wall hangings may be washable by hand or in a washing machine, but others, particularly those made with dye, are not. |
| Screen printing and stencil printing | These techniques involve using a stencil to dye parts of the fabric in a particular pattern. With the use of stencils, quite intricate and detailed patterns can be produced. Depending on the dye and the fabric used, the resulting product may be unsuitable for machine washing. |
| Weaving | Textile artists can weave together various threads, yarns, and fabric scraps to create pieces with a textured, patchwork effect, or to incorporate patterns and designs by using threads of varying colours. Images created this way are usually fairly bold and simple, with a comparatively restricted colour scheme; weaving can also be used to create repeating patterns, or more abstract, chaotic designs. |
| Embroidery | Images, patterns, and designs can be sewn onto the fabric by hand or by machine, using a variety of threads and techniques. This can also be combined with other elements like appliqué or fabric collage to produce images, patterns, or abstract designs. Machine embroidery can achieve a wide range of interesting, attractive effects and can be used to create large pieces much faster than hand embroidery. |
| Hand dyeing | Textile artists use a range of techniques to mix and combine fabric dyes, including dip-dyeing, twisting or tying parts of the fabric, dripping, and 'painting' with dye to make abstract patterns, or using resist dyeing techniques like batik, which uses wax to create patterns and designs on the cloth before dyeing it - after dyeing, the wax is removed, leaving the design visible where the dye has not reached the fabric. |
How to Find Contemporary Wall Hangings on eBay
To find and purchase contemporary wall hangings on eBay, first load the eBay hhomepage, then select the link for Homes & Gardens from the All Categories tab. Next, select the Home Decor option from the Furniture & Living tab, and click the Wall Hangings option on the right-hand menu, then select Contemporary from the Style tab on the right. From there, browse the available choices, or use the menu to select more specific options such as material, condition and price. Alternatively, search for specific terms such as metal, canvas or silk using the search bar at the top of the page.
Conclusion
Contemporary wall hangings come in a variety of fresh and innovative styles which can add interest and life to a room, and purchasing one can be an investment in something which may last many years. Research various options and browse different styles and materials to find the best wall art for the best price.