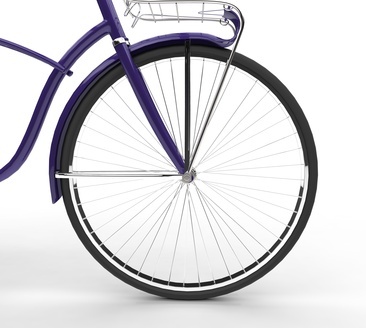 Continental bike tyres are top of the range products and the only cycle tyres that are currently manufactured in Germany. The company began producing its tyres in Hannover in 1892 and has been responsible for many breakthrough inventions that have made modern bike racing what it is today. This includes their Black Chilli tread compound, the inner ProTection puncture prevention technology, the ECO tread for e-bikes, and the PlusBreaker rubber puncture protection later.
Continental hand makes each of their products and supplies many leading international cycling teams. A range of their products are on show at international championships such as the Tour de France, Ironman and the Olympic velodromes. They also expertly produce tyres for motorbikes and cars, so have a big depth of specialist knowledge at their fingertips. A person can purchase over ten varieties of tyres sets for city trekking tyres, and mountain biking and racing. They also have premium ranges available, such as the Continental Plus range, that incorporate more of their breakthrough designs.
The Categories of Continental Bike Tyres
Continental's cycle tyres are individually designed to accommodate a range of conditions in which cyclists really put their bicycles to the test. They also offer their own homegrown technologies in grip, rolling resistance, puncture protection, and weight.
MTB: Mountain Bike Tyres from Continental
Many items from the famous lightweight range of Continental's MTB tyres were developed with the professionals to optimise their performance. When a person chooses the best tyres to go mountain biking, they are looking for great breaking traction with a considered lug arrangement so that they can navigate their way through difficult environments. Additionally, this creates good turn control and overall handling, which will vary according to the different styles that they choose from and what weather conditions they are cycling in. There are several versatile MTB tyres that are available in this category, which are suitable for acting as mountain bike road tyres,, on and off urban road tyres, and marathon ride tyres.
Continental's MTB Technologies
Most of the MTB tyres are good for all-weather conditions, as Continental incorporate a self-cleaning compound for their tyres called Black Chilli into this range. This works to keep the tyres clear of mud and improves rolling resistance and wear. The manufacturer's ProTection technology is also built into several tyres in this category, which shields tyres against punctures and are ideal for tough mountain terrain. Adapted tyres treads are also available for very muddy races, or with in-built hardened steel studs to tackle snow. Some are also designed specifically to improve speed on asphalt and gravel paths. Overall, however, the Mountain King 2.4 is considered to be the best all-rounder.
City or Trekking Tyres
Continental's City or Trekking tyres are designed for slightly less demanding terrains and as a result they have less aggressive grips. They can cope on many surfaces but are designed primarily for the gentler asphalt and gravel paths that connect gentler slopes in urban areas. Because of this the design can focus more on using biting sipes or edges to aid cyclists at accelerated speeds. The laminated shoulders of a number of these tyres are designed bionically to improve all-surface riding quality. These tyres do not match the aggressiveness of the MTB tyre range but have some crossover tyres for all-surface use.
Continental's City or Trekking Tyre Technologies
This hardwearing category of tyres is also suitable for electric bike (also known as 'e-Bike') use, so some of the tyres have ECO tread optimisation incorporated into them. This idea derives from Continental's supplementary experience in designing tyres for motorbikes and cars and enables the user to get the most wear out of their battery life. These tyres are best used at speeds of up to 25km per hour but they also ensure that the rider gets a smooth run out of their tyres if they are pedaling. Where tread is not easily viewable, these tyres will have tread-wear indicators ('TWIs') on them to make sure that the rider gets a safe ride from them. Again, there are winter adapted studded steel tyres that are suitable for urban and trekking cyclists, but there is also a good range of all-round tyres that will serve the rider well in almost all other conditions.
Continental's Plus Family of Bike Tyres
Continental Plus tyres are a premium range from continental that offers specifically adapted tyres for use in touring, tail winds, the countryside, and sports. What separates these tyres from the standard City or Trekking types is that the rubber is made with extra thick casting and has a PlusBreaker belt beneath it for added puncture protection. Continental has deemed these tyres to be virtually impenetrable, although they offer no guarantees.
Continental's Technologies in More Detail
Black Chilli compound: This product is unique to Continental's German factory and is proven to improve rolling resistance and grip when compared to other substances.
This substance came about from Continental's own research and is made with polymers, carbon soot particles, and fillers. The company was looking to find a way around the limitations of earlier compounds that required users to make a choice between durability and resistance, but discovered a lot more. Users have also noticed additional benefits such as improved wear, higher mileage, and more consistency as a result of choosing tyres that make use of its technical advances.
ProTection: The puncture protection layer developed by Continental is adapted to shield treads and sidewalls from penetration from external objects. Tyres that use ProTection technology are also lighter and can be used anywhere. This feat of engineering is an improvement on an earlier edition known as DuraSkin.
ECO treads: ECO treads are an energy-efficient form of tyre design that was inspired by Continental's experience in the automated vehicle tyre industry. Their purpose is to prevent unnecessary wear on the tyres as a result of the external driving force used by e-bikes.
PlusBreaker belts: A PlusBreaker belt adds a layer of rubber that is located beneath your tread. It provides good added protection against punctures, as it is very difficult to penetrate by external objects. This option is available in almost all categories of tyres and also improves your grip when turning.
Buying Continental Bike Tyres from eBay
To purchase a set of Continental bike tyres on eBay you can either conduct a search or drill down through the categories section on the website homepage. From categories, select the Sports section and then click on either the Bike Parks option in the left hand of your screen. Here you will see an option to select Tyres & Wheels.. Once here, select Continental from the Brand filter and you will see a wide selection of Continental tyres. You can filter your results by Bike Type, Condition and Material. Using this option means that you can avoid finding results for other Continental products that are designed for use on automated vehicles other than e-bikes.
Alternatively, to search for a specific product or type of Continental tyre, simply type the appropriate keywords into the search bar. From here you can conduct a general search of the entire site, or select a category from which to search. Some good keywords to search for are 'Continental bike tyres' or 'Continental tyres' for a broader selection of results. If you are going to conduct the latter search, again you should keep in mind that not all of the results will be suitable for bikes as Continental also produce tyres for motorbikes and cars. An advanced search option is also available, which will give you a larger number of options to choose from besides keywords.
Conclusion
As the choice of professionals, Continental aim to uphold very high standards of tyre production and the company has a strong reputation. The innovative German manufacturers have successfully been producing cycling tyres for over a century. They also have experience in more heavy-duty tyre production for cars and motorcycles. So, cyclists can expect good quality products that are representative of good value for money. Their high-spec tyres offer the road bike user, the mountain biker, the racing professional, and trekkers great advantages when it comes to grip, design, and compounds.
Buyers can select from a useful range of technologies to enhance their cycling experience, grip, durability, and riding experience in areas of concern. These tyres are available in many different shapes, treads, and sizes that are adaptable to a big range of specialist and tricky cycling situations. The Continental tyre range offers solutions for extremes that include biking on heavy snow, trekking on roads, and high levels of adaptability. Continental also offers tyres with eco-friendly designs and virtually puncture-proof treads.
These are tyres that are designed for people looking to get a great ride performance from their bicycle and are attuned to the fine details that can improve the entire experience.