Gas hobs are quick, convenient, cheap to run and energy efficient. They also look great and cook great, and are the choice of professional chefs, like Jamie Oliver, all over the world. Here's how to choose the right gas hob for you, whether it be Morphy Richards, Hotpoint or Miele.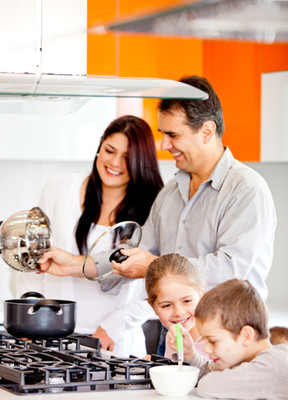 They are the choice of professional kitchens the world over.
As soon as you turn a gas hob on you have instant, visible heat.
When you turn it off the heat drops away quickly.
The ease with which you can control a gas flame allows you to cook food exactly how the way you want.
Waste is kept to a minimum with this energy-efficient fuel source.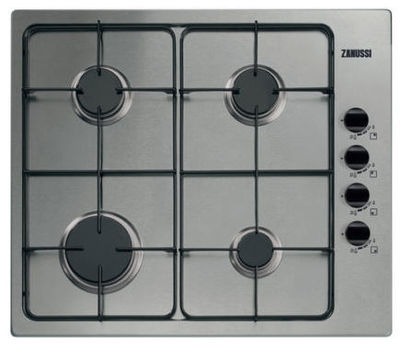 Standard hobs
with four burners are 60cm wide, but remember to leave a little room at the front and back to drop the unit into the kitchen work surface. Consider the aperture size – the size of the hole your hob sits in – but remember that those dimensions will be smaller than the entire unit because it stands up from the surface. If you are fitting it on top of another appliance then double check the clearance required above the appliance. Remember that wherever you choose to fit your hob, it must be within reach of the gas supply.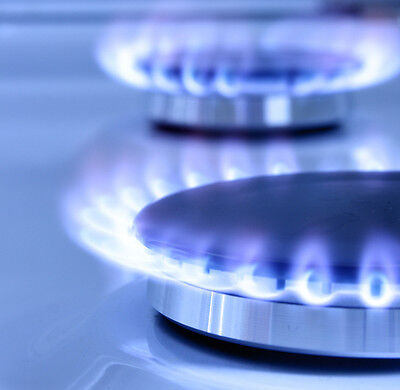 Looks are important so shop for the right colour, finish and look to fit in
with your kitchen décor. A built-in gas hob can give any kitchen a clean, modern look and fit seamlessly into any work surface. The alternative is a freestanding
oven
with hob that can be
easily
moved to fit in with your kitchen layout.
Most pan supports on gas hobs are made of cast iron, making them highly heat resistant and durable. Cooking zones are created using long and short struts across the burners so you can choose where to position pans and other cookware. Hob surfaces vary from tough
stainless steel
to white ceramic or dark tempered
glass
, giving you a choice of elegant, resilient and wipe-clean materials to work with.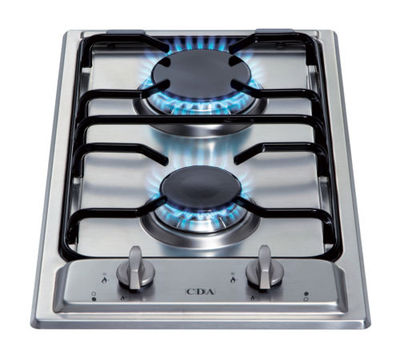 The size of your gas hob will depend on the number and type of burners you want to install. Typically hobs have four burners – one large or speed burner, two medium burners and one small burner for simmering. Larger hobs often contain
five
or six burners, including cooking zones for woks and other specialist equipment. A domino hob, meanwhile, has only two burners or one specialist burner and is so-called because of its resemblance to a domino tile.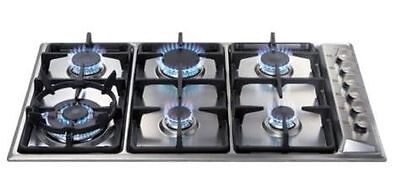 Gas hob sizes allow a lot of flexibility and can be bought to suit your cooking style. Larger wok or double burners with extended cooking zones are great for people who love stir fry and oriental cooking, or who want to use a fish kettle for poaching. A speed burner is great for a studio flat or bed-sit where a full-size cooker will not fit. Mix and match with a domino hob alongside a halogen or ceramic hob or a barbecue griddle and set up
your kitchen to suit your cooking style, however eclectic.
Cooking with gas is cheaper per unit than an electric hob; gas hobs are also more energy efficient. They heat pans up more quickly and are easier to turn up and down to achieve the right temperature. Cheap gas hobs cost less than £100 at entry level; a good mid-level model with five burners can be bought for around double that. For more stylish designs and advanced features, such as flame failure safety devices (FFDs), expect to pay anywhere between one-third and a month's salary at the top end.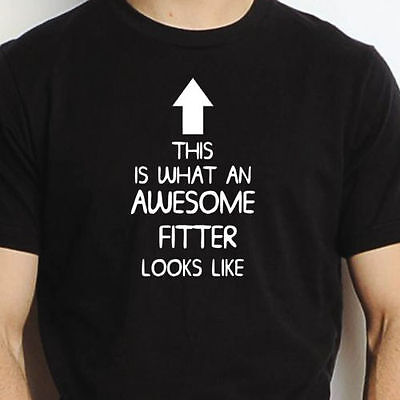 Ensure you install with safety in mind. Use a CORGI-registered gas fitter to fit your gas hob correctly. Modern gas hobs contain a number of built-in safety features that vary from model to model. Automatic ignition is common and reduces the chance of suffering burns while lighting the burner. Flame failure systems or FFDs mean that if the flame goes out accidentally while you are using the hob, the gas flow is automatically cut off. Flame restart is provided on some hobs. Both mean you can happily leave pans to cook unattended without fear of a gas leak.
Gas hobs can take a little longer to clean than other hobs because they have more parts that may need to be wiped down. As well as the hob surface you may need to clean burnt food from pan supports or burners, but this is no more time consuming than a traditional electric ring hob and a few extra minutes per week is a tiny price to pay when considering the advantages a gas hob offers.
Many manufacturers and home appliance suppliers will arrange fitting for your gas hob so you don't have to search for a registered gas fitter to do the job. This is often provided free as part of the delivery service. Check the supplier's details to see warranty details on hob equipment. One year is standard but extended warranties are offered to cover your equipment for a set period should it fail after it is installed.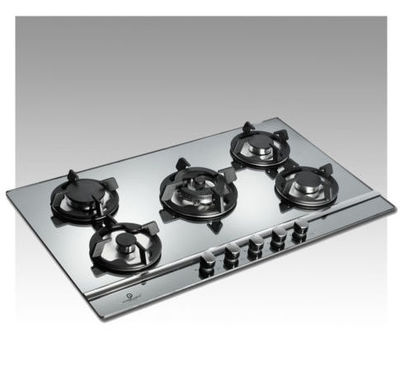 Liquefied petroleum gas (LPG) is an off-grid alternative to mains
supplied gas that can be bought in canisters from a number of
different suppliers. Many gas hob manufacturers supply hobs ready
for LPG, a kit for easy LPG conversion or can arrange to fit the hob
to your requirements when it is delivered.