Corner sofas offer a great way of providing ample seating in your living room, even when floor space is at a premium. Blending form and function, corner sofas are the perfect type of furniture to suit any room size and decor. Knowing what options are available to you and how to choose the right model ensures you get a corner sofa that looks fabulous and meets your seating needs.
Corner Sofa Size

Because corner sofas sit in a corner, they fill up what would otherwise be wasted space and they allow you to provide considerably more seating than if you chose a standard traditional sofa, without taking up too much space. However, you still need to choose the size of the sofa carefully. Measure your available floor space and consider how many seats you require, as well as how wide and deep you want the sofa. For small spaces, avoid overly large sofas that dominate the room and overwhelm it. Measure the width of your doorways, as, for sofas that are not sectional, or do not come apart, the doorway has to be big enough to accommodate the sofa so you can get it into the room without issue.
Corner Sofa Type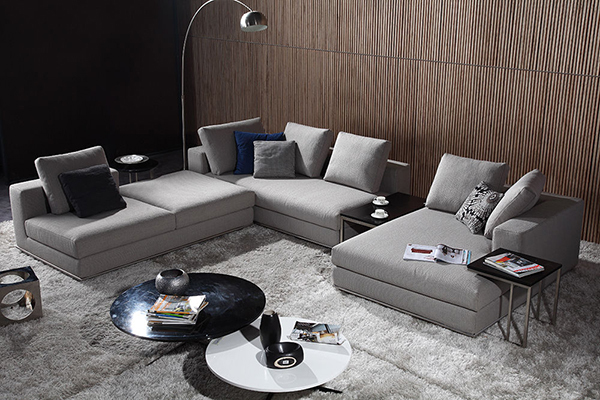 You can choose solid corner sofas, with a left-handed or right-handed turn. These have a very solid construction and create a seamless look. However, choosing a specifically oriented, solid corner sofa, you must always have it in the same corner to achieve the proper alignment. For more versatility, choose a sectional sofa. Sectional, or modular, corner sofas have multiple units that you arrange to create a single sofa. These are a great choice for small doorways, as they are considerably easier to manoeuvre. With a modular corner sofa, you can arrange the units in any configuration. You can also separate the sections into smaller seating units or even single armless chairs if necessary.
Corner Sofa Fabric
Cotton and linen models are comparatively inexpensive and give a soft, light appearance. However, cotton and linen both stain easily, so any spills require immediate attention. If you opt for a fabric sofa, choose a sofa with removable covers so that you can launder them regularly. Leather corner sofas are available in a range of leather grades, from high-end full grain leather, to less expensive, but less durable bonded leather. Full grain leather is the most durable choice for corner sofas, but is prone to significant damage from cat scratches, although there are a number of ways you can treat your leather corner sofa.