COSMETIC TATTOOING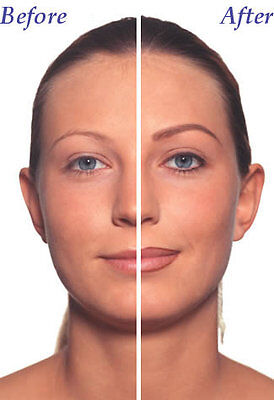 Cosmetic tattooing or permanent makeup is ideal for women who always need to look their best but do not want to go through the daily process of applying and reapplying makeup throughout the day.
Cosmetic tattoos are usually applied in a plastic surgeon's office. Alternatively, a certified nurse or other trained medical professional can do the procedure. It involves using a tattoo pen to inject permanent ink into the skin. The procedure takes half an hour to two hours to perform under local anesthesia.
Common Types of Permanent Cosmetic makeup: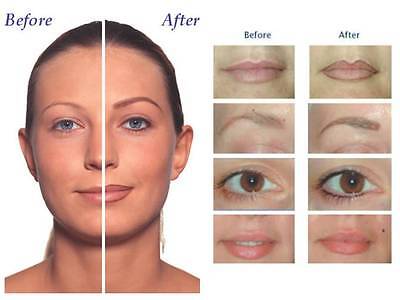 Enhancing the eyebrows
This works well for individuals with sparse eyebrows or ill-shaped ones. The procedure aims to provide natural-looking eyebrows than that achieved by using an eyebrow pencil.
Improving the appearance of lips
This involves application of a permanent lip liner to define the lips without having to apply lip liner every morning. Choosing the right blend of color is important since it will be long term. In addition, thick lips can be made to look thin or small lips can be changed to look fuller. Men also use this process to hide any marks or scars or discoloration due to cigarette smoking.
Enhancing eyelashes
This involves implantation of soft pigments between the lashes. This is done for both men and women, eyelash enhancement helps to make the lashes appear thicker which in turn helps to make the eyes look more attractive.
Scar camouflage
Sometimes the skin may have permanent marks or scars that cannot be covered or concealed by make-up. So cosmetic tattooing can prove to be most valuable. The procedure involves filling the affected area with a color that closely matches the skin color.
Areola repigmentation
This is also called nipple tattooing. Some women also would like to improve the look of their nipples if they feel they are too pale or too dark. Tattooing can also be used to reconstruct or help recreate a nipple that has been lost due to mastectomy. The process of micropigmentation uses hypoallergenic pigments that are implanted into the top layers of the skin with a tattoo gun or pen.

Disadvantages/Risks Of Permanent Cosmetic Make-up:
Having cosmetic tattooing done also has its disadvantages. If the procedure is not done in a correct manner, it can scar the individual forever.
It is not recommended that a trendy style be permanently applied. It is always better to have the procedure done so that it looks natural and enhances beauty. Additional makeup can always be applied if heavy makeup for evening occasions or a change the colour is needed.
Since a cosmetic tattoo is permanent, there is a possibility that it may look unnatural on the skin over time.
As with other tattoos elsewhere in the body, cosmetic tattoos may prove to be very difficult to remove.
Since the procedure involves needles, infections can be transferred from person to person.
If the ink used for the cosmetic tattooing is of a substandard quality, it can cause further irritation.
Allergic reactions may occur like burning, itching, swelling, bumps or so-called granulomas, dryness, peeling, bleeding, and the constant formation of yellowish fluids.
All tattoos may initially appear brighter or darker than desired, but will eventually fade to the desired color over a few weeks. Some tattoos also appear crusty for a few days. There will also be swelling for about a week.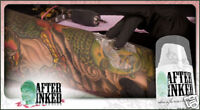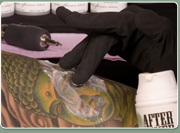 Itchiness at some stage in the healing period is normal and it is essential not to scratch or rub the area. Cleanliness is an important part of tattoo aftercare. Currently, specialty creams and lotions are available to further support healing of the tattoo. These are formulas designed exclusively for tattoo aftercare.
After Inked
is non-petroleum based, fragrance-free, and safe to use on all skin types.
Since
After Inked
is made from natural ingredients, it is safe to apply on large areas of the skin or on most sensitive parts like the face. After Inked aids in strengthening skin, minimising allergic reactions, and providing natural moisture.
Furthermore,
After Inked
is packaged in a unique airless dispensing system. This ensures that air and impurities are prevented from affecting the contents. Eradicating bacterial transfer during application and reducing exposure to air considerably improves shelf life, efficiency, and product stability. Repeated contact is eliminated when the product is applied because of this distinctive dispensing mechanism.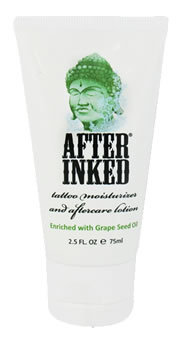 The greatest risk in cosmetic tattooing is having an untrained individual perform the procedure. Cosmetic tattoos are presently available universally and are not always regulated.
Before taking the final step, always ensure the legitimacy and skill of the technician or doctor. A patch test should be done prior to any procedure to rule out allergies. Once everything is clear, choose the color required that matches the skin.
Be strict about cleanliness since infections can be easily transmitted. The ink may not be of medical quality and may cause irritation. Placement of cosmetic tattoos demands precision. A tattoo does not change and will therefore appear unnatural if not done professionally. If you later regret the decision to have cosmetic tattoos, removal may be difficult, as flesh colored tattoos may turn black in response to laser removal. Cosmetic tattooing must not be taken lightly and must be done with care to ensure best results.