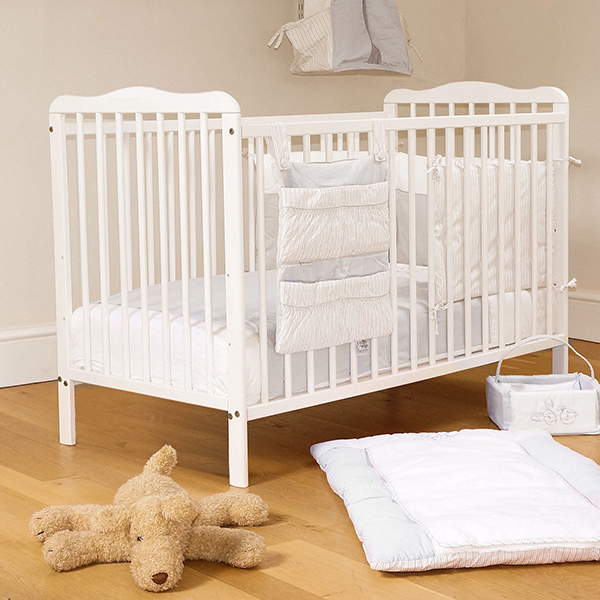 Convertible cotbeds are the most expensive purchase a parent makes for the nursery. Unlike traditional cots, cotbeds can last until a child is seven years old. While the upfront cost of a cotbed is typically higher than that of a cot, their longevity makes them ideal purchases for parents looking to get the most bang out of their buck. The heart of any good cotbed is its mattress where the baby sleeps. Unfortunately, many parents get overwhelmed with the large selection available in baby stores and online websites like eBay.
Ventilation holes, wipe-clean covers, and the advantages of foam mattresses over sprung mattresses (and vice versa), are all things that most parents usually never pay attention to until they are faced with a long line of cotbed mattress. The good news is that choosing the right cotbed mattress does not need to be difficult. Evaluate cotbed mattresses based on several factors including safety, cleanliness, and affordability in order to make the best possible purchase.
Safety First
Child safety is the primary concern of any parent especially when it comes to sleeping. In fact, when the WHICH? group asked 600 parents what was the most important factor to consider in purchasing a cotbed, safety was the number one concern. Mattress safety is also paramount. Babies who sleep on the wrong type of mattress are more likely to die from Sudden Infant Death Syndrome (SIDS), than those who do not. All mattresses that are approved for cotbed use carry the BSI number of BS 1877-10:1997.
A safe baby mattress must be able to be easily cleaned and dried as well. It is best to buy a new mattress for each child, but if this is impossible then make sure the old mattress is still in good condition. It should still be hard and flat with no sagging in the middle. There should be no cracks or tears in the PVC mattress cover either.
Mattress Sizes
Sizing is extremely important when it comes to the mattress size. Most cotbeds come in either standard or continental sizes, and they require matching mattresses. The mattress itself needs to fit snugly inside the cotbed without any gaps where a baby can become stuck. Understanding the specific sizing guidelines is an important step toward purchasing the right mattress for the cotbed.
| | |
| --- | --- |
| Mattress Guidelines | Size (cm) |
| Standard | 56 x 118 |
| Continental | 60 x 120 |
| Thickness | 10 |
| Gap between mattress and side | 3 |
While a 10 cm mattress may seem thin and hard to adults, remember that infants have unique requirements. A mattress that is too soft does not give them the proper support that they need to move around.
Mattress Features
Cotbed mattresses have several distinct features that are not found on adult mattresses. Because these mattresses must be kept clean and dry, most of them come with a PVC cover. This allows parents to wipe the surface of the mattress clean. It also prevents water from leaking into the mattress itself. Some types of mattresses have PVC lining on one side, and a padded cover on the other. The PVC side is ideal for infants while the padded side can be used during the toddler stage once the child becomes potty trained.
Ventilation Holes
Some cotbed mattresses come with ventilation holes that are supposed to help keep the baby from getting too hot while sleeping. The problem is that these holes are difficult to keep clean as residue often gathers inside of them. Groups like FSID recommend against purchasing ventilated mattresses precisely because it is difficult to keep them sanitary.
Mattress Types
The different mattress types are based on their interior construction. When selecting a mattress, parents need to consider how long they plan to use it first. A mattress that is only used during infancy does not need to be as durable as one that must last until early childhood.
Foam Mattress
Foam mattresses are the least expensive and most popular option. They are made from thick foam surrounded by a PVC lining. This makes them easy to clean, even if parents have to remove the mattress entirely from the cotbed. The thick foam inside helps keep the mattress from denting, and they are strong enough to last for several years. While an older child may not be comfortable sleeping on a thin foam mattress, they are a good investment for parents who are planning on having several children. This way they can keep reusing the mattress for each child as long as it is still in good condition.
The bad news about foam mattresses is that the PVC covers make them somewhat stuffy. It is easy for a small infant to become hot sleeping on top of one. Some manufacturers try to get around this by making ventilated foam mattresses, but this type is notoriously difficult to clean.
Spring Mattress
A spring mattress is a miniature version of an adult mattress with a few modifications. It is made out of alternating layers of foam and felt, and supported by springs. Typically one side of the mattress has a PVC lining, and the other side has padded cotton. This makes them a great choice if the buyer is planning on using the mattress for quite some time. The PVC side works best in infancy while the cotton side works during the toddler years. Parents can also flip the mattress over from the PVC side to the cotton one during warm nights when they want to keep the baby comfortable.
The downside to spring mattresses is that they are usually more expensive than foam mattresses. It is also difficult to keep the cotton side clean and dry for babies who are not potty trained, tend to drool, or get sick often. They are also heavier than foam mattresses, so pulling the entire mattress out of the cotbed to clean it can be a chore.
Coir Mattress
The coir mattress is an alternative to spring and foam mattresses. The interior of the mattress uses coconut fibre along with other materials. Unlike the other mattress types, the natural coconut fibres help keep air circulating through the bed without having to resort to ventilation holes. They come with a wipe-clean cover that makes a good alternative to the normal PVC cover.
Parents who are concerned about their baby getting too hot, or sleeping on a plastic cover, prefer the natural alternative found in coir mattresses. They are also incredibly firm and can last for years. Either the mattress can grow with the child, or parents can reuse it for different children. The main downside to coir mattresses is their price tag. This is the most expensive option on the market. Coir mattresses also are not easily found in stores, though buyers can get them through eBay.
Other Considerations
Remember that safety is key when it comes to cotbed mattresses. The fewer items inside the cotbed, the better. Babies do not need pillows to go to sleep, and putting one in the crib is dangerous. A baby's face can get stuck between the pillow and the bed, causing breathing problems. Buy linens that fit the cotbed mattress so that the surface is completely flat. Use light blankets, or even a baby sleeping bag for bedding. Thick, heavy covers make it hard for the baby to breathe during the night. Parents who follow these safety tips can rest easy knowing their baby is sleeping safe and sound in the cotbed.
Buying Cotbed Mattresses on eBay
New babies mean new expenses, but parents can save money by purchasing their baby gear through eBay. Cotbed mattresses can be easily bought on eBay as long as you know the correct size. Stay away from buying used mattresses, however, since you do not know their history. Use eBay's search engine to find the widest selection of cotbed mattresses, including the hard-to-find coir mattress.
Finding Cotbed Mattresses on eBay
There are several ways to search for cotbed mattresses on eBay. Buyers who want to get both the cotbed and the mattress, should search for 'cotbed' in order to buy both. If you already have the cotbed and only need the mattress, then search for 'cotbed mattress' instead. You can also limit the results to show the different type of mattresses by typing in 'foam mattress' or 'spring mattress'. Always carefully read the listing and make sure the exact size of the mattress is clearly stated. Know if your cotbed requires a standard or continental mattress before beginning your search. Most beds list this information in the owner's guide, or write it underneath the cotbed.
Conclusion
After the long and labourious decision to buy a cotbed, buying the mattress should be the easy part. Many parents get overwhelmed when it comes to selecting the right mattress, but there is no reason to stress about it. The primary concerns with cotbed mattresses are safety and cleanliness. All mattresses made for cotbeds have to follow strict safety guidelines pertaining to their thickness and size.
Additionally, most cotbed mattresses come with a cover that is easily cleaned, keeping the mattress dry underneath while preventing the spread of germs. Ventilation, or breathability, is also important to many parents, especially those who live in colder climates where they keep the heat running all night long. Foam mattresses and spring mattresses are the most common types, but is possible to find a natural coir mattresses on a website like eBay. Each type has its pros and cons which parents need to carefully weigh before making a final decision.