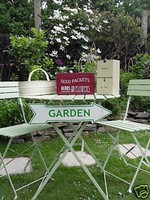 New stock in spring.
I choose to cottage garden mainly because of cost implications, growing cottage garden favorites from seed is both productive, cheep and rewarding, I grow to fill my billowing boarders and to swap out. Added to this sending off from magazines for all the free plant offers, cuttings from friends gardens and attending plant fares such as the Bishops Waltham one two weekends back has kept costs down, I compost all my organic waste (sieving it in my Burgon and Ball riddle£8.50plus P&P) in my free local authority compost bin(not pretty but it works) note to husband to get on and build my Bea hive compost heap.Planting on seedlings is also done in a cost effective way old toilet roll inners for plants with a long root runs such as sweet peas, my children's yogurt pots with a few drainage holes are ideal for individual seedlings such as lupins and hollyhocks, but by far my favorite cost cutter is my paper potter constantly in use this time of year, its a must for all seed growers, at the olive box we do the basic Oak seed potter £8.95 and we also sell although out of stock at present the Burgon and Ball 3 size pot maker please e-mail if you require one.Oak Dibbers £2.95 plus P&P and Diblets make handling your seedlings very easy, B&Q sell a great range of biodegradable pots for further potting on made from bamboo in their propagation range these last for approx 3 seasons and then break up and compost down. always remember to add a Plant label with Burgan and ball seedling labels £2.50 plus P&P unless you are a great plants person.
Remember once your flower head has died snip it off place the head in a paper bag and hang upside to dry once the seeds are dry and loose pop them in one of our Burgon and Ball Seed storage envelopes £2.99 plus P&P write in the space provided and you can start again next year.
And to store your seed packets in we have two in our range so pop in and visit our shop today.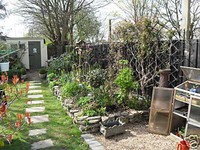 My garden waiting for spring.