I discovered Maharishi about 6 years ago and immediately fell in love! Maharishi is owned and designed by Hardy Blechman who is a camouflage/DPM and army surplus officionado. He feels so passionately about it that he decided to work with army surplus and put together a range of customised pieces. Sadly these were not received well and forced Hardy to go back to the drawing board using his extensive knowledge as inspiration..........the now beloved snopant was born.
My personal collection of Maharishi snopants runs to some 25+ pairs and over the years I have bought and sold alot more!
It now appears that the world of the counterfeiter has caught onto the potential of manufacturing copies of the plain snopants and they are now appearing regularly on eBay. I hope my guide will prove helpful
1. As with most designer clothing brands the mark up is a minimum of 250% with a retail price of around £135, selling snopants at between £29.99 and £40.00 would mean selling them at less than wholesale cost........
2. Many of the sellers of these counterfeit snopants wax lyrical about being a Powerseller. Being a Powerseller is NO reflection of how good a seller is, it simply means they have sold more than £750 a month for three consecutive months and maintained a feedback of at least 98%
3. In many of the auctions you will not see cloes ups of the pocket lining as that is the biggest giveaway. The camo lining used on the copies is completely wrong. The colours used are not a Maharishi DPM (disruptive pattern material) or a military camo. Please see pic below for example of what the counterfeits look like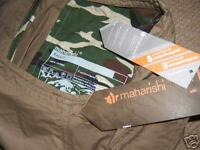 4. In addition to counterfeit snopants there are also many pairs of Mhi Denihm jeans. As with the snopants the linings are incorrect as is the printed logo inside. The denim used is poor quality being very thin and stretchy. Maharishi jeans are thick and fairly stiff being made of high quality Japanese and Italian denims. Please see pic below for example of what the counterfeits look like.
5. As with many designer brands the distribution is strictly controlled and monitored. Authorised stockists are only allowed to buy certain quantities, so how have these sellers obtained seemingly 100's of pairs??
6. Maharishi hold bi-annual sample sales which are open to the public. They sell the plain Maharishi snopants for at least £50 so how can anyone sell them for less than this price.
7. Not all plain Maharishi snopants on eBay are copies. Some people do sell on worn pairs at bargain prices but ask to see pics of pocket linings
8. Ask the seller if what they are selling are authentic. If they do not respond or hedge the question ie. "I can't guarantee authenticity" then take it they are fakes!!
9. Always state that you will be veryfing the authenticity. Maharishi are keen to protect their brand and will help with this
10. Remember that by buying counterfeit ANYTHING you can be helping to fund a plethora of crime including drug smuggling and manufacture and terrorism
I hope that you enjoy using eBay as you can find some great items and true bargain prices but don't be conned! Don't switch off your common sense when you turn your PC on :0)