I am not a ceramics expert but I have personally owned NatWest pigs for more than twenty years and more recently I have been buying Cousin Wesley pigs on eBay - in fact I have bought a lot !!!
Wade produced a limited edition of 5,000 Cousin Wesley pigs for NatWest in 1998 as part of a five year £1,000 Children's Bond but the investment was not very popular and many Cousin Wesley pigs were sold or given to members of staff or given to customers in a prize draw.
Regrettably, a large proportion of Cousin Wesley pigs listed on eBay are worthless fakes.
I have attached a picture of ten genuine Cousin Wesley pigs - you will see that there are differences between the individual pigs (i.e. they were hand painted) but hopefully you can see the difference in quality compared to the fakes......................................
Base measurement is an important indication of authenticity and this measurement (at the widest part including the rim) is always 102mm whilst the fakes will often be bigger (e.g. 110mm) and sometimes smaller (e.g. 95mm) and you should always obtain pictures of base of any pig you are considering buying.
Many genuine Cousin Wesley pigs carry a decorator's mark (e.g. set of initials) on base or inside stopper hole but not all pigs have a decorator's mark.........................
In addition to the base measurement and decorator's marks consider the stopper hole which should be perfectly circular................................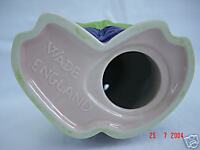 Finally, only buy from reputable sellers with 100% positive feedback.
Let me know if you have any further questions ?