Crafts made from moulds are a fun activity for the entire family. Children can do simple moulds, while adults are able to tackle more complex moulding. Candles, chocolate, and clay are all great mediums for mould making and you can find moulds for nearly anything you can imagine.
Candy and Chocolate Moulds

Manufacturers make candy moulds and chocolate molds from several different materials. Plastic moulds are common for chocolate, while people often use heavier silicon moulds for hot candy mixtures. Moulds vary in size and design with popular holiday designs such as Easter eggs or Christmas trees available year round. When selecting a candy mould, be sure to note the size of the finished product. Most moulds contain several indents and can develop from two to 20 pieces per mould.
Concrete Moulds
To craft beautiful concrete designs, people can use concrete moulds. Even moderately skilled homeowner can enhance the look of simple concrete pathways, walls, or patios with these moulds. Designed for heavy work, they feature heavy duty plastic designs. You can find vintage style concrete moulds for traditional homes, while people who like more modern designs can find sleek and architectural concrete moulds.
Baking Moulds
People often use baking moulds constructed of silicon or traditional metals to create theme cakes, cupcakes, or biscuits. As easy to use as regular cake tins, baking moulds give the home baker the opportunity to expand a recipe list and turn out professional looking designs. Baking moulds are usually marked with the volume, but if yours are not, it is a good idea to use a permanent marking pen to note the size on the bottom of the mould.
Plaster Moulds
Traditional plaster moulds create plaster castings. You can find them in nearly any size or style. Often used to recreate vintage decorations, plaster moulds do not require a great deal of expertise to use. Once you cast the mould, you can paint the plaster to match or coordinate with both vintage and modern contemporary designs. If, however, you are moulding a full piece instead of a half mould, practice is the key to success. Do not be put off by imperfect results; improvement comes quickly.
Gardening Molds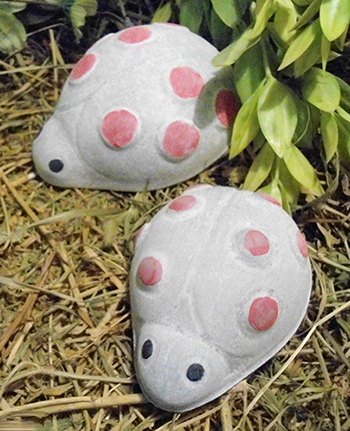 You can use gardening moulds to create garden ornaments, faux stones, markers, and garden gnomes. Gardening moulds typically use latex for the casting and are very forgiving. Since you need to heat the latex, this is a good time to pull on the gloves and safety goggles. Be sure to work with gardening moulds on a flat, level surface away from children and pets. With so many latex colours on the market, your garden can take on any look you like, from subtle to as wild and free as the natural environment.