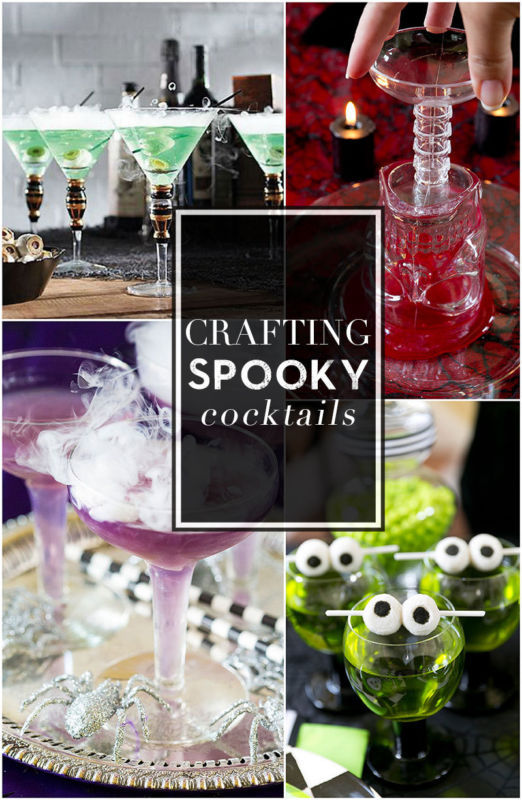 Craft the perfect spooky cocktail for your Halloween party and impress all your friends! I've got the tips and tricks for creating "fangtastic" potions this Halloween! From scary skewers to tricks for rimming your cocktails, I hope you're inspired to concoct the perfect "potions" to serve up to your friends at your Halloween party!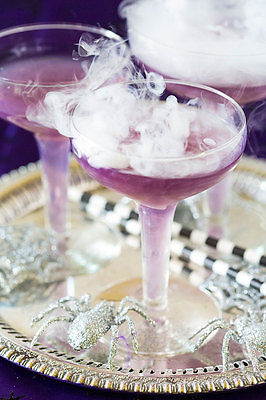 Ghastly Glow
Dry ice is the perfect embellishment for any spooky cocktail. Use an ice pick to bring dry ice into small pieces and drop one into each glass. Then watch the magic! Don't worry, it's completely safe!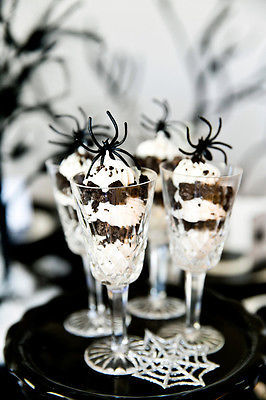 Spooky Spiders
Whether it's cocktails or desserts served in cocktail glasses, parfait style, inexpensive
spiders
add the perfect little flair to even a fancy drink! Simple add it on the side or attach to a drink stirrer or straw!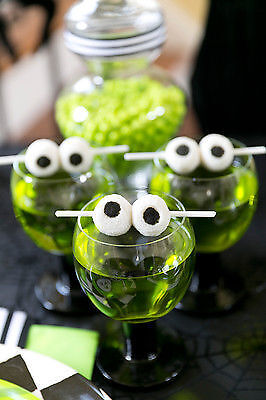 Scary Skewers
Create the ultimate monster eye drink by skewering candy eyes with lollipop sticks and placing on mocktails and cocktails! You can also look for other Halloween candies and create your own sweet candy stirrers. They're also fun for kids to make if you are creating some Halloween mocktails!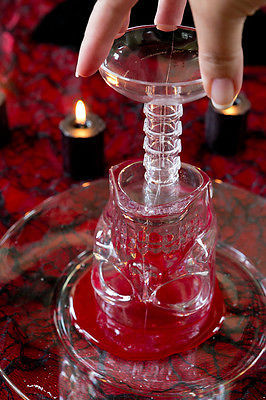 Blood-Like Rimming
If you're looking for a "fangtastic" idea for Vampire-style cocktails, then rim glasses in corn syrup mixed with a few drops of red food colouring to create a spooky "blood like" effect. This looks especially creepy on
skull glassware
! You can also recreate the look on a large punch bowl too.
If you really want to up your Halloween cocktail game, look for a variety of
unique glassware
in addition to the skull glasses. If you want to stay on budget, you can create your own unique glassware by placing Halloween stickers on your own glasses. You can find a variety of stickers from spooky spider webs to letters. Try spelling out "BEWARE", "REDRUM", or "POISON" in sticker letters. They should easily peel off after the party. This idea can also be used in larger letters on pitchers or large bottles.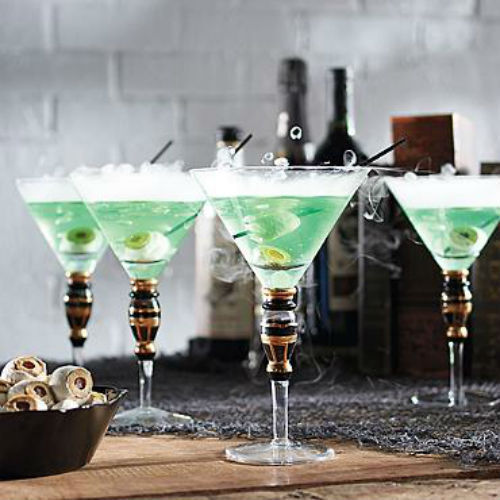 Get creative with your cocktail names and let guests pick from a variety of drinks like Witch's Brew, Vampire Blood, Black Widow, and Pina Ghoul-ada! Create a DIY Halloween cocktail bar with all the mixers for guests to create their own. Frame a suggested signature cocktail recipe nearby.
Lastly, take a little trip to the supermarket to find different vodkas, rums, and other coloured liquors to help give your drink a spooky Halloween hue. You can also use
food colouring
to create spooky coloured cocktails!
I hope you're inspired to craft the perfect Halloween cocktail!