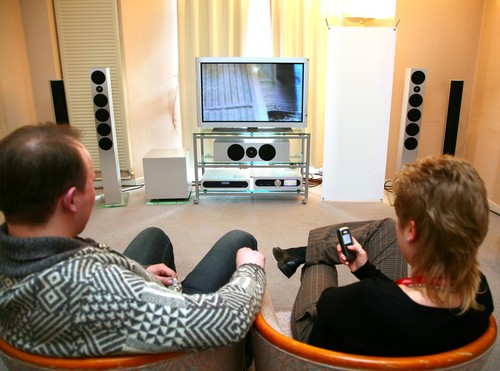 There are many ideas about the components of which a home audio system should consist. Many think that mounted speakers are the way to go, while others enjoy the rich sound of floor standing speakers. In order to create your ideal home audio system with floor standing speakers, there are many choices that you must make. Regardless of the other components that are in your home audio system, the speakers are crucial to a good listening experience. Without good speakers, you cannot have the best sound system possible. When selecting an ideal home audio system, you may want to look at electronics shops and online at auction websites, such as eBay. If you want the rich sound of floor standing speakers, you need to look at how much room you have available for floor standing speakers, which type of floor standing speakers you want, and the colour and type of speaker that you need.
Measuring for Floor Standing Speakers
The very first thing that you need to do when purchasing a floor standing speaker is to measure both the area that you have available and the size of the speaker that you want. Floor standing speakers come in a huge variety of sizes. Speakers range from 182 cm down to around 60 cm. They are ordinarily at least 36 cm wide. Due to their size, they can be too large for a small room. If the room in which they are placed is less than 3 m in width or length, it may be a good idea to consider a bookshelf speaker instead. Floor standing speakers should not be placed in a corner, and in order to get a good listening experience, the listener should be at least 2 m away from them. If you are too close to the speakers, the sound may be distorted and you may suffer ear damage.
The average floor standing speaker is relatively powerful, and knowing both the size of the room and the size of the speakers is very helpful. To get the best listening experience, the speakers cannot be too close to a wall, corner, or audio system. Since most of these speakers are three-way speakers, it is good to allow them to have the space that they need to project sound correctly. If they are too close to the audio equipment, you run the risk of experiencing feedback and distortion, which is caused by interference between the receiver and the speaker. Each of these problems need to be worked out before the speakers are purchased.
First, measure the room in which the speakers are placed, and then measure the distance between the audio equipment and where you intend to place the speakers. Finding a good distance and a place to put the speakers is important to the overall performance of the audio system. Consider these measurements when shopping for the floor standing speakers that you want. Remember, a smaller speaker produces better sound in a small room than a large speaker. When shopping for floor standing speakers, make sure to have the measurements of the speakers before purchasing them.
Styles of Floor Standing Speakers
As with any part of a home audio system, there are a variety of styles of floor standing speakers from which to choose. When making the decision about which style to buy, you should consider the space in which they are placed. Although the most popular shape of the coffin-shaped massive floor standing speakers is rectangular, they are a thing of the past. The newer types are available in shapes that can range from anything from a rectangle to a sphere.
Some average types of speakers are the Mistral Bow speakers, which have a thin, almost cylinder shape. Then there are the Tekton Design Pendragon speakers, which have a flat speaker surface but they taper back into a triangular point at the back. The Wilson Sophia Series 3 speakers have a large rectangular base with a small slanted top. Like their name suggests, the Lawrence Audio Cello speaker is shaped like a cello. Floor standing speakers are available in a wide array of shapes.
Types of Floor Standing Speakers
The types of floor standing speakers are as varied as the shapes of them. Each type of floor standing speaker works differently from the others and can be mixed and matched to create the perfect sound system.
Type of speaker

Specialty and Traits

Dynamic floor standing speaker

Most popular

Have high, mid-range, and low frequencies

Available in two-way and three-way models

Electrostatic floor standing speakers

Use high-voltage electronic frequency

Linear

Low distortion

Need to be paired with a woofer

Need to have an amplifier

Many are physically large

Planar floor standing speakers

Use a thin membrane to create sound

Three-dimensional sound

Require ample space

Not for all home audio systems

Ribbon floor standing speakers

Use a ribbon driver

Three-dimensional sound

Much like planar and electrostatic speakers

Small, but require space around them

Horn-loaded floor standing speakers

Mostly professional use

Unique sound on both high and low frequencies

High efficiency

Bi-polar floor standing speakers

Transmit sound out of both the front and back

Better three-dimensional sound

Use the acoustics of the room they are in to produce sound

Home and professional sound
Each of these speakers have their own benefits and drawbacks when it comes to producing quality sound. By learning about the different speakers available on the market, a consumer can make an informed decision about which floor standing speaker system is best for his or her environment. The speakers that are listed are the most popular types of speakers, but are by no means all of the different types or styles on the market. Several styles are for personal use, while others are better suited for recording studio or professional use.
Options for Floor Standing Speakers
As with most electronics, there are a variety of different options that can be chosen for the floor standing speaker. Most people have the traditional black or woodgrain speakers in mind when they go shopping. Fortunately, the world of speakers has advanced to match almost any decor. A person can either let their speakers blend into their decor or have them stand out a bit more. Many accomplish this by choosing a speaker that matches the decor of the room in which they are placed. This means that they choose a colour and a shape that complements the room's overall look. They can make a speaker stand out out by choosing a shape and colour that contrasts with their room decor.
Floor standing speakers now come in a wide variety of colours to match almost any room style. Although sound is extremely important to speakers, some may want both quality sound and a unique style that is all their own. There are also companies that design a speaker housing to any specification that a person wants. This is rather costly, so many people do not choose this option. Another option for floor standing speakers is to choose the floor standing speakers that match the rest of an individual's audio equipment or home theatre equipment. This choice can help blend the larger floor standing speakers into a room or system more easily.
Buying Floor Standing Speakers on eBay
Buying a set of floor standing speakers on eBay can be an enjoyable experience. The auction website, eBay, has a large variety of these speakers from which to choose, and sometimes even more than the traditional electronics or audio shops. All you have to do is input the search terms of the speakers that you want into the search box, and then click search. This populates a list of all of the items matching the keywords that were entered. If the list does not bring up the type of speakers that you want, you can refine your search by changing the keywords.
After browsing through the speakers that are available, find a listing that you want, and then click on the listing. This brings up a page for that particular listing, and it should have a description, specifications, the size, the seller's information, and the shipping and return policies for the item. Also on this page is feedback from buyers who purchased from the seller previously. Some sellers are ranked as top-rated sellers, which means that they have extremely good feedback and comply with eBay's policies.
Conclusion
There are many different options when it comes to designing an ideal audio system with the use of floor standing speakers. The speakers that are purchased need to suit the size of the room in which they are placed and the needs of the user. Placement, size, sound output, and type of speaker need to be considered when shopping for speakers. Since there are such a broad range of speakers from which to choose, a person should research the individual speaker they have chosen. A person can do this research at both brick and mortar shops, as well as on eBay. The auction website offers a large selection of different sizes, types, and styles of floor standing speakers. It allows you to browse through the different types until you find the exact one that you want. While purchasing speakers from eBay, you may also want to consider purchasing speaker cable or speaker wire so that you can connect the speakers as soon as they arrive. When shopping on eBay, make sure to note the seller's return policy just in case the speakers that arrive are not exactly as you expected.