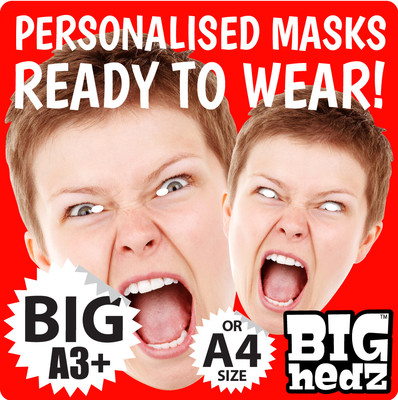 Add a caption
Send us your photo... and we'll BIGhedz it! FAST!
Click to edit caption
BIGhedz Personalised Masks will make your upcoming event even more enjoyable, especially with our BIG A3 size masks. They need to be seen to be believed!
They're the perfect ice-breaker!
Ideal for Weddings, Stag & Hen Do's, Birthdays, Retirements, Fund Raising, Leaving Do's, Graduations... whatever your event it'll be even better with BIGhedz! With our A3 BIGhedz we take masks to the next level...they're hilarious!
We'll take your images and turn then into your ready to wear masks within 48hrs. We also offer our budget DIY Mask Pack. All you need to make your own masks. We cut out the eye-holes (the difficult bit!) and you cut around the face. Pre-cut elastic attached to fasteners are included for you to simply peel & stick.
How do I order my masks?
Ordering is very easy, but the most critical part is selecting the perfect image for your masks. Ideally the face in your image will be forward facing, although slightly side-on still works. The image file also needs to be as large as possible to ensure the image is clear when enlarged. A file size above 500kb is advised, and ideally taken with a digital camera. If the face takes up the majority of the overall image, then more often than not it will enlarge well.

Creating your masks couldn't be easier.
1. Select the size of masks you require : BIG A3 or A4 Lifesize.
2. Email your selected image to us : see our listings for contact address.
3. We'll check that your image is suitable and email you an e-preview/proof of how your mask will look for you to confirm. If your image isn't suitable you can replace as many times as is necessary, or we will refund you.
4. Once your image is confirmed, your masks will be on their way to you within 48hrs.
5. Your masks arrive with you "ready to wear", or as a "DIY Kit" for you to cut-out.
Let the fun begin. Enjoy!
Please see our store for all our Personalised Mask Packs, and our selection of Celebrity Masks at BIGhedz BIG A3 & A4 Lifesize : http://stores.ebay.co.uk/BIGhedz
Take a look at our customer feedback. We pride ourselves on excellent customer service and a quality product, that we know you'll enjoy!