Make bedtime fun with a boy's bed that captures his imagination. Instead of a dark, scary room with a plain, boring bed, get creative so your little one can sleep in a pirate ship or in a bright red race car. This offers fun and engagement and lets boys put their imagination to work, creating a comforting fantasy as they drift off to sleep. Using creative choices for a boy's bed makes bedtime a more peaceful experience and can also help you save space.
Themed Beds for Boys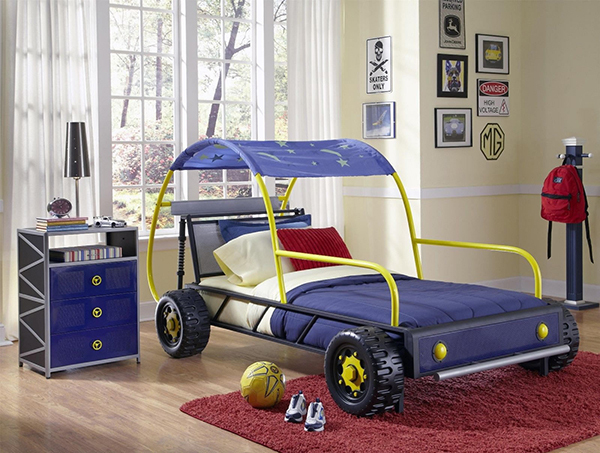 For boys who like high-octane action and fast cars, consider choosing a racing car bed. Available in vibrant colours, racing car beds are fun and attractive. For those models that feature a spoiler for an authentic look, you can use the spoiler as a shelf for books, toys, or knick-knacks. For boys who like the idea of sailing the Seven Seas as a fearsome pirate, hunting treasure and plunder, opt for a pirate ship bed. Other themed bed options include a knight's castle bed, where your child can spin himself tales of battling dragons and rescuing damsels. Let your child sleep inside Thomas the Tank Engine, in an aeroplane, in a wrestling ring, or inside the Bat Mobile.
Space Saving Bed Ideas for Boys

If your space is at a premium, but you want your son to have ample room to play and keep his toys, you have to get creative to maximise the space you do have. Opt for a cabin bed, with a bed at the top that you access via a ladder, and a desk beneath, giving your child somewhere to sit and read, paint, play, and study. You can also get themed cabin beds with storage beneath, such as a medieval castle, where the child sleeps on the top, and beneath, you have ample storage in the form of cupboards or drawers. If you are particularly practical, you can make a simple raised platform for the bed, with a wardrobe, cupboard, or drawers beneath.
Bed Linen for a Boy's Bed
To complete the theme of your child's bed, you should choose corresponding bed linen. If you have a pirate ship bed, for example, choose pirate bed linen, or a single duvet cover and pillowcases that match the colour of the bed, or share a matching theme. For a race car enthusiast, choose Formula 1 bedding, or, for a wannabe wizard, sleeping in a castle bed, complete the Hogwarts experience with Harry Potter bed linen.