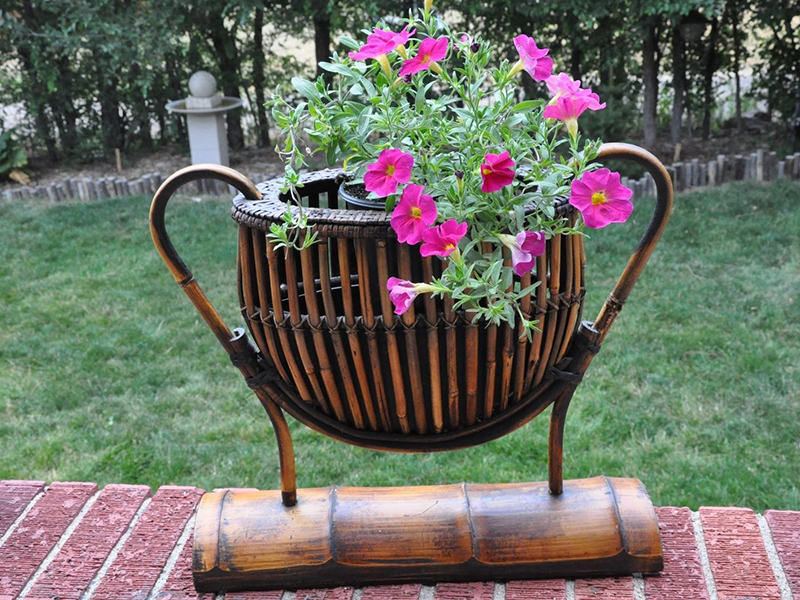 Bamboo is a versatile type of woody grass. Adding bamboo to a garden can help to create a tropical look. There are many creative ways to use bamboo, some functional and others decorative, such as bamboo planters, wind chimes, screens, and trellises.
Bamboo Planters
Bamboo poles can make excellent garden planters. Gardeners can take a large bamboo pole of 3 centimetres to 15 centimetres in diameter, cut it just below one of its nodes, and then cut it again before the next node. Drilling a hole through the bottom of the node ensures that plants have sufficient drainage. Some people choose to cover the outside of the planter with wood stain to preserve it, but others simply let it age naturally. After adding small plants, tying multiple bamboo planters of different heights together creates an elaborate look.
Bamboo Wind Chimes

Bamboo wind chimes create a unique sound that is different from metal chimes. It is possible to make these decorative touches in a number of sizes, such as large bamboo wind chimes, according to the dimensions of the bamboo poles. Gardeners can select four or more bamboo poles of varying sizes and arrange them from the largest to the smallest. Then they can cut the largest pole to the longest length and each successive pole a few centimetres shorter than the previous one. The bamboo should be hollowed out completely and then hung from a horizontal piece of bamboo with about 1.5 centimetres between each pole.
Bamboo Screen
There are many ways to make bamboo screens, some use split pieces of bamboo and others have bamboo slats. Gardeners can interweave pieces of bamboo or connect them with a length of wire. Small screens of around a metre high are ideal for sectioning off areas of a garden. Taller bamboo screens are great for providing privacy or shade.
Bamboo Trellis
Bamboo trellises are ideal for helping vine plants grow, such as grapes and ivy. Trellises are easy to make; they require only bamboo canes and rope to tie them together. One common style of trellis has three or four vertical canes, each about 30 centimetres apart, with two canes crossing them in the shape of an X.