Using an old wooden barrel is one of the easiest ways to transform your outdoor area into a place of inspiration and relaxation. When you find a vintage style wooden barrel suitable for your outdoor space, you can restore it by giving it a few coats of fresh paint or stain. Then, you can transform it for various purposes throughout your garden.
Create a Wooden Barrel Coffee Table
A coffee table made of a wooden barrel is an unusual and interesting outdoor ornament. You can improve its look by painting the sides with original artwork. Scenes of flowers and colourful landscapes fit particularly well into an outdoor setting. Designers from around the world use rustic barrels in combination with refined and often expensive furniture to create an old-world feel. All you need is a few inexpensive lawn chairs and a large wooden or glass surface to act as a table top if the top of your barrel seems too small.
Create a Wooden Barrel Pet Sanctuary
Give your cat or dog a special outdoor place by creating a small sanctuary out of an old wooden barrel. You can cut the barrel's top off and then stuff the bottom portion with some padding to create a soft bed your pet is sure to appreciate. Another option is to cut a small opening in the side of the barrel, transforming an old wine barrel into a new and comfortable nook for your furry companion. Leaving the top of the barrel intact allows you to double its use as a flower planter.
Plant Flowers in a Wooden Barrel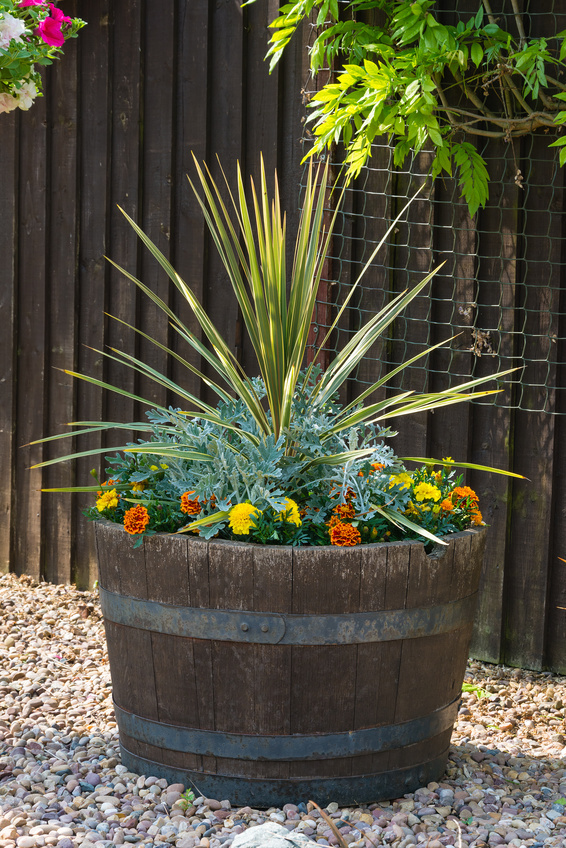 Flower gardeners know that plants grown in containers have special needs, and allowing them to flourish in an old wooden barrel is one of the top ways to help sustain continued growth. Flowers grown in wooden barrels also create stunning displays of colour, helping add a vibrant note to any garden or small backyard. You can cut the barrel in half and then use the two portions as large pots. This is especially useful for cultivating plants that grow deep roots; just remember to drill a few small holes in the bottom to ensure good drainage.
Cool Your Drinks in a Wooden Barrel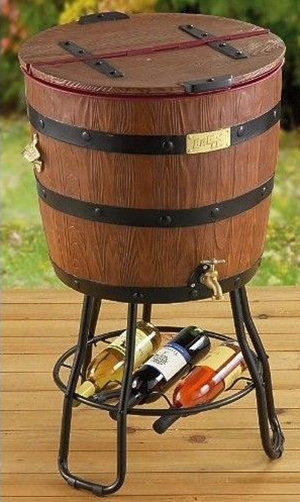 Most people, even those with even the smallest of backyards, enjoy hosting outdoor summer parties, and using a rustic wooden barrel instead of an expensive mass-produced drink cooler is a good way to add a little old-world style to any casual social event. Fill your wooden barrel with ice, load it with a variety of beverages, and protect it from direct sunlight by placing it in the shade of a tree. After the party, you can fill the barrel with some potting soil and plant a few flowers.