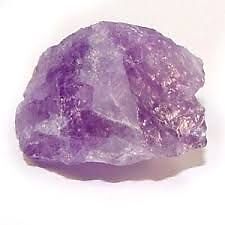 I have been using crystals to aid my meditation practice for about 6 months now. Previously I have been meditating for 2 years and had a strong urge to purchase a crystal. I now own around 15 and my collection will expand as I beleive they have many properties and are extremely powerful. The first crystal I chose to purchase was an amethyst as its supposed to be the most spiritual and its also my birthstone. I like to hold the crystal in my hand as I meditate, burning incense also aids in my practice. The amethyst has many benefits which are outlines below:
Amethyst is one of the best crystals for meditation. The amethyst color stimulates the highest vibration of the Third Eye, and placing an Amethyst stone directly over this area ushers in a serene meditative state that stills conscious thought and guides the mind toward deeper understanding. Amethyst energy encourages the mind to be humble and surrender to that which is greater than itself in order to gain some understanding of how the powers of the universe can direct and guide one's life.

To relax the system and increase awareness, hold single Amethyst crystals or small clusters in the left hand (termination towards the arm) during meditation to draw Amethyst energy into the body. Large clusters of Amethyst are ideal for meditation altars or as concentration objects to train the mind to be centered and calm while awareness is focused on the objective world.

Amethyst may be used to occupy the North-East point on a crystal medicine wheel, used for healing and balancing one's life. The north-east is the place of choices and meditating in this direction facilitates the decision-making process, bringing in spiritual guidance, common sense and realistic goals. It encourages new ideas and relates cause with effect. It also balances out highs and lows for emotional and spiritual centering.

I keep amethyst in my car and also in my purse for prosperity.