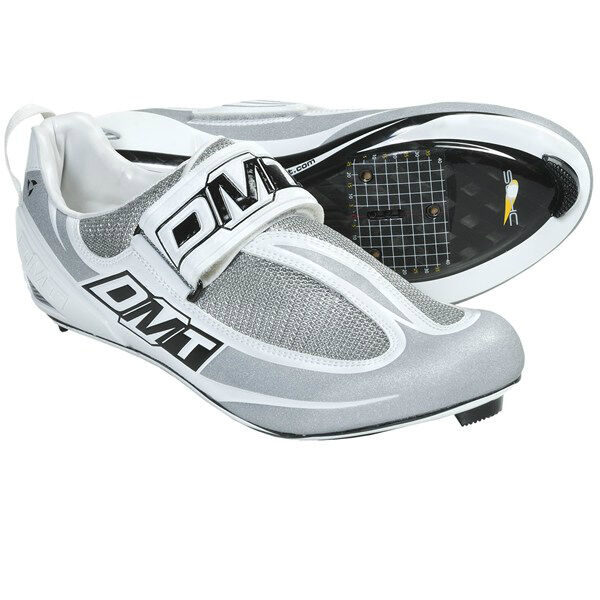 Cycling shoes are cycling garments specially designed and manufactured for use when riding a bicycle. Wearing these shoes can be beneficial for a number of reasons, and cyclists all over the world use them. Cycling shoes are made for use with specific styles of bicycle, and it's important for buyers to choose an apt pair. These types of specialist shoes vary in size, material and weight, and using a pair not intended for a certain style of bicycle can pose safety risks.
Buyers are advised to shop for cycling clothing on eBay as the site has an unrivalled selection at unbeatable prices. This is especially true for cycling shoes, and eBay's extensive database of users means new shoes are constantly being listed. This guide will explain to buyers the various styles of cycling shoes available, what bicycle they should be used with and how to find an apt pair on eBay.
Cycling Shoes
Cycling shoes are a special type of footwear made exclusively for use on bicycles. Professional and amateur cyclists wear them, and they are used for both competitive and recreational cycling. Below is a list of benefits that can be obtained from wearing cycling shoes.
The sole of a cycling shoe is much tougher and stiffer than those found on regular trainers. The soles of normal trainers and shoes have a certain amount of flexibility, which allows people to walk on the balls of their feet. While this is the correct way to walk, it is not the best way to cycle. A stiff sole keeps the foot level, allowing the cyclist to press down on the pedal with the full force of the foot. This reduces the strain felt throughout the muscles of the lower leg. Cycling shoes allow for the maximum amount of power transference from the foot to the pedal.
The cycling shoes designed for use with road and racing bikes are extremely light, and offer the minimum amount of weight possible. This is obviously very important for professional and amateur cyclists involved in races and time-trials. These shoes are also designed in such a way that they reduce air drag while increasing aerodynamic efficiency, allowing the cyclist to achieve optimum speed.
The shoes made for use with mountain bikes are tough and durable, and protect the rider's feet from rough terrain and loose debris. These shoes are very successful at absorbing shock and vibration, and although they are quite strong most mountain bike shoes are still relatively light.
Certain bicycles are made with specifically designed pedals, such as those found on racing and track bicycles. These pedals need a specific type of shoe for cyclists to be successful at maintaining a steady motion, and the shoes either slot or fit into the pedals. Trying to cycle these pedals while wearing normal shoes is very difficult.
In general, cycling shoes are more comfortable to wear when cycling. Many people who commute to work by bike wear these shoes as they protect from the various elements, and keep the feet feeling warm and secure.
Types of Cycling Shoes
As previously mentioned, cycling shoes are manufactured for use with specific bicycles, and it's important to use the appropriate shoe style with the correct bike.
| Type | Description |
| --- | --- |
| Mountain Bike Shoes | Mountain bike shoes tend to have a very stiff sole so the cyclist can achieve maximum pedal pushing power with each turn. However, it is a good idea to buy mountain bike shoes that have a little flexibility in the sole, as this makes it easier to walk in them if the cyclist needs to carry their bike over a portion of the trail. Make sure the sole is rubber, or a rubber blend as again this helps with walking. The front end of this style of cycling shoe is usually made from a hard plastic to protect the toes from impact. It's a good idea to buy shoes with stiff upper sections as this will protect the ankle from rolling, and it's advised to search for mountain bike shoes that have a waterproof coating. The price of the shoes will depend on their functionality, but buyers should spend enough money to ensure their feet are adequately protected. Mountain bike shoes are made from a combination of leathers, synthetic leathers and rubber. |
| Road Cycling Shoes | Road cycling shoes have possibly the stiffest sole out of all cycling shoes, and this guarantees the cyclist the maximum transference of power. These shoes are very light and are meant to be tight fitting, which reduces weight and increases speed. Road cycling shoes are made to be very comfortable as this is an important factor when cycling long distances and marathons. These shoes also have excellent ventilation to stop the cyclist from overheating when on the bike. Clipless road cycling shoes have a two or three cleat system, which are small indents on the sole that slot onto the pedal. It is important to buy the right cleat system to fit onto the pedal, so double check how many cleats are needed before making a purchase. Road cycling shoes are usually made from a combination of nylon, carbon fibre and plastic, and tend to be on the more expensive end of the price range. |
| Triathlon Cycling Shoes | Very similar to road cycling shoes in their design and function, but often made with more flexible soles to allow the rider to easily walk or jog in them. Triathlon cycling shoes have excellent sweat wicking properties and generally have waterproof coating. |
| Commuter Cycling Shoes | Cycling shoes specifically made for commuting and recreational cycling tend to have a good level of flexibility. These shoes are made to offer the same level of comfort whether the rider is cycling or walking. Look for shoes that are water resistant and insulated for use during autumn and winter, and for shows that have good sweat wicking properties for spring and summer. Prices for commuter cycling shoes vary, but a good pair can be bought for low prices. |
Laces or Straps?
Cycling shoes have two forms of closure, and depending on the style of cycling one will be more suitable than the other.
Laces offer a better fit, and cyclists can easily adjust the tightness to whatever is comfortable. However, laces are subject to dirt and the weather so this is not always the best option for mountain bike shoes. If using laces while off road cycling remember to tuck the laces into the shoe to prevent them from becoming snagged on debris and terrain. Laces are suitable for commuter cycling shoes.
The majority of professional cyclists opt for cycling shoes with straps as these have less surface areas that can invoke air drag. The most popular form of straps is Velcro straps, and these work well in wet and muddy conditions. Cycling shoes that use a strap system are more suited for racing and mountain biking, but can be used with commuter shoes also.
Cycling Shoe Sizes
Cycling shoes should fit comfortably from the moment they are first worn, as these types of shoes cannot be 'broken in'. As the soles remain quite stiff buyers need to find a pair that are secure and will not cause any discomfort. Buyers should have their feet measured at a shoe shop before purchasing a pair, as this will give them the exact measurements of their feet. Remember to always check the description box on the item page for exact dimensions of a pair of cycling shoes, and if this information is missing then request it using the Ask A Question feature.
Cleaning the Shoes
Buyers are advised to avoid using a washing machine to clean their cycling shoes as this can damage the insides and reduce the stiffness of the sole. Instead buyers should use a towel and some warm soapy water to remove stains and dirt. Avoid using a tumble dryer to dry wet shoes as again this can damage the shoe. The best way to dry wet shoes is to remove the insoles, fill the shoes with newspaper and leave them to dry naturally overnight.
Buying Cycling Shoes on eBay
Finding appropriate cycling shoes is a relatively quick and easy process. The first thing to do is to log on to eBay.co.uk. Next, click on the Shop By Category tab located to the left of the search bar, and then the Cycling link found underneath the Sporting Goods heading. On the following page click on the Cycling Shoes & Overshoes filter found towards the bottom of the Category table. Buyers should then either type the name of the style of shoe they need into the search bar and press enter e.g. Road Bike Shoe, or use the Style filter to list relevant shoes only. There are also a number of brands in the filter list that can be chosen including Northwave, Shimano and Sidi.
Conclusion
Cycling shoes are a form of cycling clothing that can greatly benefit a cyclist and increase the level of comfort while protecting the rider's feet. All cycling shoes are designed to generate the maximum transference of power from the foot to the pedal, and the amount of power that can be distributed by the foot is determined by how stiff the sole is. Cycling shoes are manufactured for use with specific types of bicycles, and it's important that buyers purchase the shoes that correlate to their bike and style of cycling.
All buyers are advised to shop for cycling shoes on eBay as the site has a great range at very reasonable prices. Remember to enter as much information into a search as possible, and check the description box on the item page for exact measurements of the shoes.