Dolce & Gabbana – Schützen Sie sich vor Fakes!
Niemand muss heute mehr Opfer von Produktfälschern werden, denn die Topmarken der Fashionindustrie sichern sich durch technologisch immer ausgefeiltere Methoden gegen den Betrug ab. Leider tummeln sich auf Internet Plattform unseriöse Verkäufer, die Ihre gefälschte Ware als Original anpreisen. Unser Ratgeber weist auf alle unverkennbaren Merkmale der authentischen Dolce & Gabbana Kollektion hin, und soll dabei helfen Echtes von Gefälschtem zu unterscheiden. Wenn Sie also sicher gehen wollen, kein Opfer von Fake-Händlern zu werden, achten Sie auf unsere Hinweise und am sichersten: kaufen Sie in Zukunft risikolos bei uns ein! ;-)
Dolce & Gabbana - Merkmale eines Originals
- Waschanleitung: auf der Innenseite der Waschanleitung muss sich die Seriennummer befinden (durch Umstülpen des Etiketts sichtbar. Diese Nummer ist bei jedem einzelnen Dolce & Gabbana Artikel unterschiedlich, selbst wenn es sich um exakt dasselbe Modell handelt!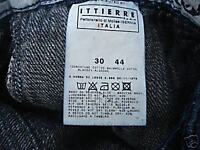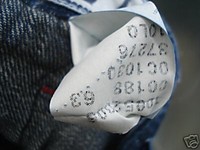 - 3-D Hologramm auf dem Papieretikett: das Hologramm wird mit einer Spezialmaschine in das Papier gestanzt, man darf es keinesfalls abkratzen/abziehen können! Um das Hologramm herum muss der Schriftzug "Dolce & Gabbana" sowie "D&G" in Hochglanz-Weiß gedruckt sein, wird sichtbar je nach Lichteinfall! 3-D Hologramm im Kleidungsstück: das Hologramm auf dem eingeklebten Etikett muss exakt das gleiche Hologramm wie auf dem Papieretikett sein!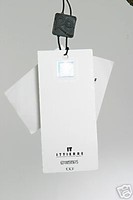 - Seriennummer: Ist bei jedem einzelnen Artikel unterschiedlich, selbst wenn es sich um exakt dasselbe Modell handelt! Die Nummer befindet sich auf dem Papieretikett mit Hologramm unter dem Agenturnamen "Ittierre".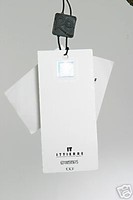 - *** Etikettenband: Der Faden, an dem die Papieretiketten hängen birgt ein weiteres unverkennbares Kennzeichen von Originalität. In der Mitte des Fadens ( durch leichtes aufkratzen mit einem Messer zu sehen) versteckt sich ein transparentes Plastikband, auf dem "Dolce & Gabbana" geschrieben steht! ***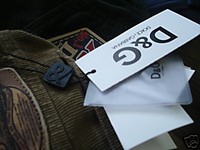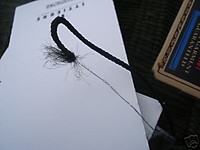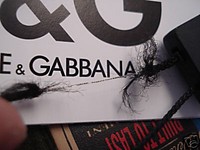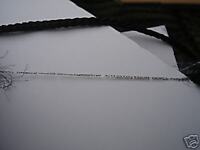 ACHTUNG: alle diese Merkmale müssen bei einem Original Dolce & Gabbana Artikel gegeben sein, nicht nur ein oder zwei davon! Die Fälscher selbst verbessern Ihre Produktionen stetig und schaffen es manchmal, das ein oder andere Merkmal nachzuahmen!!
Schützen Sie sich vor Fake-Käufen, indem Sie auf diese Dinge achten und schenken Sie uns seriösen Verkäufern auf Ebay Ihr Vertrauen. Was gibt es Ärgerlicheres, als später festzustellen, dass man sein Geld für billige Asia-Fakes ausgegeben hat, oder - noch peinlicher - sie sogar an jemanden verschenkt hat!

Werfen Sie einen Blick in unseren Shop und profitieren Sie von unseren neuen Winterangeboten und Sonderaktionen. Um immer auf dem Laufenden zu sein, tragen Sie sich in unseren Trendsandbrands- Newsletter ein!
Bei weiteren Fragen stehen wir Ihnen jederzeit gerne zur Verfügung!
Wenn Ihnen unser Ratgeber weitergeholfen hat, dann würden wir uns über eine positive Bewertung von Ihnen sehr freuen! Vielen Dank!
Alle Texte und Bilder sind exklusiv verfasst vom Trendsandbrands Service-Team, das Copyright liegt bei D.G. Fashion GmbH. Jegliche Kopie oder Vervielfältigung des Textes wird strafrechtlich von unserer Rechtsabteilung verfolgt.
Hier einige Links zu 100% Original Diesel, True Religion, 7 for all mankind und anderen Labels
Diesel Damenjeans | Diesel Herrenjeans | True Religion Damen- und Herrenjeans | Stone Island Winter- und Sommerjacken
Rock & Republic by Victoria Beckham | La Martina Herren und Damen | 7 for all mankind | Echte Pullver aus Kaschmir & Seide
Dolce & Gabbana – Spotting the Fakes!
Don't get fooled with cheap Asia-Fakes anymore, Internet platform is polluted with fake-sellers who advertise their products to be authentic Dolce & Gabbana.The label protects itself through hightech features on their products, which are almost impossible to copy. So be aware of those signs of authenticity for Dolce & Gabbana, and check out our list below, if you wanna be sure to buy the Original, and – to be absolutely sure- next time buy at our shop!
Signs of authenticity:
- Washing advice tag: there must be the serial number inside of the tag, if you turn it inside out! This serial number is different in each and every Dolce & Gabbana product, even if it is exactly the same one, they must have differing numbers!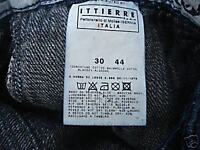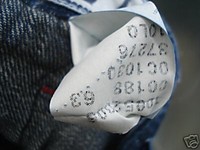 - 3-D Hologram on the paper tag: Dolce & Gabbana stamps its 3D-Hologram on the paper tag with a special technique, so you can't take it off, rubb it off or scratch it somehow! It right in the paper. Additionally, there must be the "Dolce & Gabbana" and "D&G" script around the hologram, which becomes visible depending on the lightning.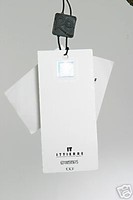 - Serial number on the paper: the serial number of Dolce & Gabbana differs in each and every product, even if it is exactly the same item, they must have differing numbers! The number is on the paper tag below the hologram, below the agency's name "Ittierre".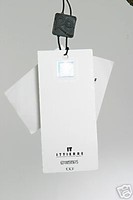 - 3-D Hologram inside the product: the hologram on the tag which is attached inside the clothes must be exactly the same hologram as on the paper tag.
- Paper tag yarn: the fibre that holds the paper tag holds a very special hidden sign of authenticity: inside that yarn, there must be a transparent plastic band (if you scratch the yarn a bit, it becomes visible!), which has the "Dolce & Gabbana" script!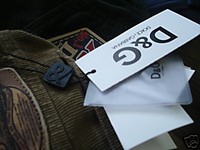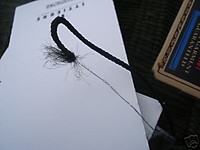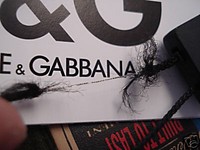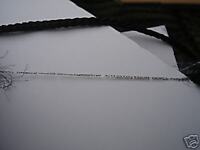 ATTENTION: Since the fake producers sometimes manage to copy one or two of these authenticity signs, make sure that all of them apply to your Dolce & Gabbana product!
Protect yourself from fakes and make sure you buy real Dolce & Gabbana quality products from honest sellers on Ebay! Check out our Trensandbrands Shop, cause with us you're on the safe side! We carry all the European and US high brand labels for reasonable prices with lots of winter specials right now!
We'll be happy to answer any further questions!
If you think this guide was helpful for you, we'd be very happy to receive a positive feedback from you! Thanks a lot!

Your Trendsandbrands team.