Disney animated films have been with us since 1937.
Due to Disney's policy of releasing a DVD for one year only, Animated DVD's quickly become rare and very valuable.
This has led to a shortage of original DVDs and sellers ready to rip buyers off.
Only 1 in 7 DVDs sold on eBay are genuine UK region 2 Disney Animated originals.
Many buyers are probably duped into thinking they are either getting an original or a bargain.
Neither is true.
How to spot a genuine UK Region 2 Disney Animated Classic original:
1) The artwork will contain a silver Mickey Mouse hologram on the back or with recent releases, on the spine

2) The inner circle of the DVD itself will also contain a hologram for later releases (2002 onwards). Earlier releases will carry some security etching with the Disney brand.

3) The artwork will contain a the "U" green triangle of certification. The DVD will contain the "G" of classification.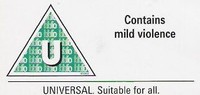 4) Region 2 logo will be displayed on the artwork and DVD itself