DISNEY PIRATE GUIDE TO BEAUTY AND THE BEAST.
Disney classic released in 1992. Plenty of poor pirate versions around. If you're buying, make sure you purchase an authentic version, as displayed below, that has the Disney hologram.
UK Specification R2 Versions available:
1 Disc Special Edition 2 Disc Collectors Ed Enchanted Chritmas Ed

Belles Magical World Boxset Belles SE Boxset Enchanted SE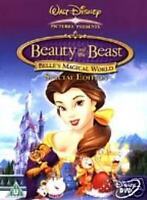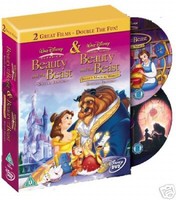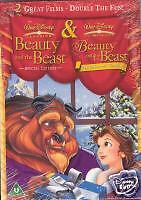 Release Dates:
1 Disc Special Edition, 2 Disc Collector's Edition, Boxset with Enchanted Christmas: Nov 2002
Boxset - Special Edition + Belle's Magical World: Jun 2003
Current status : DELETED. Rerelease planned Oct 2009.
Review:
Beast: [to Belle] You'll come out or I'll... I'll... I'll break down the door!
Lumiere: Master, I could be wrong, but that may not be the best way to win the girl's affections.
This is a fantastic movie that is watchable time and time again. The animation is superb and Disney's remakable talent of bringing life and characteristics to inanimate object shines through. This film has emotion, incredible music & animation, characters that you admire, laugh at, and despise. The film has great family appeal and has us grown-ups chuckling at some of the lines! The movie is a fun ride from beginning to end. We can all relate with the suffering of the Beast (being an outsider), and we all know a Gaston in our lives. The way we can identify with the characters sucks us into the story. Don't miss this classic...the only animated film to be nominated for a Best Picture Oscar.
If you are going to purchase this DVD, don't waste your money on the scores of bootlegs, pirates and illegal imports (ie fakes) that are listed on ebay. Buy a genuine copy of this magical movie and you will not be disapointed. For advice on how to spot a pirate and to see examples of pirate copies of this DVD sold on ebay check the disneycalendar.co.uk website.