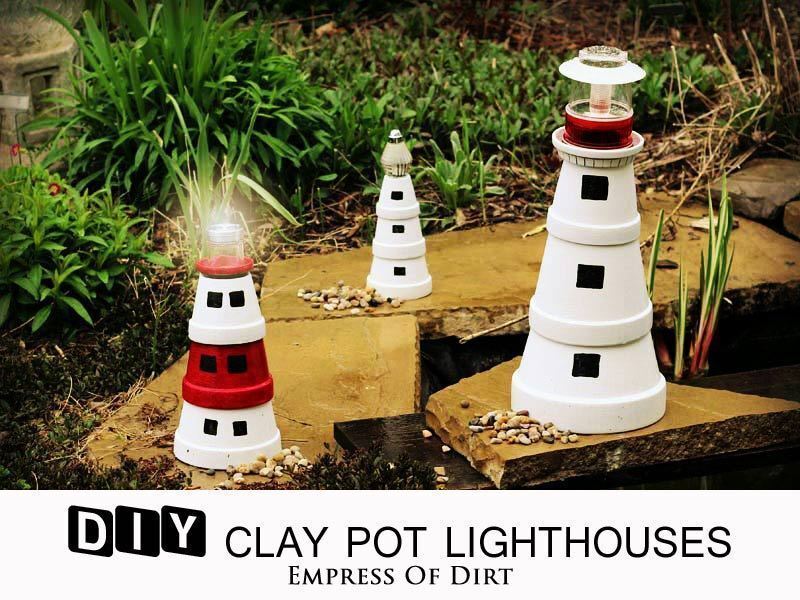 Make Your Favourite Lighthouse
This is an easy, afternoon project to do with kids. Gather your supplies and create a clay pot lighthouse for your patio or garden. And, if you want to add a magical touch, add a real lamp to the top.
I'll show you what you need and how to make it. It's a really fun way to make your own seaside souvenir.
For additional details about materials, see my
DIY Clay Pot Lighthouse Supplies collection.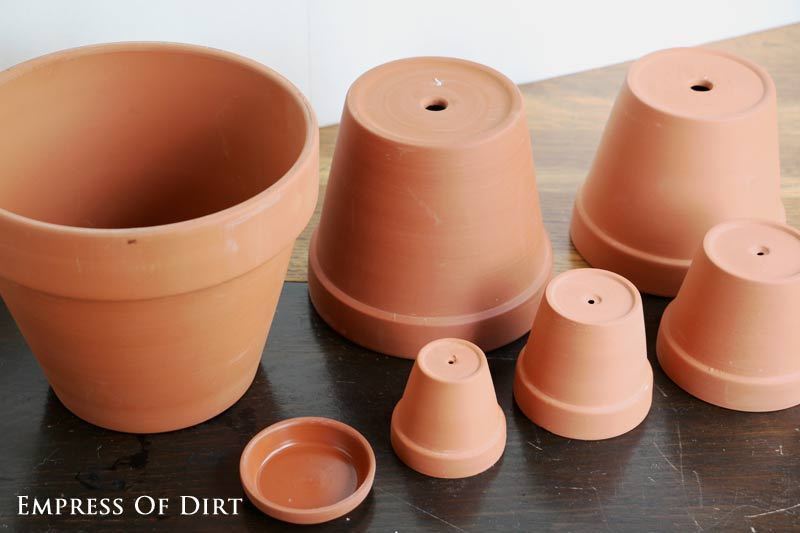 Clay Pot Lighthouse Materials & Supplies
1.
Clay pots
(3 or 4). You will need various sizes ranging from small to large (one of each size). They will be stacked upside-down to form the lighthouse.
2.
Clay saucer
(1). This is used as the top deck that the lamp sits on. I used a saucer that fit one of the smallest pots.
3. Lamp (1). You could use a small
solar patio light
,
battery-operated lantern
, or a
votive candle
(for patio use). Whatever you choose, be sure it is the right size to fit on top of your lighthouse. For my smallest lighthouse, I used an old
salt shaker
instead of a lamp.
4.
All-purpose primer
. This makes the paint adhere better to the pots.
5.
Outdoor patio craft paints
(white, black, and red-depending on the design you choose).
6.
Adhesive
to glue the pots together. I use GE Silicone II outdoor,
waterproof clear-drying sealant
. You could also use a product like
E6000
.
7.
Polyurethane
or equivalent sealant (to protect the paint).
8.
Paint brushes
, rags, gloves, clean up supplies.
9. Pencil.
10.
Paint Pen
(black-optional) for adding decorative details.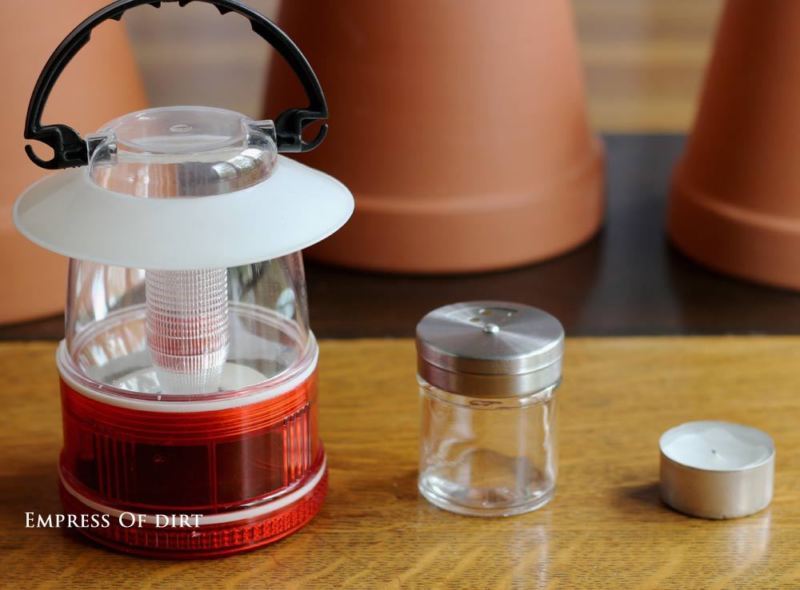 Lamp Choices
As mentioned in the supply list, if you want the lighthouse to really light up, you could use patio solar light units, a battery-operated lamp, or a votive candle (for supervised use on a patio).

Alternatively, if you don't want a working light, use an old salt shaker or something similar for the spotlight. You might just have the perfect item sitting in your cupboard.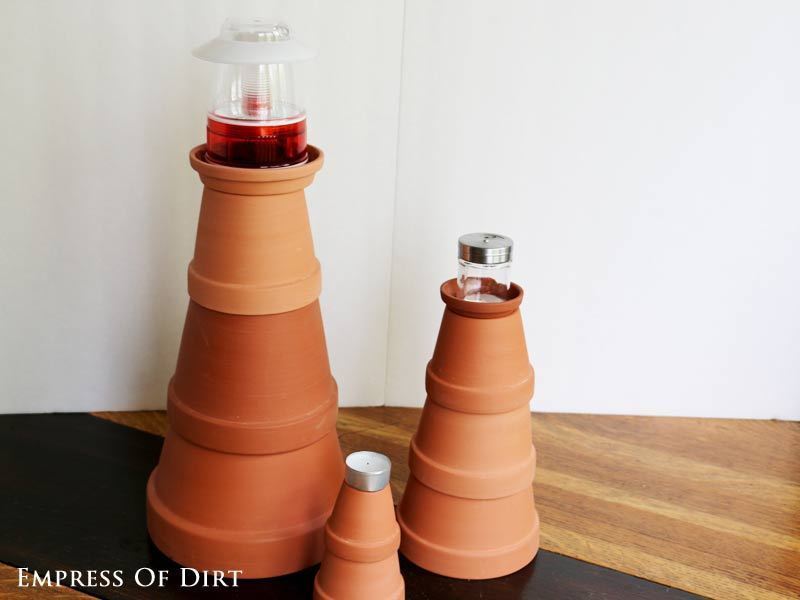 Before You Paint
Be sure to do a dry assembly of your lighthouse first to make sure everything fits nicely. Also, keep track of the pieces so you know what's what.

See how the pots overlap in the photo ( above)? Mark those spots with a few small pencil lines. You won't need to paint the hidden areas.

Next, decide what colours you want to use and which design you like. You can copy what I have done here or look up pictures of lighthouses (try a Google image search) and choose something you love. It may be helpful to draw a diagram. I kept mine really simple.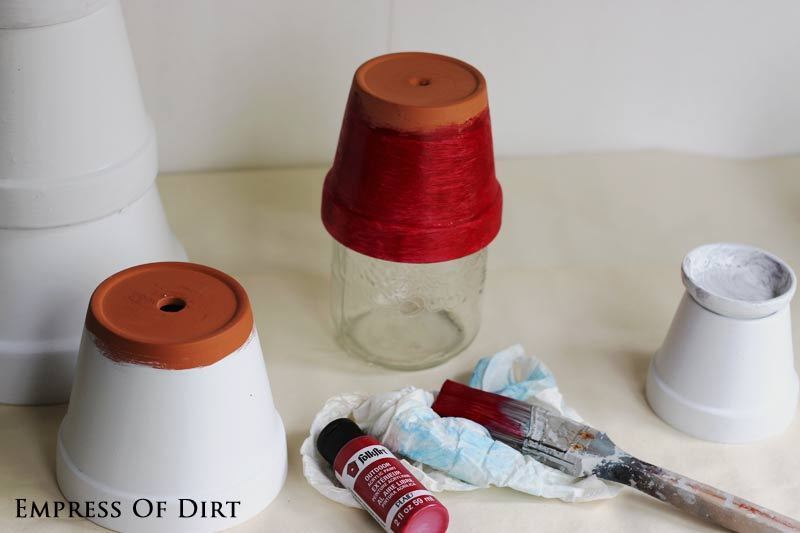 Paint the Pots
You won't need to paint the inside of any of the pots. The only pot that needs to be entirely painted on the outside is the top one. The others have areas that will never be seen (above your pencil marks) so you don't need to paint there either.

First prime the pots and let the primer dry completely.

You will notice that the red pot ( above) is sitting on a jar. This makes it easier to handle the pot while painting and allows it to dry without the paint touching anything.

I just used a second layer of primer instead of adding white paint.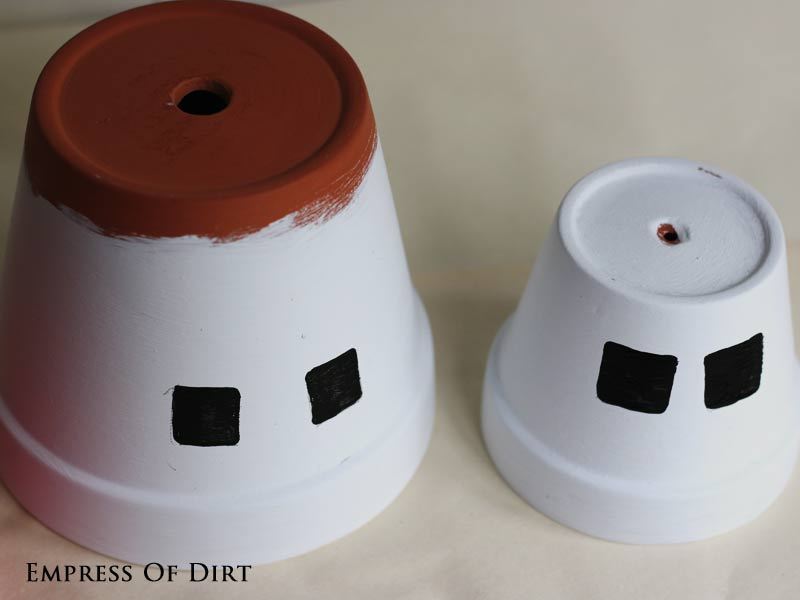 EEK! Ghosts! Okay, not really. When the paint is dry, set up your lighthouse to decide the best placement of the windows (and a door if you want to add one). I made window templates out of cardstock, traced the shape onto the pots, and painted them black.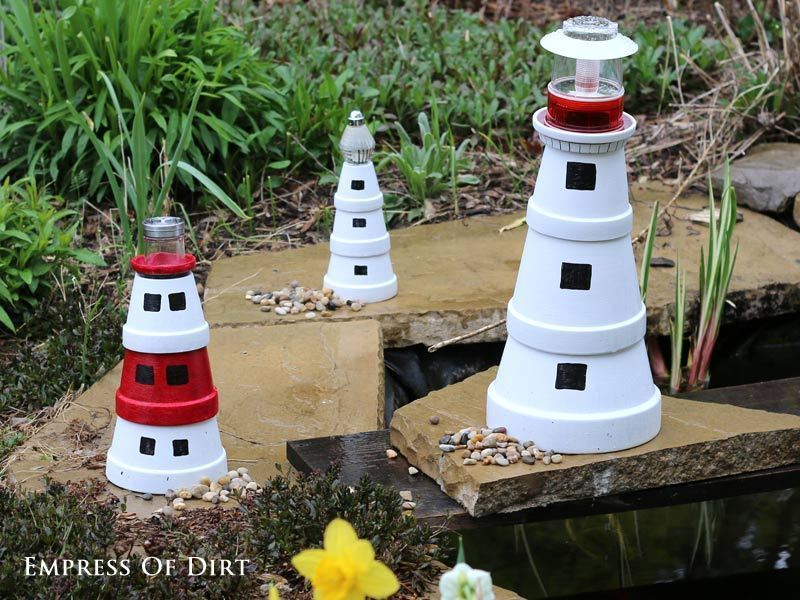 Glue Everything Together
The final step is to attach everything together with adhesive. You'll want to be sure the pots stay snug together, plus the saucer should be secure on top, holding the lamp in place. If you're using a lamp that requires batteries, don't attach it (because you'll need to be able to change the batteries).
Protect the Paint
Finally, add a few coats of polyurethane (or an equivalent protective product) to the painted surfaces. Follow the directions on the product label and allow everything to dry thoroughly between coats.

Now your lighthouse is ready to be displayed. It looks really pretty when several of them are lighting up the evening garden.
Love It?
Please use the share buttons! And be sure to follow
me here on eBay
for more creative garden projects and ideas.