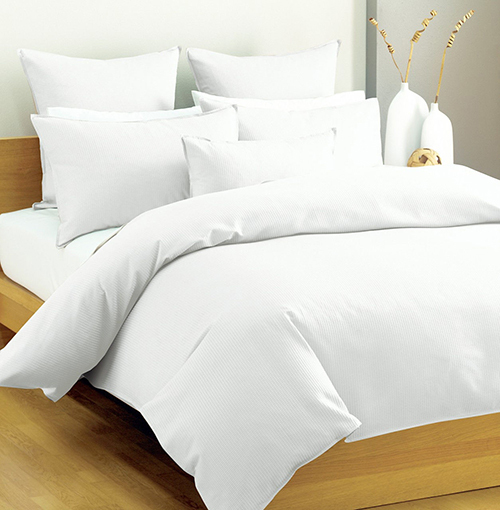 Duvets are often both expensive to buy and to launder. Duvet covers protect that investment by keeping bedding clean. They are also an affordable way to change the colour scheme of a bedroom. Many interior design shops, department stores, and marketplaces like eBay sell duvet covers, but for a unique look, it is easy to make the bedding with a little bit of patience and some basic sewing skills. Before embarking on a DIY duvet cover project, it is important to know which equipment is required and how to choose and prepare the fabric. There are many styles and colour combinations that create fun or elegant bedding.
Gather the Equipment
Duvet covers resemble large pillowcases that are closed on three sides, but partially open on the fourth side. Buttons, snap fasteners, or ties are typically used to close this opening. To make a simple duvet cover, buyers first need to gather the tools and equipment that they need. These include fabric, scissors, pins, a tape measure, sewing machine,, iron, and ironing board..
Choose the Right Type of Fabric
Unfortunately, duvets do not come in standard sizes. Buyers should measure their duvet before buying fabric for the cover. As the duvet cover requires both a front and back, buyers should purchase twice this amount of fabric. It is possible to make a duvet cover from any type of material, but cotton and c otton-linen blends are ideal choices because the fabric breathes well, allowing airflow that keeps the duvet fresh. Those that want to make more elaborate duvet covers that look like designer bedding can use an extra set of flat sheets from a favourite design to get the perfect match. This is often cheaper than buying the ready-made designer duvet cover.
Prepare and Cut the Fabric
Wash, dry, and iron the fabric in order to pre-shrink it before making the duvet cover. Trim off the selvedge edges, which are the finished edges on both sides of the fabric that differ in texture and colour.
As most fabric bought separately is not wide enough for a duvet cover, it is often necessary to sew two or more lengths together. Use one large piece for the centre flanked by two smaller side pieces, which looks better than having a seam down the centre of the duvet cover. Allow extra fabric for the seams; 2.5 centimetres is sufficient. For example, if the centre panel is 89 centimetres wide, and the two side panels are 30 centimetres each, then the actual cut fabric for the centre panel should be 94 centimetres wide and each of the side panels should be 35 centimetres wide. The length of the fabric should match the duvet, with least a 6-centimetre allowance for the hem and seam. Once the fabric is cut, sew the centre and side panels together; French seams help to create a professional finish.
Embellish the Duvet Cover
Those with the time and skills can make a more elaborate duvet cover. Consider the materials used to decorate the cover as it still needs to be able to withstand frequent washing, so any embellishments should be attached firmly and washable.
Before sewing together the two halves of the cover, embellish the top with a series of pintucks, ruffles, or other customised designs using fabric paint or embroidery. Alternatively, mix and match different fabrics for the top and bottom to create designs that are equally good whichever side is facing up.
Finish the Duvet Cover
When the front and back pieces are complete, place them together with the wrong sides facing each other and then sew them along three sides. Keep the fourth side open and sew on buttons,, snaps, or ties at intervals along this side. Turn the duvet cover the right way out and insert the duvet.
How to Buy Products for DIY Duvet Covers on eBay
Duvet covers protect bedding and keep duvets clean. They also change the look of a bedroom quickly. Making a DIY duvet cover is easy and buyers can find the fabrics and equipment they need for the job on eBay.. The search bar that is available on every page finds particular items quickly. For example, a search for snap fastener kits lists the items currently available. Buyers can narrow down a long list of results by choosing category filters, including a price range, condition, or location of the seller. Buyers are free to ask sellers questions via eBay before committing to a purchase.