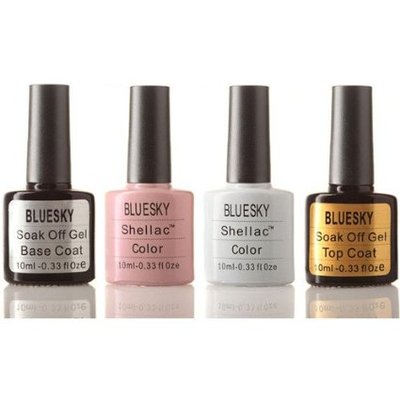 Why choose gel?
Gel nail varnish is a great way to add your favourite colour to your nails for longer than a couple of days.
Don't you just hate it when your pleased with your nail varnish and within a couple of days of washing up, cleaning and showering your colour is chipped or lacking shine or like me you tend to have the bad habit of biting your nails?
There is an easy and affordable fix and I'm not talking about gel nail deals at your local beauticians. Why not do it yourself with the help of Blue Sky Shellac Colour?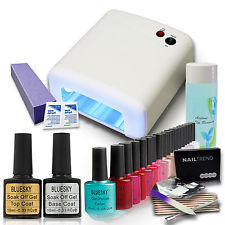 What will you need?
A UV nail lamp
Prep & Finish Solution
Remover Solution
Gel Base & Top Coat
Gel Nail Colour
Pro Pusher & Cuticle Cutter
Nail File
All of the above can be purchased at bargain prices from Ebay!
How to apply gel nails...
Firstly, take your nails back to their natural state, remove any existing polish, use a pro-pusher to remove any residue on nails, cut cuticles (be careful when doing this, cut them too low and it can be painful) and file to the desired shape. Using lint paper wipe the nails with a little prep and wipe.
Apply thin layers on every layer, base coat, set under lamp, first colour coat, set,second colour coat, set, third coat (if your apply glitter or a pattern or just want a deeper colour, if your happy with the second coat go ahead and apply top coat) set, top coat set. Your UV lamp will have an automatic timer.
Please, please, please make sure you soak your gel polish off when your ready to change up your colour, simply apply remover generously on cotton wool place over nail, wrap in tin foil and leave for 10-15 mins, the gel nail varnish will then crumble off on its own. Peeling the gel nail varnish off will only ruin your nails.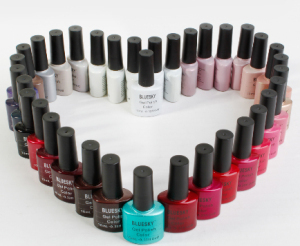 Why Bluesky?
Blue Sky is an affordable and quality product, with hundreds of colours to choose from. Using Bluesky Top and Base Coat, colour on average lasts 1-2 weeks. Having used a range of the colours, I found the lighter shades may take 3/4 coats to give even coverage, the darker colours only take 2!

The finish is just as good as salon quality, and what you'd expect from a gel nail varnish, shiny and chip free! Put Blue Sky into your E bay search bar to view all of the colours, glitters, magic colours and matt colours you could think of.

Having ordered these from E bay from various sellers I have been pleased with the quality and speed of delivery, the colour and durability have always been great.
Blue Sky is a more affordable option for those on a budget.
Please note I am not a qualified beautician, but have successfully applied gel nail varnish for myself using blue sky products and the method noted above. Please be careful if you are going to try this yourself. It is quick and easy to do however many application videos can be found on you tube if you need more guidance.
And like anything practice makes perfect.