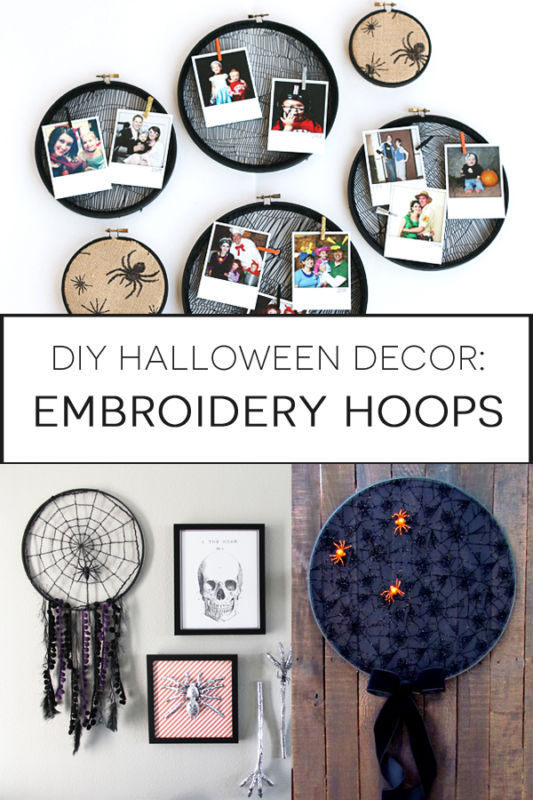 There are so many Halloween decorations you can make yourself with one of the most common items at the craft store, an embroidery hoop. I love transforming every day items into something unexpected. A simple wooden embroidery hoop is the perfect blank canvas for spooky, fun and whimsical Halloween decor!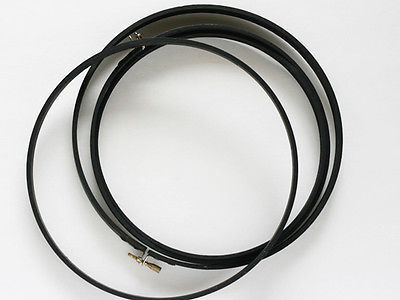 Supplies
There are 2 basic items you'll need for all of these DIY Halloween projects:
1.
wooden embroidery hoop
2.
acrylic craft paint
Wooden embroidery hoops are one of the most common craft supplies... you may even have one lurking in your closet at home! If not, you can pick one up at a local store or online for a few dollars. For most of these projects, black craft paint was the colour of choice. But don't be afraid to glam it up with a little gold or silver paint, or be bold with a bright colour!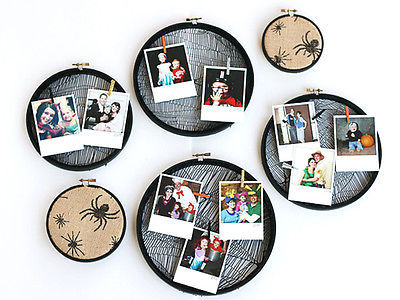 Halloween Photo Gallery
How fun would it be to make a display of pictures of Halloween costumes past? To create this photo gallery, we used embroidery hoops in various sizes, and a pair of
spiderweb tights
. First, we painted the hoops black, then stretched the material from the tights inside the hoops to create the background for our photos. Then we attached the printed photos with decorative mini clothespins. Another simple idea is to add a few smaller embroidery hoops with fabric inside, like this spider
burlap material
, to complete your gallery look.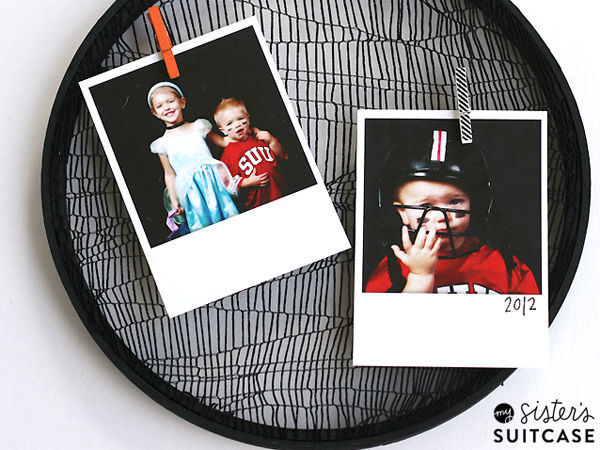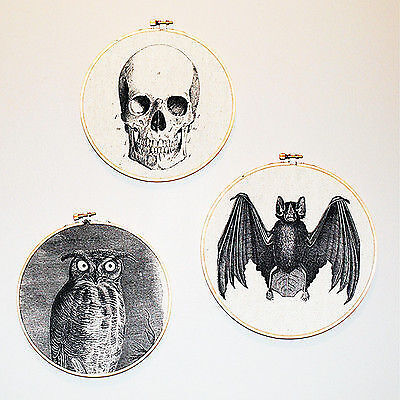 Spooky Wall Decor
One way to customise your Halloween wall decor is to create your own fabric prints! This is a fairly easy process, using a printed image
( these vintage images are from graphicsfairy(.)com)
and an image transfer medium. Start with a heavy cotton fabric and your image transfer process of choice. There are several methods, but one of the simplest is the iron-on method, using this
transfer artist paper
. This is the best product for getting a good transfer of your image! You can also find tutorials for fabric image transferring with
Citra Solv
, or even
Mod Podge
. Once your spooky images are on the fabric, simply trim to size and insert into the embroidery hoops. These hoops are painted gold, which I think is a fun detail.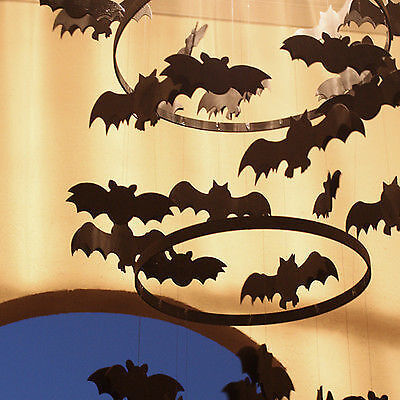 Halloween Chandelier
This DIY fixture would be a great addition to your front porch or entryway during the Halloween season. The tiered chandelier was made with 3 different sizes of embroidery hoops, and craft foam bats strung on with black thread. The fluttering bats cast spooky shadows on the wall, perfect for all the trick-or-treaters you'll get this year! For the full project tutorial, check out adiamondinthestuff(.)com/2013/10/spooky-bat-chandelier.html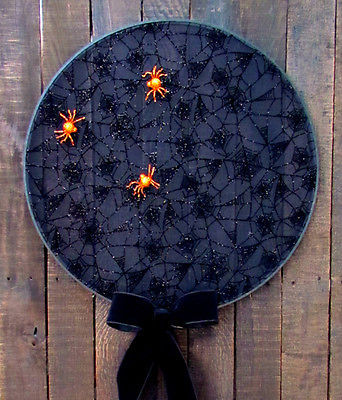 Spider Fabric Wreath
Another way to use an embroidery hoop is as a base for a wreath. This Halloween version is so cute and simple! All you need is a piece of spiderweb fabric to fit the size of your hoop, and then add some finishing details with glitter spiders and black ribbon.
Get all the details at uncommondesignsonline(.)com/how-to-make-a-spider-web-a-simple-halloween-wreath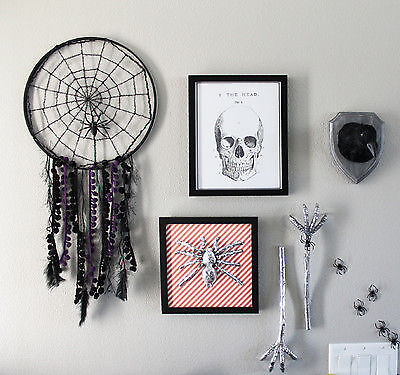 Spiderweb Dreamcatcher
This last DIY is one of my favourites! I created a spiderweb dreamcatcher for my Halloween gallery wall, using a pre-made spiderweb decoration, pom pom trim and ribbons, and of course, an embroidery hoop. You could also achieve a similar look by wrapping the hoop with black string to create a web pattern inside the hoop.
Hopefully these ideas have started your wheels spinning and you can't wait to create your own embroidery hoop projects this fall! For more DIY Halloween decor ideas, be sure to check these out: