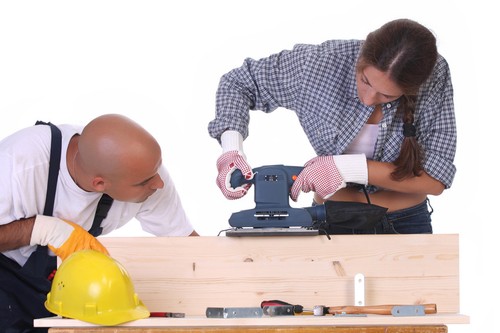 When looking for a fun, cost-saving way to improve the look and functionality of your kitchen, consider DIY kitchen cabinets. With do-it-yourself cabinet refacing, you have the freedom to create any style you desire, without the cost of completely replacing your existing cabinets. You can find DIY kitchen cabinet materials at eBay or a local builder's resource centre. There is a small amount of preparation upfront, such as measuring and collecting the right tools for the job. The result is a brand new look to your existing kitchen, which you can enjoy for years to come.
Kitchen Cabinet Tools and Supplies
To reface existing kitchen cabinets, you need a few items to complete the project.
* Hammer
* Nail set tool
* Measuring tape
* Carpenter's square
* Paint or stain
* Paintbrush
* Level
* Pencil or marking pen
* Putty knife
* TSP (trisodium phosphate)
* 150-grit sandpaper
* Masking or painter's tape
* Finishing nails
* Wood filler/putty
* Carpenter's glue
Depending on the extent of your project, you may need additional supplies, or you may not need all of these.
Remove Existing Door and Drawer Fronts
Carefully remove the doors, drawer fronts, and hardware from the existing cabinets. If you are reusing the doors and drawer fronts, mark the location the pieces came from. Then, check for holes or cracks in each piece and repair as necessary. Sand them smooth and stain or paint as desired. Let dry completely.
Measure for New Doors and Drawer Fronts
You may prefer to purchase new doors and drawer fronts. If so, using a measuring tape, measure the opening of each cabinet. To match the door size needed, add 2.54 cm to the height and width of each single opening. For split doors, measure the overall width and add 2.54 cm, divide the total by 2, and then subtract 0.16 cm. The result is a 0.32-cm gap between the doors at the centre. For drawer fronts, measure and save the actual size of each one. Take the list of sizes with you when you order new doors and fronts. If you are using concealed European hinges, be sure to let the supplier know you need the doors bored for each hinge.
Rework Kitchen Cabinet Frame
Once you remove all doors, fronts, and hinges, wipe down all the cabinet frames with trisodium phosphate or a similar cleaning agent to remove any residue or grease. Check for cracks or holes, and repair as needed. Putty all holes using a putty knife, and sand smooth with 150-grit sandpaper. Use a vacuum cleaner to collect any excess dust. Once you complete the repair work, stain or paint the frame to match your doors and drawer fronts. A fast method is to use wood veneer. Just cut to size, glue in place with carpenter's glue, and secure with finishing nails. Use a nail set to avoid any hammer marks.
Attach Kitchen Cabinet Doors and Fronts
Loosely set the hinges on the doors. Have a friend help by holding the door in place while you mark the hinge locations on the cabinet faces. Attach doors to cabinets and level as needed using a level and a carpenter's square, setting screws loosely. Double-sided masking tape is helpful to hold the door in place. Once everything is in place, tighten all screws. For the drawer fronts, line up old fronts with the new ones and mark hole locations. Attach the fronts to the drawer slides. For false fronts, screw into place from the back.
Add New Knobs and Pulls
New knobs and pulls complete the look of your new kitchen cabinets. Using a marker or pencil, line a handle close to the edge of the door so it pulls open easily. Base cabinets should have the handles close to the top of the doors, wall cabinets need pulls at the bottom, and tall cabinets do best with the pull on the centre edge.
To test the location, stick a piece of painter's tape, folded over to be double-sided, to the door and the pull. Use a level to make sure handles are straight. After marking the locations, drill the holes and attach the knobs and pulls. Wait until all handles are in place before completely tightening down the screws.
How to Buy Kitchen Cabinet Supplies on eBay
eBay has a number of options for finding the right DIY kitchen cabinets and supplies. The easiest is eBay's search box, which is conveniently located on each page. Using general search terms like kitchen cabinets, DIY, or home improvement returns a number of possibilities. The site's advanced search feature results in targeted listings that are more specific. Word combinations, such as spice racks , cabinet hardware, or DIY tools, offer a more detailed list. Once you complete your DIY project, your beautiful new kitchen is ready for many years of use.